Looking to build a gaming desktop that won't kill your wallet? We're here to help! Out second ₹ 90,000 TechArx build guide is here to help you build your next PC!
We heard a few complaints about our choice of components, and we plan to do good on the variety of hardware available for purchase. Here it is, the second TechArx Build Guide for a ₹ 90,000 Desktop.
---
Motherboard
The MSI 970 Gaming motherboard features all the requisites that you may need in your continued fragging, racing, fighting or any other gaming activity you'll perform. Adding to that the support for both CrossFire and SLI allows for decent future expansion capabilities. The cost doesn't hurt, either.
COST: ₹ 9,800
---
CPU
We chose the AMD FX-8320 because its performance delta is not really that huge compared to the 8350, and considering it's an AMD build, I guess it was only obvious we'd use and AMD processor.
COST: ₹ 12,350
---
MEMORY
We chose 16 GB of RAM over 8 GB because 8 is steadily becoming the minimum requirement for most games (and more often than not for all the bad reasons).
COST: ₹ 5,780
---
VIDEO CARD
We chose the Sapphire Nitro lineup for out R9 380 because Sapphire is traditionally known to make some of the best AMD Radeon AIBs in the market. That, and it is cheaper than most of the competition, leaving us room to invest more heavily in enclosures.
COST: ₹ 22,900
---
CHASSIS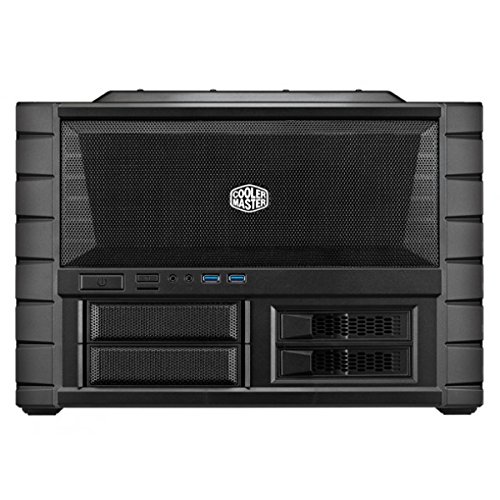 The reason the HAF XB EVO was chosen is CM's well-known reliability and product quality. This particular case has an extra advantage: it's designed as a cube-shaped chassis, especially for those who plan to either use it as a test bench or lug it around to LAN parties.
COST: ₹ 9,900
---
CPU COOLING SOLUTIONS
OPTIONAL: Thermal Paste
COST: ₹ 950
---
MONITOR
COST: ₹ 10,900
---
POWER SUPPLY
COST: ₹ 8,499
ALTERNATE:
COST: ₹ 8,750
After much deliberation, we decided to provide two alternatives for the choice of power supply units so you, the buyer, can decide which one to choose. Both are excellent products, too, and very comparable in price.
---
Keyboard + Mouse
COST: ₹ 2,990
---
STORAGE
Oh, storage, my storage! This is the one thing that you can't have enough of, what with games casually hitting 40+ GBs in install size. Having a high-cap storage device is as important as having a fast video card these days.
COST: ₹ 5,775
---
This was our second edition of the ₹ 90,000 gaming build, featuring an all-AMD hardware setup. Look out for more news, reviews and more builds with the TechArx Build Guide.
TOTAL ESTIMATED COST: ₹ 89844 – ₹ 90095.