Last night AMD announced their upcoming RX 6000 line of High-performance GPUs based on the RDNA 2 architecture. Product stack as of now contains 3 cards: RX 6800XT, RX 6800 and AMD's BFGPU or the much rumoured0 'Big Navi' RX 6900XT. The cards will be on shelf from November 18th for the RX 6800 series and on December 8th for the RX 6900XT.
AMD Radeon ™ RX 6000 Series graphics are built on the revolutionary AMD RDNA ™ 2 gaming architecture, the foundation for next-generation consoles, PCs, notebooks and mobile devices, designed to provide the optimal combination of performance and energy efficiency. AMD RDNA ™ 2 Gaming Architecture delivers up to 2x faster performance in select games with AMD Radeon ™ RX 6900 XT graphics over AMD Radeon ™ RX 5700 XT graphics based on AMD RDNA ™ architecture, and up to 54% faster performance per watt using the example of an AMD Radeon ™ RX 6800 XT graphics card versus an AMD Radeon ™ RX 5700 XT graphics card based on the same 7nm process technology.
AMD's forthcoming RX 6000 launch has been a long time coming for the company, and one they've been teasing particularly heavily. For AMD, the Radeon RX 6000 series represents the culmination of efforts from across the company as everyone from the GPU architecture team and the semi-custom SoC team to the Zen CPU team has played a role in developing AMD's latest GPU technology. All the while, these new cards are AMD's best chance in at least half a decade to finally catch up to NVIDIA at the high-end of the video card market.
2013 was the last time AMD challenged Nvidia head to head at the highest end. Back then the R9 290X blazed past the 680 and struck fear in the heart of the Nvidia GTX Titan. Since then AMD has struggled to muster much in the way of high-end challenge to Nvidia. Gen 1 HBM powered Fury was super expensive and super VRAM constrained to even consider over a 980Ti. Vega 64 was nowhere near the GTX 1080Ti and the Radeon VII was marginally ahead of the GTX 1080Ti. The 5700XT was also a card that, at best, could only beat a 2070 Super and fell below it in most cases, being slightly faster than a vanilla 2070/2060 Super.
While early rumours suggested that the RX 6000 GPU would only match or slightly beat the erstwhile flagship RTX 2080Ti, AMD last night dispelled all such notions. Their Tier 3 GPU powers past the 3070 and the 20080Ti to the tune of 15%, while 6800XT takes aim at the RTX 3080. Biggest Navi, however, storms the gates of the RTX 3090 all while being smaller, faster and power-efficient than the Nvidia offering.
AMD Radeon RX 6900 XT
AMD Radeon RX 6800 XT
AMD Radeon RX 6800
AMD Radeon RX 5700 XT
Stream Processors
5120?
(80 CUs)
4608?
(72 CUs)
3840
(60 CUs)
2560
(40 CUs)
ROPs
128
128
96
64
Game Clock
2015MHz
2015MHz
1815MHz
1755MHz
Boost Clock
2250MHz
2250MHz
2105MHz
1905MHz
Throughput (FP32)
20.6 TFLOPs
18.6 TFLOPs
13.9 TFLOPs
9.75 TFLOPs
Memory Clock
16 Gbps GDDR6
16 Gbps GDDR6
16 Gbps GDDR6
14 Gbps GDDR6
Memory Bus Width
256-bit
256-bit
256-bit
256-bit
VRAM
16GB
16GB
16GB
8GB
Infinity Cache
128MB
128MB
128MB
N/A
Total Board Power
300W
300W
250W
225W
Manufacturing Process
TSMC 7nm
TSMC 7nm
TSMC 7nm
TSMC 7nm
Transistor Count
26.8B
26.8B
26.8B
10.3B
Architecture
RDNA2
RDNA2
RDNA2
RDNA (1)
GPU
Navi 21
Navi 21
Navi 21
Navi 10
Launch Date
12/08/2020
11/18/2020
11/18/2020
07/07/2019
Launch Price
$999
$649
$579
$399
RX 6900XT : Big Navi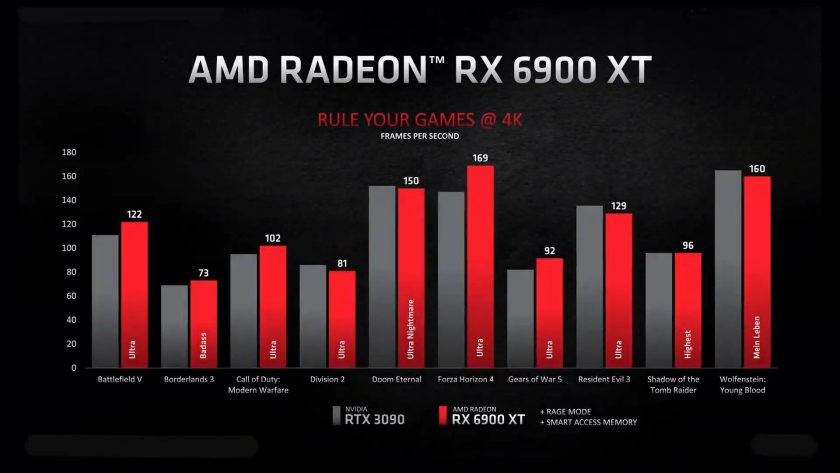 The much-rumoured 80 CU Big Navi is AMD's Flagship part. Launching on December 8th for a price tag of $999, it is a uber enthusiast-class card. It is obviously meant for the prosumer who would want the 5950 X and 6900XT to power his work and gaming needs. This card features the Full Navi 21 chip inside it and was probably heavily binned to achieve the power targets that AMD had set for it. Rumours has it that this card is going to be sold by AMD only as there won't be enough of them to hand over to AiBs. The card is exactly double in every aspect compared to the RDNA 1 Navi 10, with added next-gen features.
RX 6800XT
Next in line is the Big Navi card that was teased in the Zen 3 reveal event. RX 6800 XT is Nvidia's answer to the 'Flagship' RTX 3080. Coming in at $649 it's much more affordable than it's big brother. It has 90% the CU count (72 in place of the 80 ) and comes with the same infinity cache and memory setup. 16 GB of G6 memory does mean it has 6 Gb more VRAM compared to Nvidia's offering and also comes at a lower price.
Out of the box, the RX 6800 XT comes with 72 CUs enabled. Combined with clock speeds identical to the RX 6900 XT – a game clock of 2015MHz and a boost clock of 2250MHz – and pending additional technical details from AMD, the card should average around 18.6 TFLOPS of FP32 shader performance. Relative to the RX 5700, this is just under 2x the performance of AMD's last-gen leading card. The card will be available worldwide on November 18th.
RX 6800
Comparatively the smallest of the Big Navis' is a serious powerhouse. The RX 6800 will ship with 60 CUs (3 shader engines) enabled, and with the fourth shader engine disabled, this by and large make it three-quarters of a full Navi 21. Relative to the other cards, clock speeds are going to be lower, with a game clock of 1815MHz and a boost clock of 2105MHz. Which, per our math, would give the card 13.9 TFLOPS of FP32 shader performance, or around 75% of the shader performance of the RX 6800 XT. AMD is claiming up to double-digit gain over the RTX 3070 and RTX 2080Ti for a price of $579. This card will also be available on November 18th.
AMD Radeon ™ RX 6000 Series graphics support high bandwidth PCIe® 4.0 and 16GB of GDDR6 memory to handle the most demanding 4K workloads today and in the future. Key technologies and capabilities include:
Powerful performance
AMD Infinity Cache is a high-performance, latest-level data cache suitable for 4K and 1440p gaming at the highest levels of detail. 128MB on-chip cache significantly reduces latency and power consumption, delivering better overall gaming performance than traditional architectures.
AMD Smart Access Memory is an exclusive technology for systems with AMD Ryzen ™ 5000 series processors, AMD B550 and X570 motherboards, and Radeon ™ RX 6000 series graphics. It provides AMD Ryzen ™ processors with greater access to high-speed GDDR6 graphics memory, accelerating processor processing and delivering up to 13% faster performance on AMD Radeon ™ RX 6800 XT graphics in Forza Horizon 4 at 4K, combined with a new one-click overclocking setting in Rage Mode mouse.
Size for standard cases – video cards with a length of 267 mm and 2×8 standard 8-pin power connectors, designed to work with existing 650W-750W power supplies; gamers can easily upgrade their existing large and small form factor PCs at no additional cost.
Realistic, highly detailed rendering
Maximum DirectX® 12 Support – Delivers a powerful combination of ray tracing, compute and bitmap effects such as DirectX® Raytracing (DXR) and Variable Rate Shading to take games to the next level of realism.
DirectX® Raytracing (DXR) – By adding a high-performance fixed raytracing engine to every computing device, AMD RDNA ™ 2-based graphics cards are optimized to deliver realistic lighting, shadows and reflections in real-time using DXR. Paired with AMD FidelityFX, which provides hybrid rendering, developers can combine raster and ray effects to provide the optimal combination of image quality and performance.
AMD FidelityFX is an open-source toolkit for game developers available on AMD GPUOpen . It contains a set of lighting, shadow and reflection effects that make it easy for developers to add high-quality post-process effects that make games look beautiful while providing the optimal balance of visual fidelity and performance.
Variable Rate Shading (VRS) – dynamically reduces shading for different areas of the frame that do not require a high level of visual detail, to provide a higher level of overall performance with almost imperceptible image quality changes.
Improved gaming experience
Microsoft® DirectStorage Support – Future support for the DirectStorage API provides lightning-fast loading and high-quality textures by eliminating the low bandwidth associated with the storage API and processor performance limitations.
Radeon ™ Software Performance Presets – Simple, one-click presets in Radeon ™ Software help gamers get the most out of their graphics card with ease. The presets include a new stable overclocking mode, Rage Mode, which takes advantage of the extra overclocking capacity available to enhance gaming performance.
Radeon ™ Anti-Lag – Significantly reduces display lag and provides a competitive edge in gameplay.
So overall, the GPU market for the coming year and a half at least is clear now. Ampere and RDNA 2 will fight head to head in each price bracket and also have the same or similar feature set to each other. At this point, AMD knows exactly what kind of performance they need to deliver to take on NVIDIA for the high-end, and the company believes that the Navi 21 GPU they've built is just the tool to do that. RT performance still remains a mystery for AMD but it's presumed to be as good as Turing at least so the technology will be of use at least. We will obviously know more in 3 weeks.