AMD announces Carrizo/Carrizo-L: First HSA1.0 compliant APUs, available 1H 2015
AMD, at its Future of Compute event in Singapore, announced the successor to Kaveri line of APUs. Codenamed Carrizo, the APU features x86 Excavator cores with a Radeon-class GPU. With what AMD calls its first high performance system-on-a-chip (SoC), a mainstream SoC called Carrizo-L will be part of the company's 2015 mobile APU lineup. Carrizo-L will be using the "Puma+" cores (upgraded Beema cores) with the same AMD Radeon R-Series GCN GPUs.
Excavator is basically an evolution of AMD's Bulldozer architecture (4th Generation, Bulldozer -> Piledriver -> Steamroller –> Excavator), with possibly GCN1.2 GPUs thrown into the mix.  One of the major improvements GCN1.2 had over previous generations included lossless delta color compression algorithms, and in a memory-strapped scenario for the APUs, this might come in handy.
What is more interesting here is that Carrizo will be the world's first Heterogeneous Systems Architecture (HSA) 1.0 compliant SoC. In continuation of what AMD already did with Kaveri (the simultaneous access to the main block of system DRAM for both CPU and GPU components, opening the door for parallelization afforded by GCN GPU for a large number of applications), Carrizo and Carrizo-L will continue the trend. The only drawback here is that there aren't many of such applications which can take advantage of HSA yet.
Interestingly, both Carrizo and Carrizo-L will be utilizing a single package infrastructure, which means the same socket will be used for both of them, allowing for interchangeability.
Both Carrizo and Carrizo-L will feature ARM Trustzone in the form of what AMD is calling "AMD Secure Processor", giving potential hardware-based built-in security when used by developers.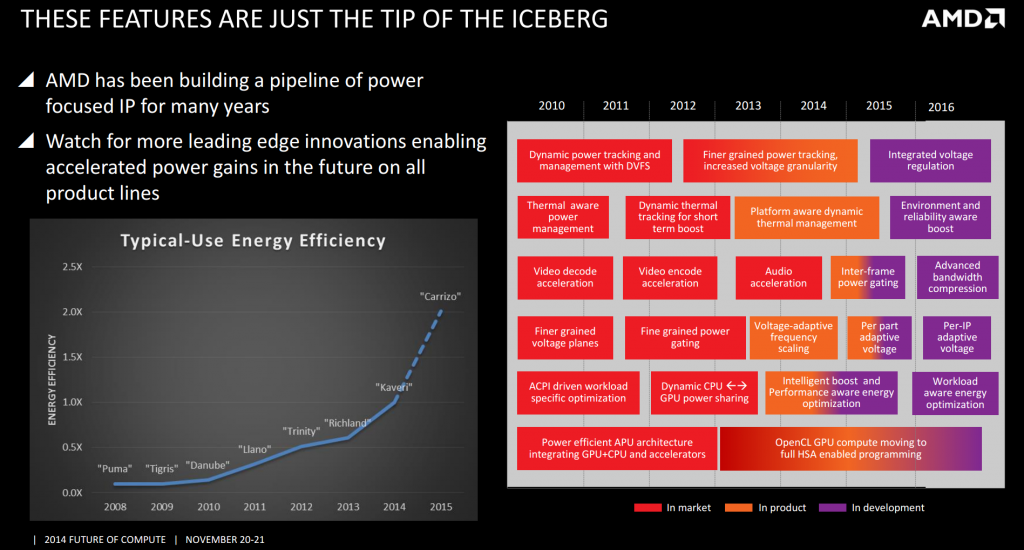 With these upgraded APUs, the focus for AMD is increased energy efficiency. Continuing on their goal to improve APU energy efficiency 25x by 2020, with Carrizo we will see a couple of new things introduced. One of such is AMD's Voltage Adaptive Operation, in which the APU will dynamically adjust the CPU speed to decrease energy loss. In case the operating voltage increases below the average value, the CPU speed will be pushed down, and when the voltage decreases beyond the threshold value the CPU speed will be bumped up again. AMD says that these changes will be subtle and won't have any noticeable impact on performance.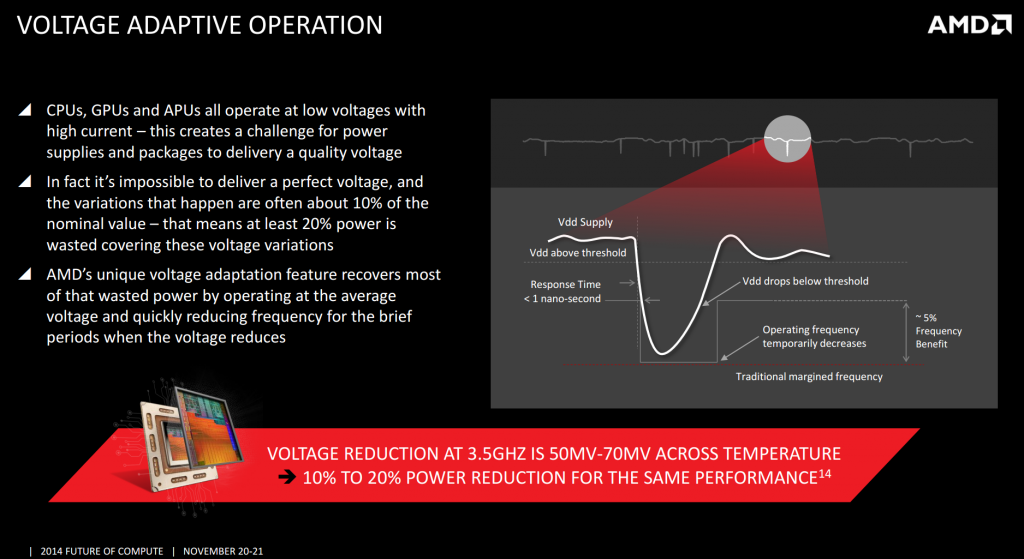 AMD did not comment on the support for DDR4, and while maybe we will see them jump into the bandwagon come 2015, as of now, there are no official statements on this.
While competition is moving to 14nm parts, AMD continues to use the 28nm process. Many expected Carrizo/Carrizo-L to shift to 20nm, but that doesn't seem to be true here. Guess we'll have to wait for AMD to publish their updated 2015+ roadmap to see how they plan to do that.
Carrizo and Carrizo-L will be available in first half of 2015, says AMD's SVP/GM for Computing and Graphics, John Byrne. He also iterates that right now the chip is being tested in-house and will be available "right on time", and is "The most advanced APU AMD has ever produced". These chips will have support for DirectX 12, OpenCL 2.0, Mantle and Freesync.
You can see John Byrne's introduction video for Carrizo here:
https://www.youtube.com/watch?v=I6zX2IqBI7A&feature=youtu.be
Sources/Picture Courtesy: AnandTech/AMD