Transcend SSD370S 128GB SSD
High-end workstations to custom-built PCs at home, almost everyone is choosing Solid-State Drives over Hard Disk Drives now. Not because it's a niche thing to do but the SSDs give more performance and higher speeds albeit they cost a pretty penny, more than your average HDDs do. Still from a consumer standpoint, an SSD is always a better choice provided the cost isn't a parameter. Today our product in the spotlight is the Transcend SSD370S which is the big brother of the SSD 360S we covered earlier.
Let's put the SSD thorugh its paces, shall we?
As its little brother, the SSD370S comes in a pretty simple red white box with information all over. Not much to write home about sadly.
The shipping company took a toll on it sadly, although everything inside was intact.
Coming to the content inside the box, we have :
Transcend SSD370S SSD
4 mounting screws
2.5" to 3.5" mounting bracket.
Warranty Card
Quick Installation Guide
Brochures
Coming to the SSD Itself,
We have the same design like the SSD360S so we wouldn't spend much time here. It just looks like it's been taken out of a MacBook.
Coming in capacities from 32GB to 1TB the Transcend SSD370S offers a cheap upgrade option to everyone. Under the hood, the SSD consist of 16nm Michron MLC Nand controlled by a relabeled Silicon Motion SM2246EN controller. Transcend decided to rename it to TS6500 with a custom firmware however, it still shows up as Silicon Motion in some utilities.
Moving on, we put the SSD through our usual gauntlet to check its capabilities and here are the results.
But first let us give you a glimpse of our new test bed that we will be using from now:
Intel Core i5 6600K
Asus Maximus VIII Ranger courtesy Asus India
Asus GTX 960 Strix courtesy Asus India
Kingston SM2280S3/120G SSD
Kingston HyperX Fury DDR4 32GB Dram
CoolerMaster V1000 PSU
Thermaltake LCS courtesy Thermaltake India
Without further ado lets get on to the important part, the benchmarks:
ATTO Disk Benchmark
The great thing about ATTO is that one can test with predefined block sizes. So, we can test with a 32MB sequence of 4KB files, yet also 32MB in 1MB files, providing an opportunity to test with various file sizes. This benchmark is a preferred among manufacturers as ATTO uses RAW or compressible data and, for our benchmarks, we used a set length of 256mb and tested both the Read and Write performances for various transfer sizes ranging from 0.5 to 8192kb with a ques depth of 4.
Anvil's Storage utilities Benchmark
Anvil Pro, or Anvil's Storage Utilities[Depending on what you'd want to call it] is an 'all inclusive' storage utility that allows testing transfer speeds as well as IOPS and lets the user tweak and adjust to find just the right mix in their testing medium, the IOPS tests being fully configurable with preset testing scenarios for read, write and mixed IO. The Benchmarks menu includes an SSD test, Endurance Testing and 3 pre-configured IOPS tests.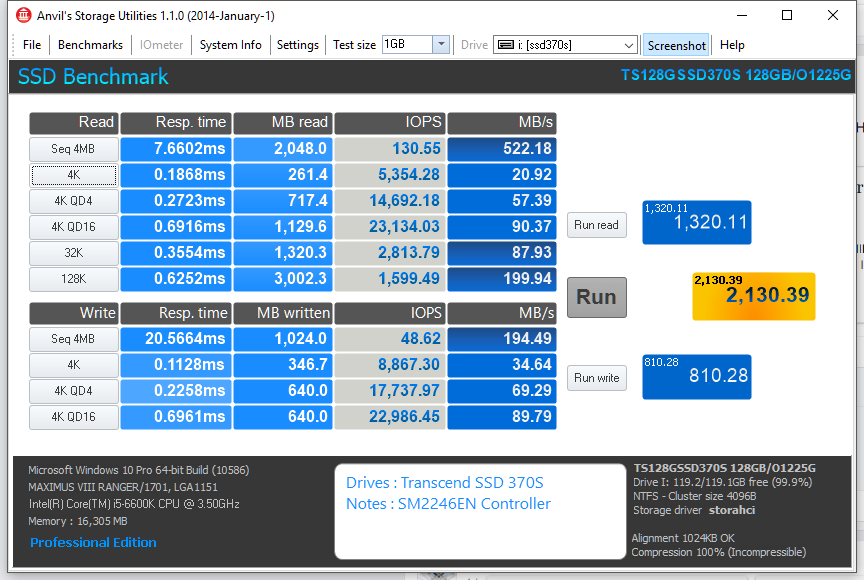 Crystal Disk Mark
Crystal Disk Benchmark is used to measure Read and Write performances through the sampling of highly compressible data (oFill/1Fill), or random data. Crystal Disk Mark scores usually drop a bit compared to ATTO, and this is the result of the test data now being primarily incompressible – Mostly movies, music and photographs. We tested the drive with multiple data sizes ranging from 100MB to 1000MB.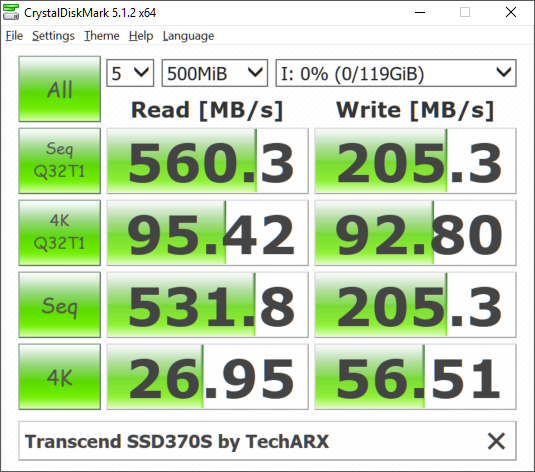 AS SSD benchmark Suite
This nice little application gives an extensive result set. The test is popular, so I included it. AS SSD, for the most part, gives us the worst case scenario in SSD transfer speeds because of its use of incompressible data.
Conclusion:
The SSD370S from Transcend is a very value oriented drive. And I would leave it at that. The drive is not meant to top the charts with blazing fast performance and it doesnt. This is a drive meant for people who would either like to have a simple SSD to chuck into a system to give it some boost or is someone who is looking for an MLC NAND SSD for whatever reasons. The drive fits both the roles pretty nicely and for that, we have to give Transcend their due.
And to add to the fact Transcend has managed to put the whole package with a premium feel without putting a hole on the consumers pocket for which they deserve some accolades.
However, the drive doesn't support AES and TCG Opal encryption out of the box along with slumber power modes (HIPM+DIPM).
Even though the two things are not exactly highly sought in a desktop PC segment, enabling them through a custom firmware should be easy.
Overall a pretty good budget drive.
Buying Link : http://amzn.to/2d2GVZg