Hot on the heels of Nvidia's 10 series graphics cards rolling out to anxious customers across the world, Swedish notebook manufacture Ivy have listed what appears to be a premium gaming notebook brandishing the supposed GTX 1080M, a mobile variant of the Nvidia GTX 1080 graphics card.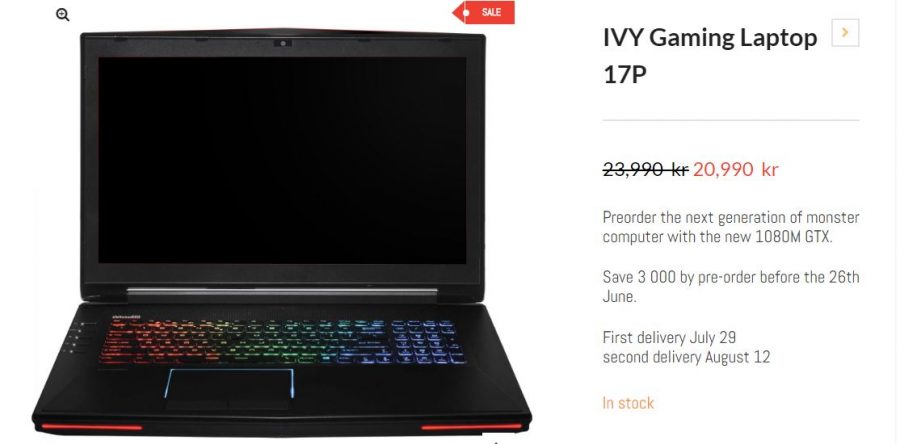 True to the nature of mobile variants, the 1080M is an 8GB GDDR5 GPU and no GDDR5X is in sight, with the former's CUDA core count said to be significantly lower than its desktop counterpart. What are the exact numbers? To be fair, most of this has already been seen back at Computex, but the differences between the GPUs are obvious and expected.
| | | |
| --- | --- | --- |
| GTX 1080 M | Specs | GTX 1080 Desktop Version |
| GP 104 | Graphics Core | GP 104 |
| 2048 | CUDA Cores | 2560 |
| 1442/1645 MHz | Core/Boost Clock | 1607/1733 MHz |
| 8008 MHz | Memory Clock | 10,000 MHz |
| 256-bit | Memory Interface | 256-bit |
| 8GB GDDR5 | Framebuffer & VRAM | 8GB GDDR5X |
| 16nm FinFet | Manufacturing Process | 16nm FinFet |
| ~150 W | TDP | ~180 W |
| 64/128 | ROP Units & TMUs | 64/160 |
( Source )
The GeForce GTX 1080M is seen to feature 2048 CUDA Cores, substantially lower than the 2560 cores present in the desktop 1080. Both versions are based on the same GP 104 Graphics Core, and while the desktop version of the GTX 1080 runs at a base clock speed of 1607MHz, the supposed 1080M could be running at speeds close to 1442MHz.
Similar details have also surfaced, stating how the 1080M's base memory clock is noted at 8008MHz, again lower than the 10,000MHz memory clock of the desktop 1080, which emphasizes the already obvious bit about how multiple performance sacrifices have to be incurred in order to conserve battery life, this being a mobile GPU of all things. Also, while the 1080M does seem to sport an 8GB framebuffer, notebook manufacturers will need to take into account that performance will not be on par with other, contemporary 8 GB video cards for desktops. Hence incorporating 4K displays onto their gaming notebooks and letting it all boil down to a mobile GPU isn't exactly the best idea, regardless of how close to a desktop 1070 the 1080M may be. [Tl;Dr – 4K 60 Frames Per Second is far from what a 1080M will provide the means to.]
We'll have more information about Nvidia's mobility lineup for their 10-series GPUs post-June,so do bear with us for the time being. Till then, keep watching this space for more.