Intel Launches 11th Generation Core Tiger Lake-H with Eight New Models
Since the announcement and release of first series of Intel Core 11th Generation Tiger Lake processors aimed at the 'U-series' 15 W market, Intel has been teasing another design. Today we see the Tiger Lake-H series with double the cores, and and targeted towards premium mobile gaming as well as on-the-go muscle.
A recap of the Intel Mobile Lineup
For those who are new, the intel mobile lineup consist of 4 main lineup(after tiger lake) for different scenarios.
TechARX

Main




TDP

TDP




Range

Features

Y-Series

4-10 W

Novel small form factor




Sustained battery life

U-Series

15 W

12-28 W

Usually reliant on integrated graphics.




Some with discrete GPU for portable gaming

H35-Series

35 W

New for Tiger Lake.




High Powered U Series Chips

H-Series

45 W

35-65+W

More cores, discrete graphics




'portable' high-performance gaming




Workstation/desktop replacements
The product released today belongs to the Tiger Lake-H lineup. For this lineup, Intel has three main use case
Essential: Paired with mid-range GPU, 1080p Gaming at 60 FPS, Medium/High Settings
Thin Enthusiast: 15+ inch, sub-20 mm, Gaming at 1080p240 or 4K60 at Medium/High
Halo Enthusiast: 15+ inch, Gaming at 1080p240 or 4K120 at High/Max Settings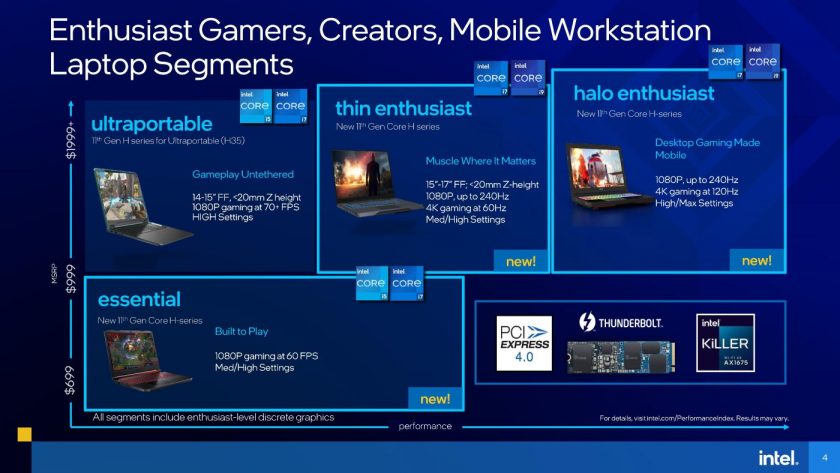 The new lineup will have corresponding vPro version for enterprise deployment. Also, as per Intel 15 out of the 80+ initial designs will be vpro focused.
The Lineup
The new Tiger Lake-H will have Intel's latest Willow Cove processor cores, with 1.25 MB of exclusive L2 cache, and up to 3 MB of shared L3 cache per core, along with Intel's latest Xe-LP graphics. The initial consumer offering starts at 6C/12T configuration with the topmost one having an 8C/16T configuration running at 5 GHz single-core turbo.
Intel Tiger Lake-H Consumer Lineup

TechARX

Cores




Threads

35W




Base

45W




Base

2C




Turbo

4C




Turbo

nT




Turbo

L3




Cache

Xe




GPU

Xe




MHz

i9-11980HK

8C/16T

–

2.6

5.0*

4.9

4.5

24 MB

32

1450

i9-11900H

8C/16T

2.1

2.5

4.9*

4.8

4.4

24 MB

32

1450

i7-11800H

8C/16T

1.9

2.3

4.6

4.5

4.2

24 MB

32

1450

i5-11400H

6C/12T

2.2

2.7

4.5

4.3

4.1

12 MB

32

1450

i5-11260H

6C/12T

2.1

2.6

4.4

4.2

4.0

12 MB

32

1400

*Turbo Boost Max 3.0
The most premium model is the Core i9- 11980HK. This eight-core part is rated at 2.6 GHz for 45 W, but also lists a base frequency of 3.3 GHz for 65 W. The specialty lies in the fact that this processor can be overclocked further than 65 W if the OEM chooses to. This is actually the first 10nm overclockable processor from Intel. the crown usually goes to the desktop segment but we are seeing something new this time.
The Core i9-11980HK gets the best of Intel's design here: 4.5 GHz all-core turbo, 4.9 GHz traditional turbo, and 5.0 GHz with Turbo Boost Max 3.0 on up to two favored cores. The iGPU has base Xe-LP architecture with 32 execution units running at 1450 MHz peak.
The other processors follow the standard non-overclockable scheme: 45 W standard rating and 35 W power-down option along with TBM 3.0 and usual Xe-LP iGPU running at variable frequency.
Intel Tiger Lake-H Commercial

AnandTech

Cores




Threads

35W




Base

45W




Base

2C




Turbo

4C




Turbo

nT




Turbo

L3




Cache

Xe




GPU

Xe




MHz

W-11955M

8C/16T

2.1

2.6

5.0*

4.9

4.5

24 MB

32

1450

i9-11950H

8C/16T

2.1

2.6

5.0*

4.9

4.5

24 MB

32

1450

i7-11850H

8C/16T

2.1

2.5

4.8

4.8

4.3

24 MB

32

1450

W-11855M

6C/12T

2.6

3.2

4.8*

4.7

4.4

18 MB

32

1450

i5-11500H

6C/12T

2.4

2.9

4.6

4.4

4.2

12 MB

32

1450

*Turbo Boost Max 3.0
On the commercial side, Intel has mixed the naming scheme from both Core and Xeon parts. Performance-wise we see no overclocking with the power draw of 45 W as standard and 35 W optional. These chips differ as they have Intels vPro features along with ECC memory support. The W-11955M is the leader of the roost with an 8C/16T configuration with a 5GHz boost
Tiger Lake-H Silicon and Platform
The Tiger Lake-H silicon gets a full eight Willow Cove cores on die, along with 20 lanes of PCIe 4.0 for discrete graphics and storage. the silicon also uses Intel's latest Xe-LP graphics and media engines enabling AV1 decode support, and also has built-in Thunderbolt 4 controllers. The die measures around 190 square millimeters. Memory wise they all support DDR4-3200. Since the platform is not exactly battery life focussed, LPDDR4 is not supported. Also, TGL-H customers will prefer having DDR4 as it supports double the capacity (as well as usually being user-replaceable, depending on the design).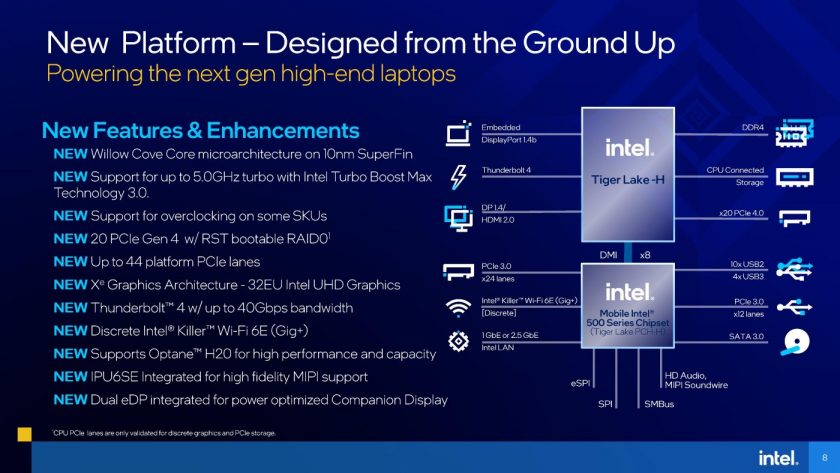 The 20 lanes of PCIe 4.0 can be split in three different ways:
x16 for graphics, x4 for storage
x8/x8 for graphics, x4 for storage
x8 for graphics, x4/x4/x4 for storage
In case of the last configuration, systems can have bootable RAID 0 with three PCIe 4.0 storage. This is indeed obscure but available in the wild.
Since the chipsets are different from the CPU itself, the OEM can pick and choose as per requirement. The most powerful configuration will have DMI x8 link, offering double the bandwidth between the chipset and CPU. the chipset also has 24 PCIe 3.0 lanes as well as MIPI support for Intel's Image Processing Unit 6.
Thunderbolt 4 is natively supported albeit there is no mention of USB4. USB 3 is also present but Intel didn't disclose if its USB 3.2 Gen 1 or Gen 2. On the networking site one can choose between OEMS own discrete solution or the chipset integrated Killer AX1675 Wi-Fi 6E solution(since Intel has acquired Killer last year for an undisclosed sum).
Intel promotes that TGL-H is ready for Windows Direct Storage, and with appropriate third-party discrete graphics can support the latest 360 Hz 1080p panels or the latest 4K 120 Hz panels. Resizeable BAR is also supported.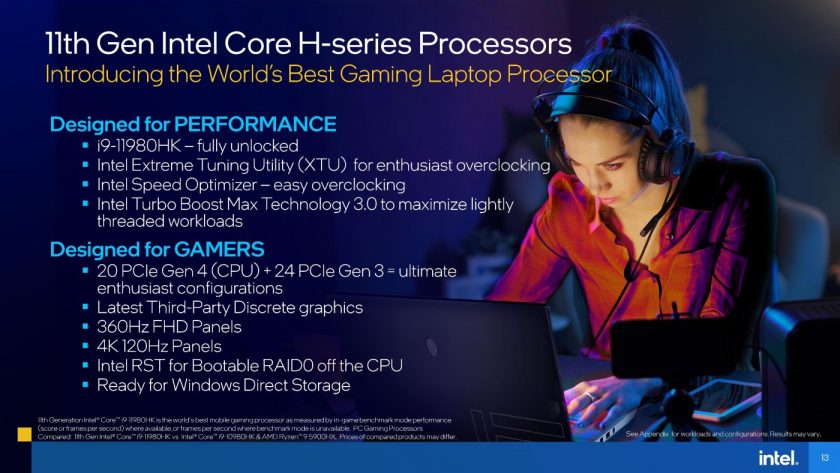 Performance
Intel provided some slides with first-party benchmarks. According to them, there is an 'up to 19%' better performance per clock over the previous generation. The claims will be validated in the coming weeks or so when the system actually gets sold and samples arrive. Till then we can only believe in these slides. We will report as soon as we get some information.