GIGABYTE X99 SOC Champion Review : What makes a Champion?
10 min read
mobic cost Amongst all the manufacturers who have released their X99 motherboards, GIGABYTE's lineup is arguably the most diverse. Not only they have motherboards catering to almost all of their standard target markets, they also have introduced some new models to existing SKUs to expand an already populated roster. The X99 SOC Champion represents the long lineage of GIGABYTE's orange and black overclocking oriented motherboards, but with every generation the company has slowly moved away from an overclocking-only approach to the OC (SOC now) line and added features that would make the potential buyer feel that he/she is getting a complete package. With Z87 and later SOC boards, we have seen the inclusion of electromagnetically shielded audio and bumped up connectivity options. The barebones motherboard maybe appealing to hardcore overclockers but in terms of sales numbers they represent a negligible fraction. So when we compare generation-by-generation, GIGABYTE's OC boards with black and orange livery have evolved into more complete solutions rather than offering a single-side focused performance.
biltricide buy boost With X99, GIGABYTE has introduced two boards in its SOC range. Initial of those boards was the X99 SOC Force, but the X99 SOC Champion is an evolution of the SOC Force. Many may say that it is a downgrade while comparing it to the SOC Force, since it loses two DIMM slots, most of the rear I/O (USB ports especially), and the plethora of onboard buttons that the SOC series is famous for. But come to think of it otherwise, GIGABYTE is specifically targeting the SOC Champion to seasoned overclockers, producing a board that has the bare necessities to function properly yet retains all the overclocking bells and whistles required to push barriers in benchmarks. The name Champion hence bears resemblance to GIGABYTE's target audience. GIGABYTE is marketing this board to be specifically built for Liquid-Nitrogen based overclocking, but as we will see that the board works perfectly fine with modest setups as well.
X99 SOC Champion Specifications:
Board Overview & Visual Inspection:
order priligy dapoxetine
buy me a boat lyrics This board is visually very similar to the X99 SOC Force. GIGABYTE's overclocking range of boards has been traditionally clad in orange and black, and the SOC Champion continues that trend. Personally I think the combination looks edgy and provides a welcome relief from the sea of black and red themed boards (can get on my nerves at a time). The Heatsink array is quite spread out and covers the CPU+DIMM section in three sides out of four (VRM), and the big PCH heatsink. They are all connected through a single metal heatpipe. There are four DIMM slots, two on each side of the CPU socket, and looking at the motherboard size it is easy to understand why the buttons are missing – the space is as crammed with components as it can be. Four PCIe x16 slots are also onboard with dual slot spacing and depending on CPU they can do 16x/8x/8x/8x maximum, making the board suitable Quad GPU setups. The board also strips much of its rear I/O, with only a handful of USB ports. What's worth noting is that GIGABYTE decks this board with three PCIe x1 slots and a M.2 2.0 x slot.
The SYS_FAN1 fan header and the 4-pin ATX 12v connector sits on the extremely small space between the VRM heatsink and the rear I/O. The heatsink arrays are primarily black with stripes of orange and silver/white on them. The heatsink that runs above the CPU socket contains the bulk of the power delivery components and in the narrow space that is left above is filled with the 8 pin ATX 12v connector. The DIMM slots are single side latched and support up to 64GB of DDR4 memory with supported XMP speeds up to 3400MHz. The CPU socket area is relatively clean and do not contain any mounting holes for air coolers. AIO CPU coolers and LN2 pots need to mount directly on the CPU socket screws/standoffs. GIGABYTE says that their power delivery and regulation circuitry uses both 4th Generation digital PWM Controllers and industry-leading 3rd Generation PowIRstage® controllers. In the X99 SOC Champion GIGABYTE is using an all-digital 8+2phase VRM. For the CPU phases, each phase is driven by International Rectifier's IR3556M driver, and the phases are controlled by an IR3580 single output PWM Controller chip. Cooper Bussmann chokes (server-grade) and DuraBlack solid capacitors complete the voltage regulation circuitry. The DRAM VRM comprises of two phases with IR3553M driving each phase and IR3570A PWM controller.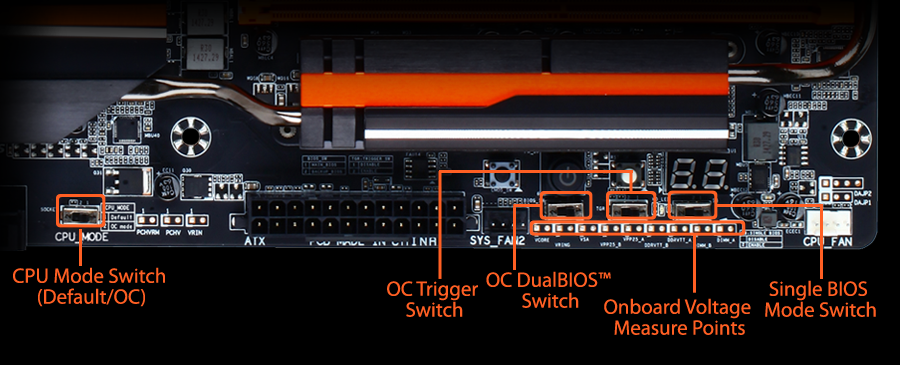 On the top right hand side we have the usual concoction of connectors. From top, the CPU_FAN header in white, the two-digit LED debug display, the trio of switches (the OC Trigger Switch, the DualBIOS Switch and the Single BIOS Mode Switch) the Power ,Reset and Clear CMOS buttons, the voltage checkpoints, another four pin fan header (SYS_FAN2). Below that we have the 24-pin EPS power connector for the motherboard. A couple more voltage checkpoints are next in the space between the motherboard power connector and the storage sections, and the CPU_MODE DIP switch. This interesting switch enables extra pins in the socket. Utilization of the extra pins in the LGA2011-3 socket is something that we have seen by at least one competing brand, but GIGABYTE goes the extra mile and provides users with the choice of selecting the appropriate modes. Selecting the OC mode (2083 pins) gives the system more stability and more overclocking headroom for DRAM and uncore, bypassing Intel's FIVR restrictions.
The storage section has ten SATA 6GBps ports, of them the first six (top) are RAID capable, and the next four are not (bottom) being driven by different AHCI controllers. The lone SATA express port sits in the middle of these top and bottom SATA ports and uses two PCH lanes. Like almost all the motherboards we've seen, the users are limited to using only one between the M.2 connector and SATA express.
The bottom section of the motherboard houses the front panel connectors and several other headers. From right to left, we see a four pin SYS_FAN3 fan header, front panel power/reset/HDD activity headers, a USB3.0 header, two USB2.0 headers, a COM header, and headers for GIGABYTE's OC PANEL (not included with this motherboard), Thunderbolt header and the front panel audio connector.
Above these we have the PCIe section. In the SOC Champion we have four PCIe x16 slots (two electrically as x16, two as x8) as well as three PCIe x1 slots. The x16 slots are dual-slot spaced and therefore quad GPU configurations are possible with most standard cards. The lack of any PLX chip means that the available lanes are from CPU only and hence depending upon the CPU they vary for multi-GPU setups. The Socket 3 M.2 slot is between the second and third PCIe x16 slot.
The audio section is surprisingly well-featured for an overclocking focused board. The AMP UP Audio is basically an upgraded version of Realtek's ALC1150 codec, and GIGABYTE is using a Texas Instruments N5532 Operational Amplifier to augment the onboard audio. This amplifier is capable of driving even 600ohm headphones. Apart from that, features like LED lit PCB path separation, separate PCBs for left and right channel audio and electromagnetic shielding is present. The LED lit path glows orange, and GIGABYTE has also tastefully added a little SOC logo in that path.
For rear I/O, we have the keyboard and mouse PS/2 ports, four USB2.0 ports, four USB3.0 ports, Intel GbE LAN port (I218-V Controller) and the 7.1 channel audio ports including an SPDI/O port.
In the Box:
GIGABYTE X99-SOC Champion has the following contents in the box:
Driver Disk
User Manuals
Rear I/O Shield
Four SATA Cables, 6G
1x Two-way flexi Crossfire Bridge
1x Two-way flexi SLI Bridge
1x Three-way short rigid SLI Bridge
1x Three-way long rigid SLI Bridge
1x Four-way rigid SLI Bridge
BIOS/UEFI overview:
I have been appreciative of how much GIGABYTE has worked on their X99 UEFI, and the X99 SOC Champion is no anomaly either. Though I still cannot understand why we need to have three sections with the latter two basically portraying similar settings, the overall experience is much smoother, save for two or three occasional hiccups or lags. There are three sections of the UEFI: the very basic section, the advanced section and the OC-section. The basic section is a 3×3 grid of options for quickly changing and configuring stuff, while the advanced section is the more spread out UEFI with all the nitty-gritties. For X99, GIGABYTE has given its standard UEFI a makeover: from the blue/white to a black/silver. This looks much better in my opinion and with the added performance improvements the BIOS is finally becoming a pleasure to use.
Finally, the OC mode has the black/orange livery, akin to the board itself and houses voltage and frequency settings for CPU/DRAM and PCH. This mode is particularly visually interesting since the users get to see a lot of information about the current status of the system around the peripheral sections. While the abundance of information is welcome, some of them can definitely be ignored or avoided to make the screen less cluttered.
Again, like I have said in my previous reviews, I question the need for a dedicated OC mode in the BIOS. While visually it looks good, all the options are already present in the standard (advanced) mode, and presenting a select few in a different page doesn't make much sense. I would like to see some of these options make their way to the basic mode, which looks too simple at present.
Bundled Software:
GIGABYTE's bundled software package is made of 'apps' controlled by what GIGABYTE calls the App Center. These applications range from simple ones like USB blocker and System Information Viewer to more complex ones like Smart TimeLock and Smart Recovery.
The manual tuning for CPU/DRAM is done via EasyTune. It has separate sections for CPU and DRAM, with each section providing options to tune frequencies and voltages. There is also a section to choose between different preset modes and to control phase/voltage/frequency settings.
GIGABYTE also includes a utility called Smart Switch which works as a start menu-like application for Windows 8 users.
Test System:
To test this motherboard we set up the following system:
Intel Core i7-5960X, Haswell-E, 8C/16T, 3.0GHz base/3.5GHz turbo
GIGABYTE X99-SOC Champion, BIOS F4i
G.SKILL Ripjaws4 DDR4-3000 memory, 16GB, CL15-15-15-35 2T
ASUS GeForce GTX 970 STRIX OC Edition
Kingston SSDNow V300 64GB SSD, AHCI mode
Corsair AX760i Power Supply, 80Plus Platinum
Corsair H100i Closed loop liquid cooler for the CPU
Big thanks to GIGABYTE, ASUS, Intel, Kingston, G.SKILL and Corsair for the respective components.
Performance:
Performance is pretty much what I've expected. The 5960X crushes most of the multi threaded applications and comes at par/slightly slower than the competition in single threaded ones. It is nice to see the X99 SOC Champion dishing out some impressive numbers.
Overclocking:
CPU overclocking was a breeze in the SOC Champion. I managed to overclock it to almost 4.9GHz. The uncore was overclocked to 4.5GHz as well, and the maximum stable overclock I reached was 4.75GHz which needed around 1.4v VCore. The maximum BCLK I could push the SOC Champion to was around 128MHz.
DRAM overclocking proved to be a little difficult. In the end I managed to overclock the G.SKILL modules to DDR4-3100, but anything more and the board refused to boot. Even higher DRAM voltages didn't help.
Conclusion:
The X99 SOC Champion is a fantastic board. I had immense fun playing with the board and it proved to be a rock solid platform for benching. For day to day performance it is hard to suggest a board like this but if you want to push the limits out of the components, this board might be it. This board has already been used to break quite a few world records, and the time I spent with it made me understand why.
The SOC Champion is a board solely targeted at overclockers, but it isn't feature-strapped like we have seen in the past. We get PLX-less full bandwidth PCIe arrangement, M.2 2.0 x4, Ten SATA ports, Intel GbE LAN and EMI shielded audio. The inclusion of the CPU Pin selection DIP switch is nifty as it makes the whole process easy: when you want to run your benches, flip the switch to OC mode; for other options, normal mode.
What makes the SOC Champion such a lucrative option is its price. Available for a fraction of a price of most of the competitions top-dog OC boards, this board performs the same, if not better. Even with a standard AIO, I was able to push the i7-5960X close to 5GHz, which is no mean feat. The RAM overclocking was a little on the rough side, but I suspect that has to do more with the actual DIMMs rather than the motherboard itself.
I am pleasantly surprised with the BIOS experience this time as well. GIGABYTE has certainly put in some work behind this and it shows. Apart from one or two times, the mouse acceleration inside BIOS was fluid and the responsiveness was proper. I wish the easy mode would get a makeover now and will add some of the options that we see in OC mode. And no three modes please, GIGABYTE!
The bundled software is evolving too. EasyTune continues to be one of the easiest tuning applications, and apps like the Smart Switch add to the overall user experience. It is nice to see companies actually thinking about what features to include instead of creeping them all together.
Overclocking is a niche, and not many users run their boards overclocked 24/7. The mad people who buy boards only for benching are a few. But even considering them, the GIGABYTE X99 SOC Champion is a beast of a board that doesn't come with a royal price tag, and that says a lot.