Who is this build for? 
This build guide is focused towards the gamers who want to play all the recent games in 1080P and 60fps on Medium to High settings. The parts in this build is chosen such that the gamers get bang for their buck. All the parts are listed below with their short description. The links and pricing of each product will be provided below itself.
ANTEC GX 200 :
GX200 comes with up to three 120mm fans. One standard fan has already been mounted at the rear. In the versions GX200 RED and GX 200 BLUE, two 120mm fans have already been mounted at the front. The convenient upper compartment also offers space for additional equipment as well as mobile devices, which need to be easily accessible. USB 3.0 connectivity for lightning-fast data transmission is available at all times thanks to the front panel connections.overall its a spacious cabinet and will fullfill our needs with no problem whatsoever.  Link
ASUS H170M-PLUS Motherboard

:
ASUS H170M-PLUS is overall a decent choice for this build. It supports AMD Crossfire Technology which will be helpful if you plan to add another GPU over time. USB Type-C is present which will favour convenient connectivity. A M.2 slot and an integrated fan control system is (Xpert2+) has somewhat become a general term these days which this board doesn't fail to provide. Link
Intel Core i5 6400:

For this build, we decided to choose an Intel i5 6400. The new generation of processors have a huge advantage in gaming over its predecessors.The Core i5-6400 is the most affordable standard chip from the Skylake Core i5 range. That means it's still got most of the assets that pricier Core i5 parts have, It's got four physical cores, 1MB of L2 cache and 6MB of L3 cache. Standard clock speed remain at 2.7 GHz. Link
G.Skill Ripjaws IV 8GB RAM (2×4) :
G.Skill Rams are well known for their quality so we went with 2 sticks of G.Skill Ripjaws IV 4GB sticks. 8GB Ram is sufficient for any game in the market right now. And if you pick -up two of 4GB sticks, you will get the advantage of Dual-Channel which will increase your performance drastically in the overall scenario. Link
THERMALTAKE  TR2 S 600W PSU:
The TR2-S from Thermaltake is an entry-level solution for all the basic needs in a power supply. A 120 mm fan for effective and quiet cooling, The Single +12V rail design enables non-stop usage with stable and reliable performance, saves energy through its high efficiency of up to 86% and accommodates any mainstream build with the most demanding requirements. An embedded intelligent cooling fan delivers excellent airflow at an exceptionally low noise level. Link
Western Digital 1TB Caviar Blue:

For the mass storage, We went with a WD Blue 1TB. It provides best performance for the money and is highly reliable. Considering that you will store all the games pimarily on this, we chose a 1TB drive. It is a 3.5inch HDD with low power consumption and has a spindle speed of 7200RPM. Link
Dell S2216H 21.5" Full-HD Monitor:

Dell's S2216H is one of the best monitors under 10,000 INR. The slim Bezels, IPS Panel and 5ms response time gives a decent performance and suffices the eyecandy of many. The colours are vibrant and the overall build quality of the monitor is on par.The monitor sports an integrated speakers too. Standard HDMI and VGA ports are included along with 3.5mm jacks (Audio In and Out). Link
MSI R9 380 Armor2X 2GB GDDR5 Graphics Card:

The MSI R9 380 is a decent card which can play almost every recent game at 1080P and 60fps on high to ultra settings. The white and black accents on the card gives it a nice look. The Armor2X series Gpu's are equipped with higher clock speeds out of the box, delivering better in-game performance. It also supports the AMD FreeSync technology. It will be better to buy the 4GB variant of this card as this is a 2GB variant. Online stores are not currently providing the 4GB version and if even some sites do, they price it much higher, along with a GTX 970, Which is ridiculously high. So try to head out and search for the 4GB variant in local stores. You won't be disappointed at all by this card. Link
Cooler Master Devastator Combo: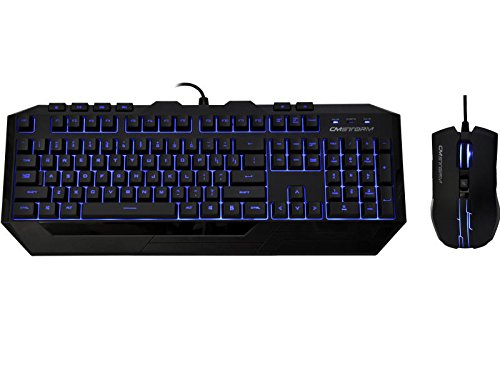 Cooler Master's Devastator keyboard and mouse combo brings stylish looks and pretty blue lights to the gamer on a strict budget, but, looks aside, it's still a high-quality set. Overall build quality of keyboard and mouse is decent. 2.7k  for a keyboard and mouse combination of this quality is an absolute steal. Admittedly, there aren't any of the fancy gaming features you get with similar equipment, but at this price, you can't expect much more. Link
NOTE:
This build roughly touches the 70k mark so you can add an Asus's Optical drive if you want.
SSD's are getting cheap these days, so a Kingston 120GB SSD is a no brainer.
SteelSeries Siberia V2 Headset will be a nice addition to the build.
Addition of these parts will increase the budget to 80K. So the parts in this list are optional.