[nextpage title="Introduction"]

Gamdias is a very new entrant in the Indian gaming peripheral market, they have been operating in the international market for quite some time now and want to lock their horns with other manufacturers already thriving in the industry. To further this motive they have been producing peripherals ranging from entry level Keyboard/mouse combos to top of the line RGB mechanical keyboards, their portfolio isn't just limited to keyboards and mice though, they also have a few headsets and mouse pads to name a few. So today we have with us the "Gamdias Hermes 7 Color Mechanical Gaming Keyboard", i know quite a mouthful, but let's not get fixated on their naming scheme and find out whether the keyboard can hold its own against the brutal competition.
Before we actually jump into the objective and analytical stuff, here is a run down of manufacturer provided Spec sheet for the Hermes 7 Color Mechanical Gaming Keyboard.
List of content included in the Box :
1) Mechanical Keyboard
2) Quick Installation Guide
3) A pair of Gamdias Stickers
[nextpage title="Visual Inspection and Build Quality"]Let's talk about the design of the product first; I liked the aesthetics of Gamdias Hermes 7 Color Mechanical Gaming Keyboard. It's a very clean and classy looking keyboard akin to how Corsair's K lineup of keyboards do. There are no curves to be found it's a rectangular design with elevated keys for easier access when it's time to clean the keyboard. The rear of the keyboard dons a gamdias logo and offers some style elements in the form of a slanting backside with contoured plastic all over making it quite pleasing to look at but since it's at the back nobody is going to be able to appreciate it under normal daily usage.
The wrist rest is quite functional but is not removable and the keyboard weighs in at about 1.1kg which in turn makes using it while keeping it on one's lap an unpleasant experience, but i think most mechanical keyboards are identical in this regard as most are quite a bit heavier than their membrane counterparts. It also comes equipped with feet on either side of the keyboard allowing for some adjustment to the height of the keyboard as per one's individual preference.
Keys on the product are very well lit and use a very appealing sharp font which goes along with its overall character. The inclusion of 7 Color backlighting fetches the keyboard some much needed brownie points and the numerous(14 to be precise – 9 presets and 5 user defined effects) lighting options become a cherry on top, I know a lot of people cringe at the sight of the word RGB/Multi Color but for all its subjective fallacies it does look pretty, even though you get tired of it soon enough.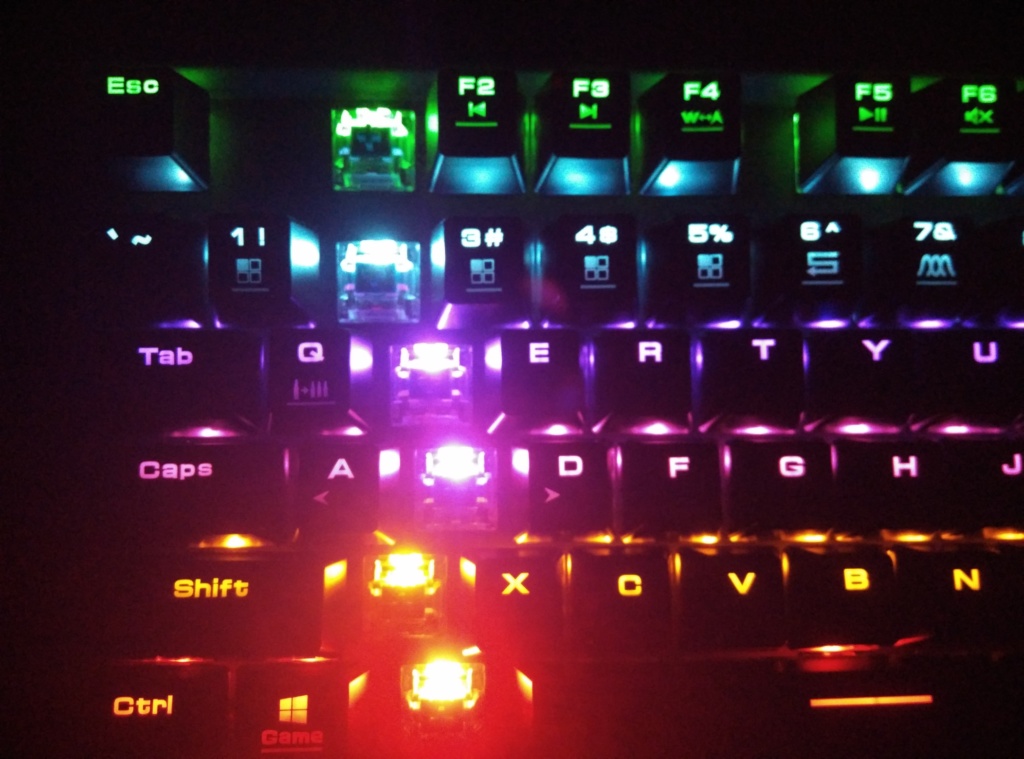 Coming on to the build quality , I can say this much, I haven't come across a single Mechanical keyboard in recent times which failed on this front, that's indicative of how fierce the competition is and how much importance build quality carries in the eyes of gamers/typists and manufacturers alike. Having said that, the Gamdias Hermes 7 Color Mechanical Gaming Keyboard is no exception to this observation of mine and sports a very ruggedly built design which inspires confidence every time you lift it, touch it or inspect it. The keycaps are quite solid and owing to the metal plate on which the switches are mounted you can be sure that the keyboard will barely flex. If this wasn't enough then let me add that the USB cable is pretty thick and is well braided to avoid getting damaged by accidental pulls or twists. Lastly as I have already mentioned, the keyboard weighs in at 1.1kg which while being a con of sorts also entails the fact that the keyboard is made with quality materials.
[nextpage title="Usage Experience"]I have had the keyboard for close to a week now, I have used it well or rather abused it well over the past week, be it while playing Dota or a quick round of Overwatch; it felt really good, despite the fact that these don't use the actual Cherry MX Blue switches(More on this later) , and if that's not adequate(OFC it isn't, the keyboard is equipped with Blue keys with higher actuation force and that clickety feel and feedback) I used it to type various articles ranging from office work to writing this review itself. And surprisingly enough, these are very good for typing, I had fewer mistypes than I am used to having on Cherry MX Reds and membrane keyboards, and i can definitely attribute it to its higher actuation force. While a few gamers are quite picky about their selection of mechanical keys, i can say for sure that Blue keys in no way will hinder your gaming experience unless you are a pro gamer who wants maximum key presses a second and rely on multiple consecutive key presses, in that case Reds will be your friend.
Apart from all i have said, i would also like to state the obvious, when it comes to mechanical keyboards especially the typing feel and experience; the thing called subjectivity goes out the window, as most Blue keys will feel the same within some acceptable margin, so giving an honest experience becomes a redundant affair. But there is an exception to these rule, with the popularisation of mechanical keyboards and Cherry MX's foothold in the market, many manufacturers have come out with different types of mechanical keys; to name a few :
Kailh Switches
Topre Switches
Romer G Switches
All these keys feel very different and this argument that i discussed above holds true when comparing keyboards which use the same type of Switches.
So coming onto the type of keys the Gamdias Hermes 7 Color Mechanical Gaming Keyboard uses, despite what Gamdias states in the spec sheet which reads :
Key Switch : 

GAMDIAS certified mechanical switches
Type              : Blue
Underneath the keycaps if you notice you will find the OEM for the keys , the Switches aboard this keyboard are called TTC switches and seem to be a chinese low cost alternative to Cherry MX Blue switches; On paper this might seem like a bad thing but the reality is quite different, not only do these switches from TTC help keep the cost low, they also feel awfully similar to Cherry MX Blue, for all intents and purposes I could not differentiate between them, well you could argue that I didn't have a Cherry MX Blue keyboard with me at that moment to do a side by side testing. TTC Switches are rated for 50 million clicks which is a lot.
 Let's talk about the bling now, which is a very interesting topic, while looking at this keyboard you might get an impression that it's a full fledged RGB keyboard but it's not, in an attempt to keep costs low and allow for as much bling as possible a 7 color LED scheme has been put to use here which works well and is quite pleasing to look at; isn't free of some pitfalls which we will discuss in a moment. The LED customization is a standard affair which we have seen on most RGB mechanical keyboards already out, you have presets like Marquee, Breathing, Ripple, Wave, Static On/Off to name a few. But you also get 5 user defined options where in you can define your own lighting preset with the push of a few keys, and works really well in my opinion, especially at night when you want your attention on a few keys, you can configure only those keys to be lit and switch off the rest allowing you to have the least amount of distraction. You can also control how bright the buttons are lit, again with the push of a key; It's really good to have real time modifications without the use of a software as it makes for a pretty fast setup with the least amount of drama. And ofc you have the de facto N Key rollover which has become a standard feature now on most of the keyboards.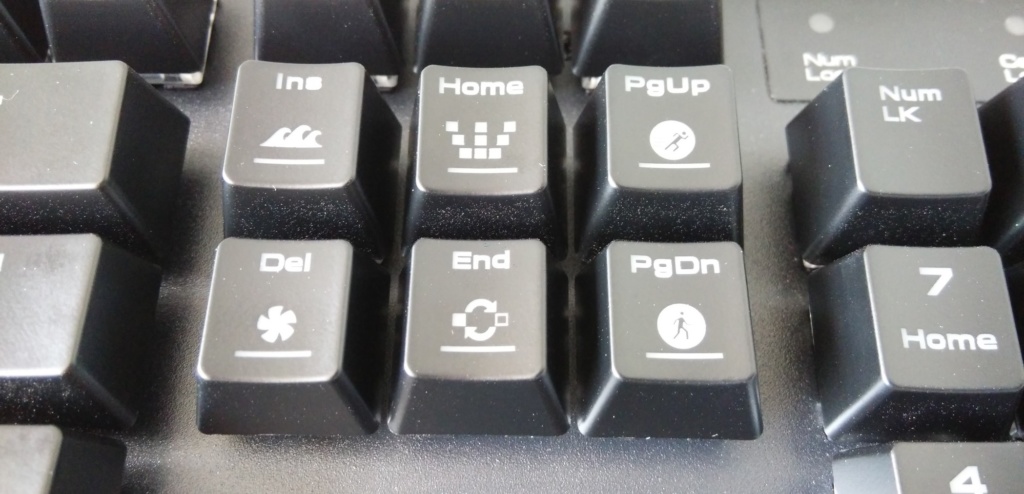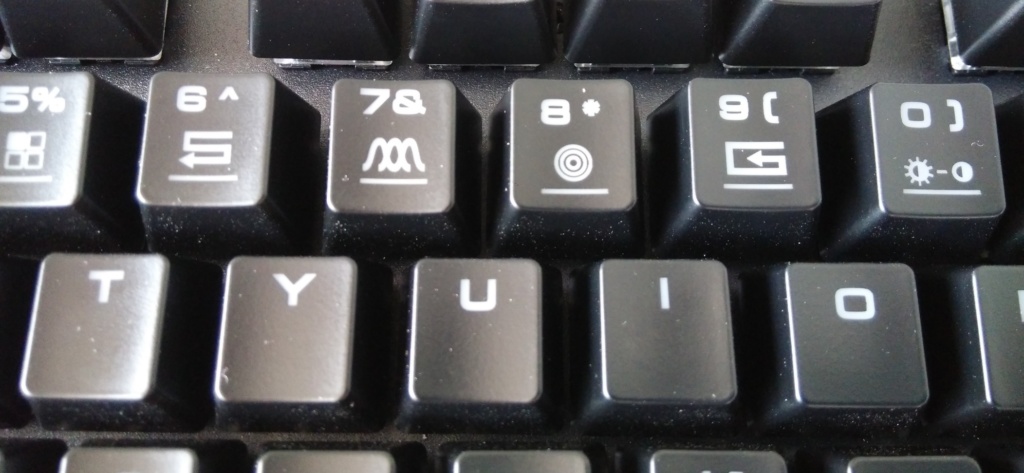 Apart from these, the keyboard also sports multimedia keys which are enabled and used in conjunction to the "Fn" key , a windows key disabling switch alternatively called gaming mode. You also get the functionality to swap "WASD" keys with "Arrow". It also gets a consecutive fire button which does exactly what it says, ie firing multiple commands of a type on a single press of the key.
Now, I hope you remember we talked about discussing the pitfalls of the Gamdias Hermes 7 Color Mechanical Gaming Keyboard.
So let's get to the root of it, before I say anything I would like to say that different people have different preferences so I will try to keep my discussion purely objective.
The largest hurdle in the way of this keyboard is the fact that it comes with no software suite, in fact it is not even listed as a compatible keyboard with the software present over at Gamdias website, now you might think why that is a bad thing, well it's bad because it robs you of many features like fine tuning the lighting system or reconfiguring keys as you like as well as setting up macro functionality which is a very very important feature to miss out in such a high profile keyboard, now, before you say that they do mention no macro in the spec sheet, let me clarify, being honest isn't akin to being value for money.
In addition to all these, the keyboard also lacks any extra keys .For what this keyboard costs I think a software suite and a macro functionality would have given it an upper hand over its competitors in that specific price bracket. Add to all this that the keyboard uses cheaper Switches and 7 color LED systems which aren't bad but are a means to reduce the price of the keyboard, which infers that the keyboard is overpriced. These few major cons really take it away from an otherwise good product.
[nextpage title="Conclusion"]
To summarise, I would say the keyboard does not disappoint mechanically(Pun intended) but it does lose quite a lot of points for not having a proper software suite and subsequent macro and reconfiguring functionalities.
So if you'd ask me if I am going to recommend the Gamdias Hermes 7 Color Mechanical Gaming Keyboard, I would say it depends on your preference, if you don't think much of macro functionality then maybe yes, I would recommend this keyboard for its good build quality and the pleasing LED lighting system along with solid mechanical keys. But if you are someone who plays a lot of RPG or RTS games or any game where you think macro functionality is critical then no; please stay away from this keyboard, it's not for you. But even then the price does make this a value for money offering. Letting the cat out of the bag – The product is supposed to be priced around the INR 10,000 mark according to my sources but going by the MRP it's a whopping INR 14,999. So take this figure with a grain of salt.
Pros :
Solid Construction
7 Color LED Lighting
Cons :
No Software Suite
No Macro
Overpriced
P.S. if the price gets updated in the future, this review will be updated accordingly and the value proposition reflected will also dictate the change in recommendation. But as it stands we are going to give this keyboard a well deserved Bronze Medal.
[review_bank review_id=21]