The term Black Edition is relative. For some manufacturers the Black Edition represents the crème-de-la-crème of their product range, a limited edition existence filled with premium features. For GIGABYTE, the Black Edition moniker represents rigorous stress testing done for a week (168 hours). This extreme level of full system testing ensures that each motherboard retain the same quality. More often than not, one expects this level of testing to be present in flagship boards, but with GA-Z97X-UD5H BK, GIGABYTE is aiming for a double whammy: give a mainstream board the Black Edition treatment without breaking the bank. The UD5/UD5H by virtue of naming represents GIGABYTE's second best mainstream board and came with Dual NICs, Multi-GPU support, Upgraded Audio plus everything Ultra Durable had to offer. With Z97, GIGABYTE has upped the ante, and their Ultra Durable 5 plus certification now brings an upgraded VRM Heatsink, an all-digital power delivery system featuring premium IR PoweIRStage PWM controller and driver ICs and 10 USB ports onboard, while the usual culprits remain: dual NICs courtesy Intel/ Killer E2201 chips, upgraded audio courtesy Realtek ALC1150 with audio path separation and EMI shielding and CrossFireX/SLI support (up to 3 cards for CrossFireX, but only 2 card SLI since the third PCIe slot runs at x4). Z97 also brings on board SATA-Express and M.2 connectors, and an upgraded UEFI and GIGABYTE's ever-improving apps (bundled software) complete the package.
Board Features:
CPU

Support for Intel® Core™ i7 processors/Intel® Core™ i5 processors/Intel® Core™ i3 processors/Intel® Pentium® processors/Intel® Celeron® processors in the LGA1150 packageL3 cache varies with CPU

Chipset

Intel® Z97 Express Chipset

Memory Support

4 x DDR3 DIMM sockets supporting up to 32 GB of
dual channel memorySupport for DDR3 3000(O.C.) / 2933(O.C.) / 2800(O.C.) / 2666(O.C.) / 2600(O.C.) / 2500(O.C.) / 2400(O.C.) / 2200(O.C.) / 2133(O.C.) / 2000(O.C.) / 1866(O.C.) / 1800(O.C.) / 1600 / 1333 MHz memory modulesSupport for non-ECC memory modulesSupport for Extreme Memory Profile (XMP) memory modules

Onboard Graphics

Integrated Graphics Processor – Intel® HD Graphics support:1 x D-Sub port, supporting a maximum resolution of 1920×[email protected] x DVI-D port, supporting a maximum resolution of 1920×[email protected]* The DVI-D port does not support D-Sub connection by adapter.1 x HDMI port, supporting a maximum resolution of 4096×[email protected] or 2560×[email protected]

* Support for HDMI 1.4a version.

Support for up to 3 displays at the same time

Maximum shared memory of 512MB

Audio

Realtek® ALC1150 codecHigh Definition Audio2/4/5.1/7.1-channelSupport for S/PDIF Out

LAN

1 x Qualcomm® Atheros Killer E2201 LAN chip (10/100/1000 Mbit) (LAN1)
1 x Intel® GbE LAN phy (10/100/1000 Mbit) (LAN2)
* Teaming is not supported.

PCIe expansion

1 x PCI Express x16 slot, running at x16 (PCIEX16)1 x PCI Express x16 slot, running at x8 (PCIEX8)1 x PCI Express x16 slot, running at x4 (PCIEX4)(The PCIEX16, PCIEX8 and PCIEX4 slots conform to PCI Express 3.0 standard.)2 x PCI Express x1 slots
(The PCI Express x1 slots conform to PCI Express 2.0 standard.)

2 x PCI slots

Multi-Graphics Technology

Support for 3-Way/2-Way AMD CrossFire™ and 2-Way NVIDIA® SLI™ Technology

Storage

Chipset:1 x M.2 PCIe connector
(Socket 3, M key, type 2242/2260/2280 SATA & PCIe SSD support)1 x SATA Express connector6 x SATA 6Gb/s connectors (SATA3 0~5)(M.2, SATA Express, and SATA3 4/5 connectors can only be used one at a time. The SATA3 4/5 connectors will become unavailable when an M.2 SSD is installed.)

Support for RAID 0, RAID 1, RAID 5, and RAID 10

Marvell® 88SE9172 chip:

2 x SATA 6Gb/s connectors (GSATA3 6~7)

Support for RAID 0 and RAID 1

* Due to system limitation, Intel RAID and Marvell RAID can only use either one.

USB

Chipset:4 USB 3.0/2.0 ports (2 ports on the back panel, 2 ports available through the internal USB header)6 USB 2.0/1.1 ports (2 ports on the back panel, 4 ports available through the internal USB headers)Chipset + Renesas® uPD720210 USB 3.0 Hub:4 USB 3.0/2.0 ports on the back panel

Internal I/O Connectors

1 x 24-pin ATX main power connector1 x 8-pin ATX 12V power connector1 x PCIe power connector1 x M.2 PCIe connector1 x SATA Express connector

8 x SATA 6Gb/s connectors

1 x CPU fan header

1 x water cooling fan header (CPU_OPT)

4 x system fan headers

1 x front panel header

1 x front panel audio header

1 x S/PDIF Out header

1 x USB 3.0/2.0 header

2 x USB 2.0/1.1 headers

1 x serial port header

1 x Clear CMOS jumper

1 x Trusted Platform Module (TPM) header

1 x power button

1 x reset button

1 x Clear CMOS button

2 x BIOS switches

Voltage Measurement Points

Rear I/O Connectors

1 x PS/2 keyboard/mouse port1 x optical S/PDIF Out connector1 x D-Sub port1 x DVI-D port1 x HDMI port

6 x USB 3.0/2.0 ports

2 x USB 2.0/1.1 ports

2 x RJ-45 ports

5 x audio jacks (Center/Subwoofer Speaker Out, Rear Speaker Out, Line In, Line Out, Mic In)

I/O Controller

iTE® I/O Controller Chip

Rear I/O Connectors

1 x PS/2 keyboard/mouse port1 x optical S/PDIF Out connector1 x D-Sub port1 x DVI-D port1 x HDMI port

6 x USB 3.0/2.0 ports

2 x USB 2.0/1.1 ports

2 x RJ-45 ports

5 x audio jacks (Center/Subwoofer Speaker Out, Rear Speaker Out, Line In, Line Out, Mic In)

I/O Controller

iTE® I/O Controller Chip

BIOS

2 x 128 Mbit flashUse of licensed AMI UEFI BIOSSupport for DualBIOS™PnP 1.0a, DMI 2.7, WfM 2.0, SM BIOS 2.7, ACPI 5.0

Unique Features

Support for APP [email protected] SetupFast Boot

ON/OFF Charge

Smart TimeLock

Smart Recovery 2

System Information Viewer

USB Blocker

Support for Q-Flash

Support for Smart Switch

Support for Xpress Install

Form Factor

ATX Form Factor; 30.5cm x 24.4cm
Visual inspection:
Personally I think the UD5H-BK is one of the more attractive boards in GIGABYTE's lineup, and the greyish yellow/black livery gives a subtle yet very classy look to it. The Chipset and VRM Heatsinks are not connected, though the VRM Heatsinks are connected to each other by a metal heatpipe. The Chipset Heatsink is moderate in size due to absence of any additional components like a PLX chip. As always, we will start with the top left hand corner of the motherboard and move clockwise to examine the various components on board.
GIGABYTE is using a 2x Copper PCB design for this board which aids in overclocking. With their newer generation of motherboards, a glass fabric PCB is being used for humidity protection.
The 8 pin ATX 12v connector is located in the empty space between the two VRM Heatsinks and the rear I/O. The VRM Heatsinks carry the Ultra Durable labelling and the ferrite core chokes are clearly visible beneath them. These are rated for 60A and are server grade as per GIGABYTE's documentation. Digging further we see the IR3563B, a single loop all-digital PWM controller on helm, and IR3598, a Dual/Doubler Interleaved MOSFET Driver driving 12 VRM phases (6 true phases, doubled using IR3598). The high-side and low-side MOSFETs are SiRA12DP (25A/6.5W). The RAM power delivery is 2 phase, and is handled by an IR3570A PWM controller. Twelve ferrite core chokes complete the power delivery circuitry and are easily visible underneath the VRM heatsink. The CPU socket area is clutter free. As with GIGABYTE's boards, the socket uses 15μ gold plating to ensure better connectivity between the processor leads and socket pins as well as lessen chances of corrosion during long term use.
The top right hand section of the motherboard has color coded DRAM slots. Four slots are provided which can accommodate up to 64GB of DDR3 memory with speeds up to 3200MHz. Between the DRAM slot and the VRM heatsink we see two 4 pin fan headers, CPU_OPT and CPU_FAN. On the right hand side of the DRAM slots there are POWER/RESET/Clear CMOS buttons as well as two BIOS switches to select single BIOS/dualBIOS mode and choose between BIOS 1&2.  Further right, there are voltage checkpoints. Coming southwards, the 24 pin connector is in its default position; an internal USB3.0 header and a two-digit debug LED is nearby as well.
The storage section has a total of 8 SATA 6GB/s connectors, six from the Z97 chipset (black colored) and two from the Marvell 88SE9172 chip(grey colored). A SATA Express connector is onboard, as well as a M.2 PCIe x2 connector (Socket 3, M key, type 2242/2260/2280). A point to be noted here is that you can use either SATA Express, or M.2, or SATA ports 4 and 5. While the SATA ports fed from the chipset supports RAID 0/1/5/10, those coming off the Marvell chip support only RAID 0 and 1.
There is also a SATA power connector beside the SATA ports to provide additional power to the board in case of a multi GPU configuration to ensure more stability.
The bottom section of the board has two USB2.0 front panel headers, three fan connectors (SYS_FAN1, SYS_FAN3, SYS_FAN4), front panel power/reset/LED connectors, TPM and COM port headers, as well as front audio header. Between the Chipset heatsink and the bottom panel connectors we see the dual BIOS chips and the iTE super I/O controller/monitoring/PCI control chips.
For expansion, we have three PCIe3.0 x16 slots, operating at x16/x8/x4, hence supporting 3-card CrossFireX and only 2-card SLI. Two PCIe2.0 x1 slots and 2 PCI slots are also onboard. The slot spacing is enough to handle triple slot cards in 2-card configuration. I would advise against going for a 2+ card configuration with this board since the last card would be crippled in terms of PCIe lanes.
For audio, the Realtek ALC1150 codec makes its return again. GIGABYTE couples this with a Texas Instruments N5532 OP-AMP which can drive headphones with up to 600 ohm impedance. There is audio PCB separation, EMI shielding and separate PCB layers for both right and left channel. Sadly, the motherboard we received was Revision 1.0 and didn't come with LEDs along the separated audio path. GIGABYTE's website lists Revision 1.1 which comes with this feature. The ALC1150 has an SNR of 115DB.
Between the audio section of the board and the PCIe slots, one can see the Qualcomm Aetheros Killer LAN chip. The one on this board is E2201, capable of speeds up to 1000Mbit.
The I/O has a nice layout. We have a PS/2 mouse/keyboard combined port, two USB2.0 and six USB3.0 ports (USB2.0 and two USB3.0 from the Z97 chipset, four USB3.0 ports from a Renesas uPD720210 chip), dual LAN (LAN1 is powered by the Killer E2201 chip, LAN2 powered by an Intel I217-v Ethernet controller), audio connectors including optical S/PDIF out and display connectors including a DVI-D, a D-Sub and a HDMI port. Support for up to 3 displays at the same time is provided. One note to make here is that the LAN ports do not support teaming. All the USB and LAN ports have ESD protection and there is an anti-surge IC on board to protect sensitive parts of the motherboard from voltage surges.
In the box, you get:
Four braided SATA cables, 6GB/s
One flexible SLI bridge
Driver CD, Manuals, Ultra Durable/Black Edition stickers
GIGABYTE Black Edition certificate/VIP Club card
BIOS, Bundled Software:
The BIOS/UEFI is identical to the previous two GIGABYTE boards we reviewed, and so is the bundled software package, so we won't discuss them in detail here. As the name suggests, there's a black theme overlay on both the OC UEFI and the bundled software, but the core functionality of both remains the same.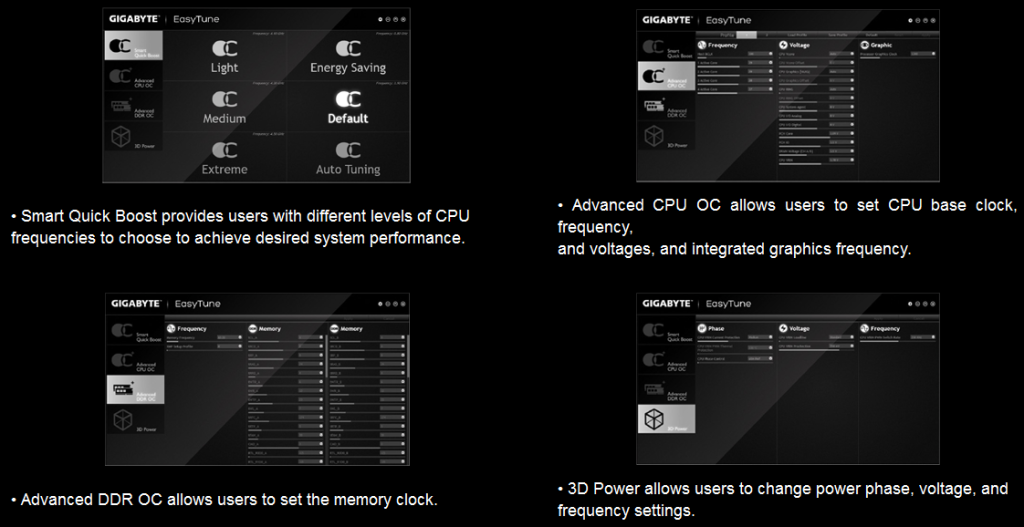 For an in-depth look at GIGABYTE's Z97 UEFI and bundled software, please read this review here
Test System, Benchmark Numbers:
Intel Core i5-4670K, Custom Water Cooling
GIGABYTE Z97X-UD5HBK
SKILL Trident-X DDR3, 8GB, 2400MHz, 10-12-12-31-2N
Corsair Nova 60GB SSD
HIS AMD Radeon R9 270X IceQ X² GPU
Cooler Master V1000 PSU, 80PLUS Gold Certified
Open Test bed
First up is AIDA64. We ran the full suite of CPU and FPU benchmarks and compared the results at different processor overclocks at 4 GHz and 4.2 GHz.
 
Next up, Cinebench. The popular rendering program is used as CPU benchmark. At 4.2 GHz, the 4670K gains around 10% performance.
Last up is Super Pi. Super Pi is a single threaded benchmark that calculates pi to a specific number of digits. It uses the Gauss-Legendre algorithm and is a Windows port of a program used by Yasumasa Kanada in 1995 to compute pi to 232 digits.
Again we see similar scaling of performance when the processor is overclocked. At 4.2GHz, the 4670K is almost 10% faster than stock.
The maximum stable overclock reached with this board was 4.6GHz.
Conclusion:
Long lost brothers? UD5H (left) v/s UD5H-BK (right)
The GA-Z97X-UD5H-BK is an interesting proposition for sure. What the user gets is basically a 'Black Edition' paintjob when compared to the Z97X-UD5H. While GIGABYTE promotes every black edition board being rigorously tested for a week, I am not sure how much that translates into real life benefits. The VRM and power delivery components are the same, the USB/LAN/Storage/Audio/Expansion slots are the same, and the software bundle/UEFI have similar options in them, albeit the Black Edition board has a black theme going on. The upgraded aesthetics are a hit-or-miss thing, but we definitely liked the Black Edition more than the original UD5H. Performance wise, the board performed really well throughout our time with it and we have no problems recommending it.
Even more baffling is the price difference between the two boards. At the time of writing this article, the UD5H-BK is only $5 pricier than the original UD5H. Since the price difference isn't going to burn a hole in your pocket, it makes our conclusion easier : if the black and gray livery is your thing, UD5H-BK is THE board to get. Others will be happy with the original, UD5H.
Board/APP picture courtesy: GIGABYTE. Our HDD with the pictures crashed a day before and took all the data with it. Since we already returned the board, we decided to take pictures from the GIGABYTE website and use them for our review. Inconvenience is regretted.