Nvidia's flagship card GTX 1080 was launched earlier this summer. Based on a full-blown GP104 chip the GTX 1080 is the current flagship from Nvidia. The model we will be checking out today is from Zotac India. Presenting the ZOTAC GTX 1080 AMP! Edition.
Before we dive into the review let us do a quick recap of the specs.
NVIDIA GPU Specification Comparison
GTX 1080
GTX 1070
GTX 980
GTX 970
CUDA Cores
2560
1920
2048
1664
Texture Units
160
120
128
104
ROPs
64
64
64
56
Core Clock
1607MHz
1506MHz
1126MHz
1050MHz
Boost Clock
1733MHz
1683MHz
1216MHz
1178MHz
Memory Clock
10Gbps GDDR5X
8Gbps GDDR5
7Gbps GDDR5
7Gbps GDDR5
Memory Bus Width
256-bit
256-bit
256-bit
256-bit
VRAM
8GB
8GB
4GB
4GB
FP64
1/32
1/32
1/32
1/32
TDP
180W
150W
165W
145W
GPU
GP104
GP104
GM204
GM204
Transistor Count
7.2B
7.2B
5.2B
5.2B
Manufacturing Process
TSMC 16nm
TSMC 16nm
TSMC 28nm
TSMC 28nm
Launch Date
05/27/2016
06/10/2016
09/18/14
09/18/14
Launch Price
MSRP: $599
Founders $699
MSRP: $379
Founders $449
$549
$329
A Look at the GTX 1080
The GTX 1080 brings the fully enabled GP104 chip. That means we have all 2560 Cuda cores working over 20 SMM's operating at boost clock of 1733MHz. Positioned as a direct replacement for the GTX 980 Nvidia opted for a wider GPU and higher clockspeed which resulted in around 78% more raw compute, texturing, and geometry performance. The inclusion of 8GB of GDDR5X enabled the GTX 1080 to have around 43% more ROP throughput.
Coming to the power side of things the GTX 1080's TDP is rated at 180W. Nvidia this time slightly compromised in power consumption to favor better performance.
Pricing
The GTX 1080's sell at around Rs 59,000 mark for the founders edition. This Zotac GTX 1080 AMP one sells at around Rs 58,000 depending on the retail outlet.
A quick Look at the GTX 1080 AMP
Since the humble reviewer suffered a storage mishap we will have to make do with stock pictures this time, however as soon as we can recover files from the SSD we will add them to the review.
Before we dive into the performance numbers lets have a brief look at the GTX 1080 AMP.
Zotac's design has improved a lot from the old days. The new cooler comes with a dual fan design with well-made plastic which doesn't feel cheap in hand. the backplate is made of sturdy metals which add to the quality. Also on the back, you can see a super capacitor for storing energy. The capacitor releases the stored energy when the voltages drop ensuring there is no voltage spikes.
Display connectivity options include DVI port, an HDMI port, and three DisplayPorts.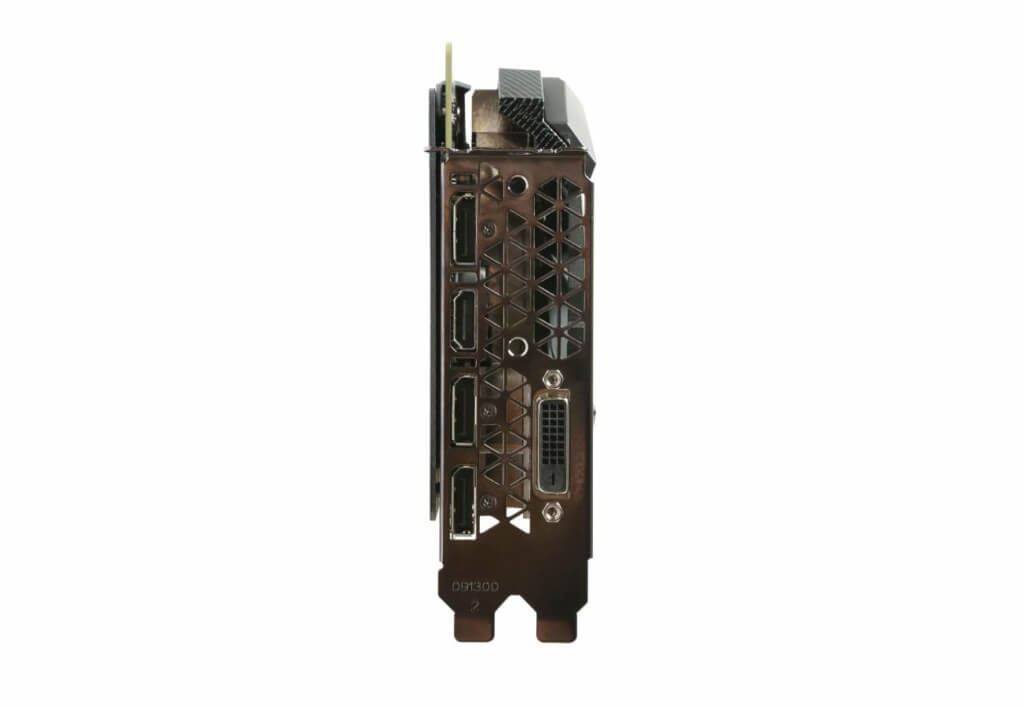 Nvidia no longer includes the analog signal in the DVI ports so you would need an active adaptor. The Display port is also updated to 1.2 certified and 1.3/1.4 ready. Which means we have support for 4K @ 120 Hz and 5K @ 60 Hz and 8K @60 Hz with two cables.
The GPU also comes with onboard HDMI sound device which is HDMI 2.0b compatible and supports HD audio and Blu-ray 3D movies. the GPU encoding unit is updated to support HVEC at 10-bit and 12-bit.
The card support two-way SLI since that's the only officially supported configuration for gaming. Three-way and Four-way is no longer available for gaming. However, there are ways to enable them in benchmarks. As an extra addition, Nvidia is not recommending a new HB SLI bridge for running 4K at 60 Hz and above. The HB bridge occupies both SLI fingers.
Power is fed through two 8 Pin connectors. The configuration rated up to 375W of power draw.
Test Bench
Processor : Intel Core i5 6600K
MotherBoard : Asus Maximus VIII ranger courtesy Asus
Memory : Kingston Hyper X Fury DDR4 16GB
Storage : Kingston SSDNow V300 courtesy Kingston India.
Power Supply : CM V1000
Cooling System : Custom Liquid Cooling System courtesy Thermaltake India
Benchmarks
As usual, we ran our general benchmark suite on the GTX 1080 and here are the results we came up with. We missed a few suites(specially the workstation performance suite due to some issues on our end, but we will be back with them in our coming reviews) Do note since we have started off with a clean slate the charts will be a little different from what you have seen in our earlier reviews but as we test more cards the charts will soon be more in line with our previous reviews.
Without further ado lets check out how the card performed.
4K Resolution 3840×2160
1440P Resolution 2560×1440
1080P Resolution 1920×1080
3DMark
Conclusion
Zotac came a long way in terms of their design. The GTX 6xx cards were hugely hated for having a bland design, and Zotac responded as any prudent brand would do, they went back to the drawing board and reformed their brand.As a result, the cards from 7xx series onwards came out looking better with the design finally taking off in the GTX 9xx series both in terms of looks and components.The GTX 1080 AMP Edition is one of the cheapest aftermarket solution out there in the Indian Market as of now
Thanks to those redesigns we have cards like the AMP or the AMP Extreme or water-cooled Arctic Storm series. We tested out the AMP edition today and hopefully we will be able to check out the other two in future if the situation permits.
Coming to this card, the GTX 1080 AMP Edition is one of the cheapest aftermarket solution out there in the Indian Market as of now. Armed with a beefy cooler and pretty nice VRM circuitry the card manages to hit all the right notes when we compare it against other 1080's available in the market. We are in absolute love with this card since it manages to look pretty beautiful even though the design is nothing over the top like a few other players in the market. All in all, this is one nice card and have a price tag which doesn't burn a very big hole in your pocket(it will still burn a hole).
The Zotac GTX 1080 AMP Edition gets a Silver from the team in TechARX.