Bethesda Softworks recently released its remastered version of the critically acclaimed RPG, The Elder Scrolls V : Skyrim for all platforms (PC, XBOX One, PS3, PS4). The remastered version, Skyrim Special Edition, was officially released on October 28th, 2016 and was made available free of cost on Steam, for those who already owned the original game and all its three DLCs. However, for those who did not purchase the original game and all the three DLCs before 12am UTC on 28th October, will have to buy the Special Edition separately which costs 40$(2670 INR) on the Steam Store.
The Elder Scrolls V : Skyrim originally released on 11th November 2011 and is set 200 years after the events of The Elder Scrolls IV: Oblivion. Skyrim is a fantasy-based, combat-driven RPG, which is widely regarded as one of the best role-playing games of all time because of its story, content and wide choice of gameplay and character styles, not to mention countless side quests.
Now, what is special about the remastered version?
Skyrim Special Edition received mixed reviews on Steam, with many complaining that there is nothing new in the remastered version of the game. After playing the remastered version for few hours, what we know as of now is that if you are expecting something new in terms of graphics or gameplay, you will be disappointed. The remastered version has most of the glorious bugs, which the original game was infamous for, like floating mammoths and dragon carcasses dropping from the sky. Graphics is almost the same with the exception of the addition of a few new features like volumetric god-rays, screen-space reflections and dynamic depth of field. The ambient lighting is better, the sky looks brighter and bluish and water quality has been improved. Although most of these graphic improvements could be achieved previously with little modding. Everything else including story, gameplay, and UI is basically same.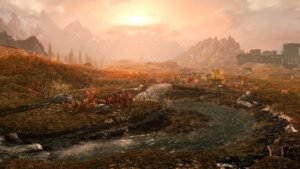 So, what is different in the Skyrim Special Edition?
It is a modder's heaven. There is an additional option on the main menu which allows you to login to bethesda.net and subscribes to mods. Memory cap has been removed by making the game application 64 bit, so essentially the remastered version can utilize as much of RAM as it needs. The game was cross-tested for compatibility with hundreds of mods, so basically you can be running the game with dozens of mods at the same time without worrying about crashes or the mods conflicting with each other. Many people have reported the game crashing suddenly while not using any mods. However, we have not encountered a single crash till now. Save game load times have also significantly reduced when running a heavily modded version and FPS is also pretty much stable.
Is it worth buying?
No, not at the current price tag. If you already have the base game, we recommend buying the additional DLCs. If you do not have the base game at all, then you can buy the bundle containing the base game along with all the DLCs which is currently available at a 39% discount on the Steam Store at ~18$(1193 INR). However, if you are into modding and run Skyrim with lots of mods and if you did not get the remastered version for free, then you might consider buying the Special Edition, although it will set you back by 40$.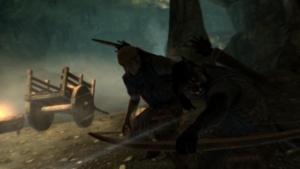 Benchmark:
We benchmarked nearly 15 minutes of gameplay with FRAPS, at 1080p with every graphics setting maxed out and we got the following results:
Average FPS: 48.331
Minimum FPS: 29
Maximum FPS: 60
Test PC Configuration:
Processor: Intel Core i5 3570K @ 3.4 GHz.
Motherboard: ASUS Maximus V Gene.
GPU: ASUS Strix GTX 960 4GB OC Edition courtesy Asus India
Memory: Corsair Vengeance 8 GB (4GB x 2) DDR3 @ 1866 MHz.
PSU: Corsair RM 650.
OS: Windows 10 Pro Edition.