Samsung has unveiled it's new PM971-NVMe SSD . One special and thing about it is its tiny size. The size is so small, one could hardly think of how Samsung made it work. This is a giant leap considering the current status of SSD's in the market. SSD sizes are decreasing with respect to time, agreed, but such an exponential decrease in size wasn't expected.
Samsung's 512GB PM971-NVMe SSD Will Leave You In Awe!
The new SSD from Samsung packs 512GB of NAND storage on a chip that is smaller than a postage stamp. But the insanity doesn't end there – the Samsung PM971-NVMe offers blistering fast speed of 1.5GBps on the read end and 800MBps on the write end. If you're asking us, that's absolutely downright crazy, but of course, in the most awesome way imaginable.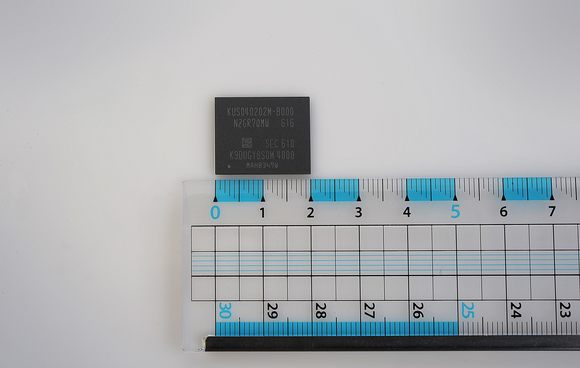 The PM971-NVMe fits the NAND flash, RAM, BGA, and controller all on a single chip that measures just 20mm x 16mm x 1.5mm. Well, How much does it weigh? The entire unit weighs a gram. This will open doors for the new generation of devices thanks to Samsung. All credit can be given to the NAND that is built upon the 20nm process for such a magical drive. And to make sure things are ticking on nicely, the drive features 4GB of LPDDR4 RAM onboard as well. Samsung has reached a new height with their breakthrough.
The PM971-NVMe SSD will be available in three variants, 126GB, 256GB and 512GB. We don't have any information regarding the availability as for now. But the mass production is on its way as we speak. And it also should be kept in mind that Samsung hasn't revealed the interface which the drive will be using, so it's highly likely that the PM971-NVMe will end up being soldered directly onto a motherboard, or interfaced using an M.2 card.
What are your thoughts on this SSD ? Let us know in the comments.
Source : WccfTech