A day before the alleged Polaris launch date, some news surrounding the RX 480's specifications has bulged over the surface. The leaked specs indicate GTX 980 like performance with a TDP of 150W which is a marvel in itself. The outstanding power efficiency levels appear least surprising since the Polaris GPUs are based on a 14nm FinFet node. Apart from this the GPU sports 8 GBs of GDDR5 memory on a 256-bit bus. The leaked slides also state that the GPU will be powered by a single 6 Pin PCIe power connector which accounts for another incontrovertible proof for the 150W TDP flaunt by AMD.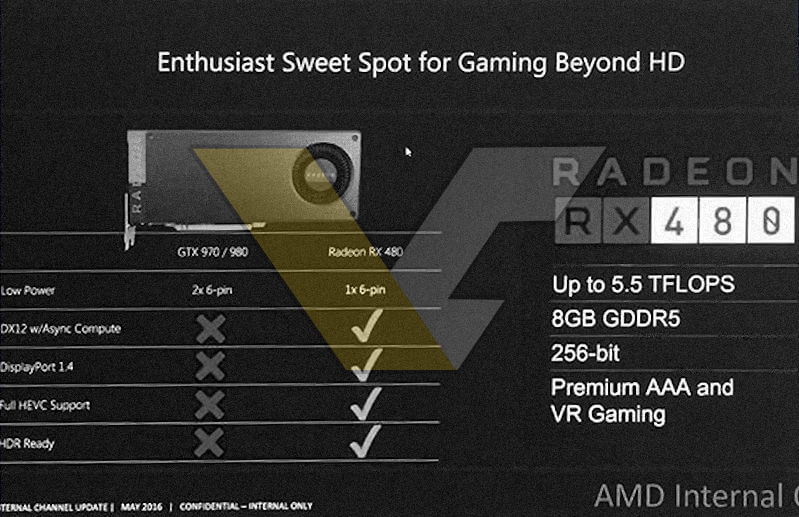 The leaked specs of the GPU place it along with the 980 which means that it'll be a marvelous choice for people aiming at affordable VR Gaming since the Polaris line-up is engineered for gamers with a budget of up to $349.  Another thing that the slides enunciate is 5.5 TFLOPs of computing performance which clearly exceeds the minimum VR requirements; offering real world performance similar to that of an R9 290x.
The leaked slides also affirm DirectX12 with Asynchronous Compute capabilities (Something which has considerably pulled AMD back into the GPU market), DisplayPort 1.4, Full HEVC and HDR support giving the RX 480 a manifest edge over the current offerings from nVidia in the 970 and 980.
Source : Videocardz