It has been a long and wild journey to AMD's Radeon RX Vega but one must admit that the wait is worthy. AMD hosted an event in LA, California and eventually named it Ryzen Tech Day 2017 where they flew out a massive number of journalist around 100 of them from YouTubers to Bloggers to analysts for their media coverage and wide promotion.
From the event, many Bloggers have followed the environment judgmentally and published their versions and after reading and tallying a long way finally I planned to put my thoughts here so after.
Yes, RX Vega has taken over GeForce GTX 1070 and GTX 1080 but still, couldn't produce an answer to the mighty 1080Ti.
But at this price point what AMD is offering for their Vega GPUs NVIDIA still lacks behind delivering ample space to AMD to firm their feet.
AMD has done a lot, a lot for Vega from implementing the 12.5Billion transistors on the 14nm FinFET LPP process where they also featured 45MB of SDRAM and deployed their newest Fabric Technology.
We got to see two variants: the Liquid Cooled Edition & Air Cooled Edition.
Considering AMD's recent Radeon Vega Frontier Liquid Edition having 1382/1600Mhz of GPU clock configuration, The Liquid Cooled Edition has 1677Mhz of Boost Clock and 1406Mhz of GPU clock which is still impressive. The Frontier Edition with the liquid cooled blessing can cross even 1600Mhz barrier with a much stable clock as it's dropping in the Air cooled variant. Specification wise AMD has featured 4096 Steam processors on the Vega 10 NCU with 13.7 Tera Flops of peak SP performance and 27.5 Tera Flops of half precision compute performance, also AMD has used 8GB of HBM2 on all the Vega cards having a crazy bandwidth of 484GB/s over the 2048-bit memory interface. In Air cooled condition the Vega clocks fall till 1247/1546Mhz of Base/Boost clock consuming 345W of TDP where as Vega 64 consumes 295W.
Close up Snaps of the Radeon RX Vega 64: 
Here are some close snaps of the RX Vega 64.
The performance test:
Here are the performance tests which where it clearly indicates that AMD has although beaten the GTX 1080 but couldn't defeat the GTX 1080Ti.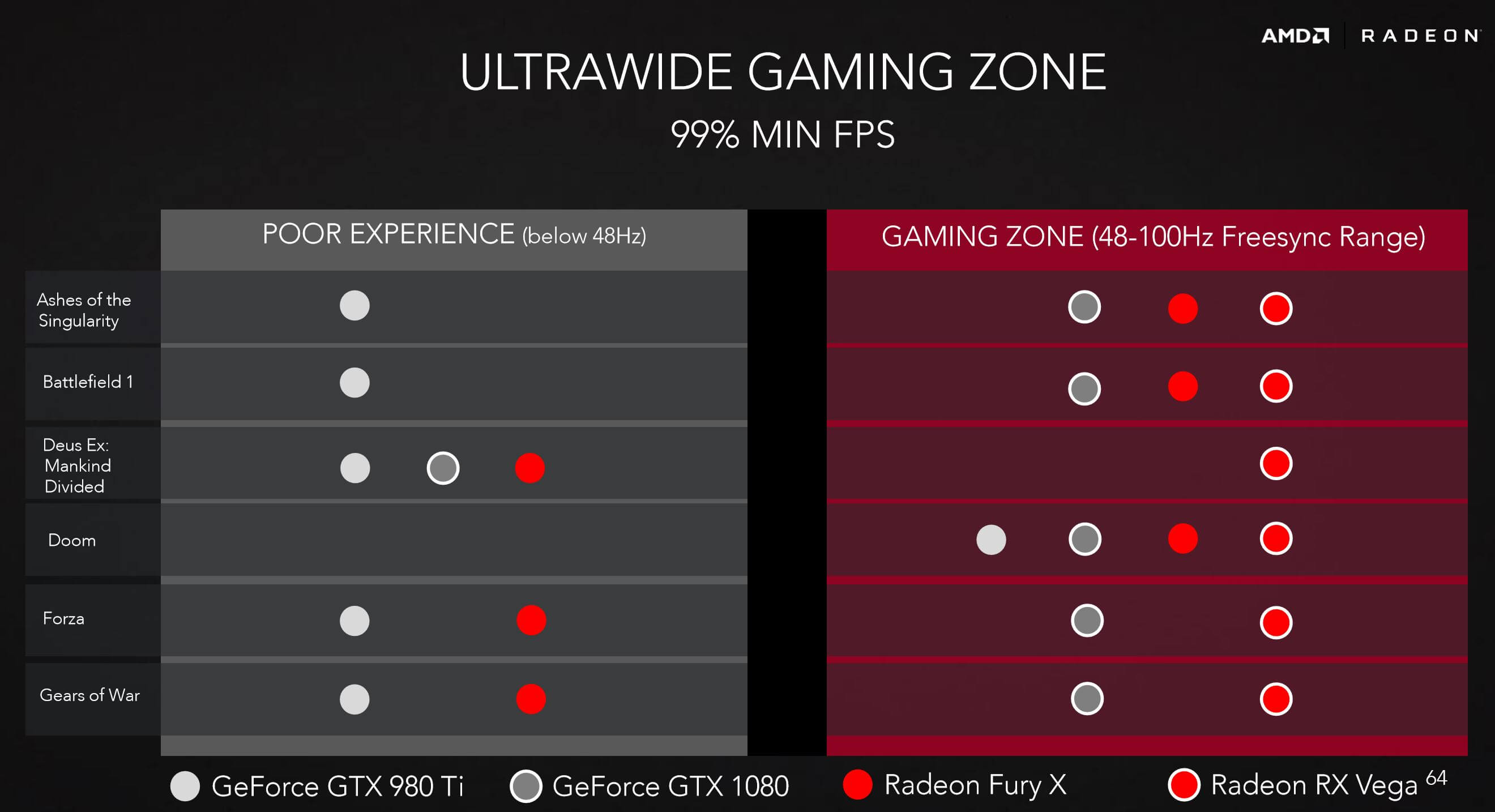 Final Thoughts :
We are all pumped up about the pricing and how the card performs in the market.NVIDIA doesn't have anything close to matching this technology and here it is the time for AMD to grip the position.The HBM2 can be cranked up to a little bit by using 4096-bit memory bus and I would suggest to tweaking more on the power consumption part.We have to see what NVIDIA does with their G-Sync displays as Free-Sync displays are very cheap and here where AMD scores, again.Wrapping up, AMD has done a lot this year in terms of performance of Ryzen chips beating Intel and here now in the GPU market beating NVIDIA.
We expect more and hope AMD maintains their position and should work harder.
Pictures: Tweaktown