Slightly Mad Studios has announced Project CARS 2 , featuring the largest track roster with 50 unique locations and 200+ courses, dynamic time of day and weather, over 40 different vehicle classes and co-op carreer.
As with the last game, Project Cars 2 is raising money on the World of Mass Development platform. No budget or goal has been stated for the sequel, but it has several reward tiers, ranging from £50 for basic access to the game to £10,000 for things like this:
Michelin-starred dinner with the Head Of Studio plus all costs covered at a luxury hotel in London and a luxury weekend itinerary including use of a Ferrari 458 Spider!
Slightly Mad Studios has  stated this doesn't mean the end of development on Project Cars, with both projects at the same time.
Over the next year, players will see Project CARS grow, evolve, and continue to be updated regularly throughout 2015 and beyond via our ON DEMAND programme. But additionally, planning and work will now begin on the continuation of the franchise with PROJECT CARS 2 that contains substantial features and content deserving of a fully-fledged sequel.
The ongoing development of Project Cars has been called the studio's "on demand" program.
"We have another new Car Pack coming out soon, "said creative director Andy Tudor to me over email today, "which is sure to be a crowd-pleaser, as well as the availability of free car liveries in association with Logitech. Plus the team are heads-down hard at work on more content that won't be seen until Thanksgiving. So rest assured—this is just the start of Project CARS."
With over 10 years of heritage and pedigree making some of the world's most memorable and successful racing franchises – such as GTR, Need For Speed, and Test Drive – Slightly Mad Studios once again pioneered and innovated in 2015 by launching the critically-acclaimed and best-selling Project CARS; a game wholly funded and created by a passionate community of racing fans from around the world.

With tens of thousands of players testing the game, giving feedback on it, and creating assets for it throughout development, Project CARS has been hailed as a true competitor to long-established stalwarts, and as the market leader in both visual fidelity and technical expertise.

With an existing schedule of ON DEMAND content already underway to continue providing Project CARS with fresh new features, updates, and great things to play with throughout the year, Slightly Mad Studios now turns its attention to the future with the announcement of the continuation of the franchise with Project CARS 2. And once again, the sequel will be created, tested, and ultimately approved by you – the gamers – through the WMD Portal crowd-funding platform.

PRO RACING. ANYTIME. ANYWHERE.
Building upon the huge success of Project CARS being one of the highest-rated and fastest-selling racing games of this generation, Project CARS 2 continues to expand, innovate, and dominate with…
THE LARGEST TRACK ROSTER EVER – 50 unique locations and 200+ courses including 'loose surface racing' on dirt, gravel, mud, and snow. All will have dynamic time of day and weather allowing you to play anytime, anywhere
THE WIDEST VARIETY OF MOTORSPORTS with 8 different disciplines now including Rallycross, Hillclimbs, and Touge. 200+ cars from over 40 different vehicle classes including never-before-seen Concepts and Banned Race Cars
CO-OP CAREER – Play as the Teammate Driver, Spotter, Driver Swap, or Co-Pilot. More choices, more opportunities, more strategy, greater risks and greater rewards
SEAMLESSLY CONNECTED – Socialize and compete via Online Track Days, have players from around the world take the place of AI-controlled drivers in your solo play, and get news updates on the Driver Network around you
PRO ESPORTS RACING – Skill & Behavioural-based matchmaking, create your own Online Racing Seasons, and Live Broadcast and Spectator functionality
YOUR HOME FOR RACING – Your own personal, customisable Test Track to tune and test your cars. Invite others to showcase your passion for racing and learn race craft and engineering with the Project CARS Academy
However Fan reaction to this announcement has not been kind , the Project Cars 1 had a rocky release and had issues with AMD cards , also promised content is yet to come , and thus some anger is expected .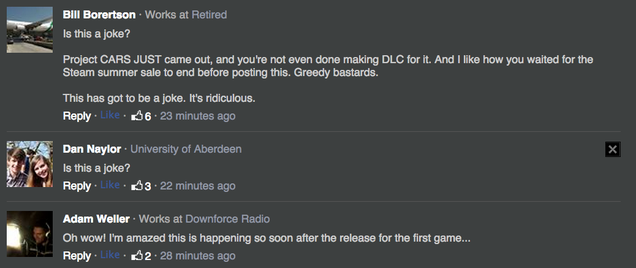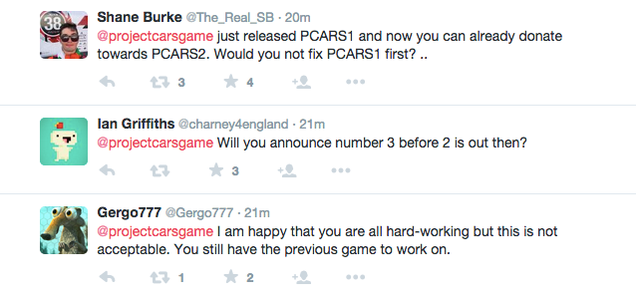 To sign up for Project CARS 2 you can visit the WMD Portal here. We will bring you any new information on Project CARS 2 as soon as it becomes available.