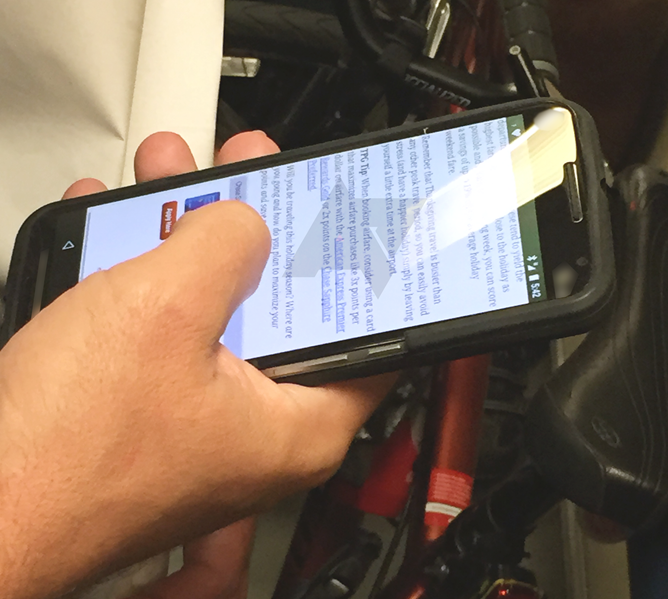 We've already seen a few alleged photos of the Nexus 6 leaked out in the past few weeks, but a new image obtained by Android Police appears to show the Motorola-designed smartphone out in the wild. It's tough to say anything for sure, but all evidence suggests this is our best look yet at the upcoming Nexus 6.
The device in the photo above is clearly in some type of case, but there are still a few reasons to believe this really is the Nexus 6. It definitely resembles the Moto X, but the volume rocker looks like it has been moved down towards the center of the device where it can be easily reached on the 6-inch handset. We also spy what appears to be front-facing speakers. The phone also seems to be running the updated version of Android L we saw leak out this week, with bolder status and navigation icons.
As for the size, this smartphone doesn't look like it's that massive, but it's definitely not small either. What appears like a man's hand holding the device reaches about halfway up the side of the device. Based on the photo, we're guessing the Nexus 6 could be about the size of the iPhone 6 Plus, but with less bezel and a bigger display squeezed into a similar footprint.
When it comes to specs, the Nexus 6 is expected to pack a 5.9-inch 2K display, a Snapdragon 805 processor, a 13-megapixel shooter with OIS and a 3200mAh battery based on recent reports. Unfortunately there's no way to confirm any of that based on today's leaked photo.
So is this the Nexus 6? Like we said it's tough to say, but the combination of hardware and software shown in the image above has us thinking this may just be the real deal. Rumor has it Google will unveil the new stock Android smartphone on October 15 or 16, so hopefully we'll know for sure in just two more weeks.
Source: ANDROID POLICE