Kingston DataTraveler 80 M USB-C Flash Drive Review
Kingston Technologies, a global leader in storage solutions have recently launched two new USB products for users on-the-go with the Kingston Data Traveler Exodia Onyx and the Kingston Data Traveler 80 M. We have the Data Traveler 80M in our hands today, let's take it for a spin, shall we?
Kingston DataTraveler 80M Pricing and Specifications
The DataTraveler 80 M is more suited for users who own a Type-C device (e.g., notebook or Android smartphone or a PC with USB C capabilities) and do not require an adapter.
Kingston offers the DataTraveler 80M(DT80M) in three sizes: 256GB, 512GB, and 1TB. We're testing the 256GB version, which Amazon offers for INR 2,866 at the time of the review. The price is on the higher end at least on Amazon as far as 256GB USB C flash drives go, but most of the current competition doesn't come with USB 3.2 Gen 1 from what we have seen.
The DataTraveler 80 M is a standard USB flash drive. It does not have encryption or security features of any kind, nor does it include any drive-management software. This is strictly a storage device. (For the ultimate in portable flash-drive security, see our Kingston DataTraveller 2000 USB Drive Review)
Kingston DataTraveler 80 M Specifications
Capacities
Interface:
Speed:
Dimensions:

54.18mm x 21.81mm x 1.60mm

Weight:
Operating temperature:
Storage temperature:
Warranty/support:

5-year warranty with free technical support

Compatible with:

Windows® 11/10/8.1, macOS (v. 10.15.x +), Linux (v. 4.4.x +), Chrome OS™
* Speed may vary due to host and device configuration
Kingston DataTraveler 80M Design and Build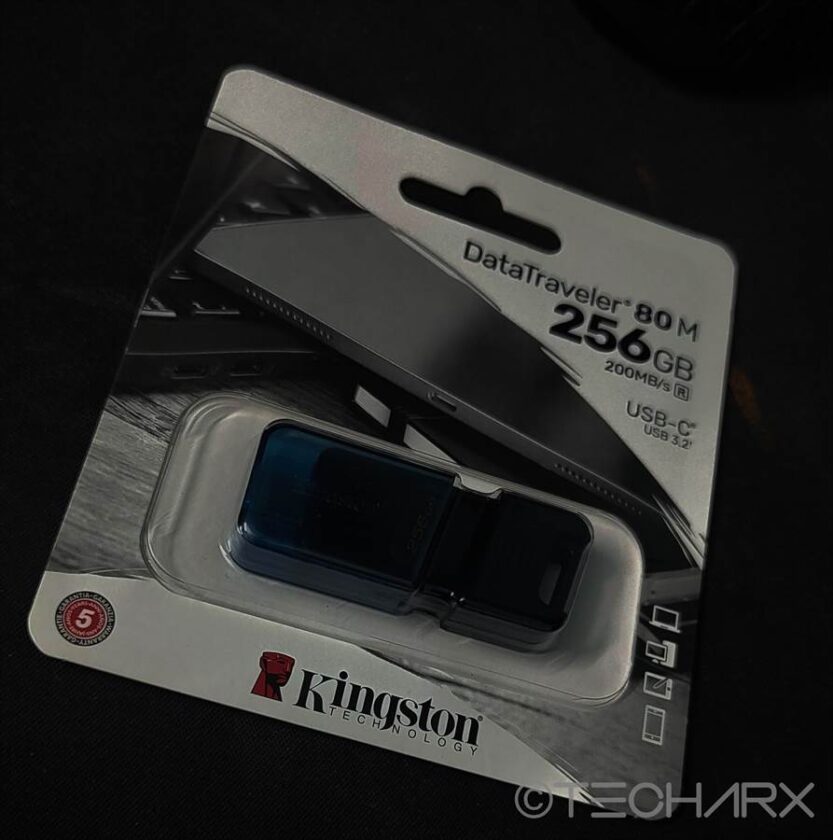 The Kingston DataTraveler 80 M is super lightweight at only 6 grams. The USB sticks use the USB 3.2 Gen 1 interface for fast speeds with the 80 M boasting speeds of up to 200MB/s that of course is dependent on a number of factors such as a detected USB-C connection.
Atto Disk Benchmark
The great thing about ATTO is that one can test with predefined block sizes. So, we can test with a 32MB sequence of 4KB files, yet also 32MB in 1MB files, providing an opportunity to test with various file sizes. This benchmark is a preferred among manufacturers as ATTO uses RAW or compressible data and, for our benchmarks, we used a set length of 256mb and tested both the Read and Write performances for various transfer sizes ranging from 0.5 to 8192kb with a queue depth of 4.
Anvil's Storage utilities Benchmark
Anvil Pro or Anvil's Storage Utilities [Depending on what you'd want to call it] is an 'all inclusive' storage utility that allows testing transfer speeds as well as IOPS and lets the user tweak and adjust to find just the right mix in their testing medium, the IOPS tests being fully configurable with preset testing scenarios for read, write and mixed IO. The Benchmarks menu includes an SSD test, Endurance Testing, and 3 pre-configured IOPS tests.
Crystal DiskMark
CDM is used to measure Read and Write performances through sampling of highly compressible data (oFill/1Fill), or random data. Crystal Disk Mark scores usually drop a bit compared to ATTO, and this is the result of the test data now being primarily incompressible – Mostly movies, music, and photographs. We tested the drive with multiple data sizes ranging from 500MB to 1000MB.
AS SSD benchmark Suite
This nice little German application gives an extensive result set. The test is popular, so I included it. AS SSD, for the most part, gives us the worst-case scenario in SSD transfer speeds because of its use of incompressible data. we used the copy and compression benchmark module as those two performances will be most relevant.
Final Thoughts
The Kingston DataTraveler 80 M USB-C Flash Drive is one of the fastest usb drive we have tested till date. While lack of security features can be a downer for some. The speed and capacity alone make up for it. This is a very capable drive for data storage and transfer and backup; given the price point and the aftersales service, we whole heartedly suggest this USB drive if you are in the market looking for an USB Drive to shuffle data between system and backups.