Kingston Data Traveller Bolt Duo USB Drive Review
Today, we have a different product on our hands. We daresay its a niche product because its mainly compatible with something that not use en masse (Sorry iPhone users!). However, that doesn't make it less desirable or less valuable. Presenting the Kingston Datatraveler Bolt Duo for iPhones and Apple products.
Pictures
First up, the drive is BEAUTIFUL with a Capital B. To keep in sync with the Apple design, Kingston decided to give the drive a silver finish and the product turned out pretty nice to look at.
Specifications
Kingston Data Traveller Bolt Duo
Capacities
32GB
64GB
128GB
Connections
Lightning®
USB 3.1 Gen 1
Dimensions
Bolt – 40.7mm x 12.2mm x 7mm
Bolt with accessory – 65mm x 20mm x 11mm
Weight

Bolt – 7.2g
Bolt with accessory – 14.4g
Compatible with
iPhone 5,
iPhone 5s, iPhone 6, iPhone 6+, iPhone, 6s, iPhone SE, iPhone 6s+, iPhone 7,
iPhone 7+, iPhone 8, iPhone 8+, iPhone X
iPad (4th generation), iPad Air, iPad Air 2, iPad (2017), iPad Mini, iPad Mini
2, iPad Mini 3, iPad Mini 4, iPad Pro (1st generation), iPad Pro (2nd
generation)
OS Support
iOS 9.0 and newer
Memory type
Flash storage
Setup and Software
Setting up the Data Traveller Bolt Duo is easy, you plug in the drive into your iPhone or iPad and a prompt comes up for installation of the app from the app store and the rest follows after that.
The app has three main options
1. Transfer photos or videos to the Bolt drive
2. Capture photos or videos using the Apple device's camera and microphone directly to the Bolt drive
3. View the contents of the Bolt drive on the Apple device
Transferring files to the drive was a breeze, with not much of a noticeable lag. The only bottleneck if any was the filesystems capability itself. Apart from that, there's not much to write home about with the app. It works as it should be.
Performance
We tried transferring bout 1000 files to the drive from our iPhone. The workload so to speaks consisted of 50 odd small videos from the Earth Edition USB and a bunch of pictures from our earlier reviews. In total it took about 4 minutes to transfer around 16GB of files. Apart from this, we ran a short HDTUNE File Benchmark on the drive under windows environment. The results were satisfactory, so it wouldn't be a slouch if someone decides to use it as a backup USB for whatever reasons.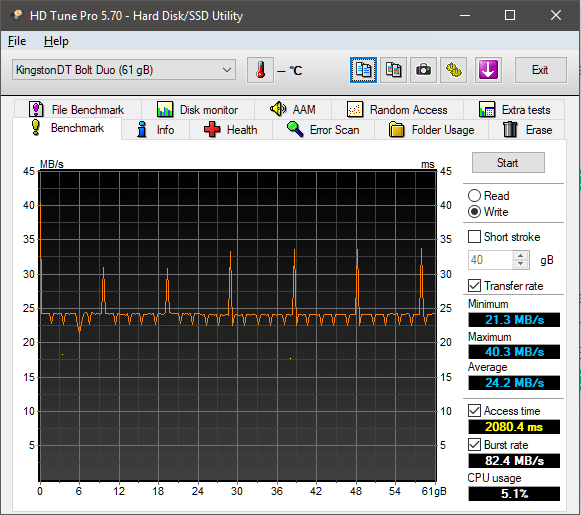 Conclusion
The Kingston Data Traveller Bolt Duo is a niche product. It works only with Apple Products, and it does the job pretty well. There is hardly anything to nitpick with the product and as such we decided not to, for this time! Our only complaint so to speak is to why doesnt Kingston doesn't give that protective pouch with every product? It's a lifesaver in some cases and we believe the customer should have it as a matter of right. But maybe that's just us 🙂
All in all, a damn good job Kingston!