During its global press event in New York City, HTC introduced its latest smartphone, the Desire EYE. The Desire EYE offers an incredible design while also adding some unique features that you otherwise might expected in a flagship smartphone.
First, it has a 13-megapixel front-facing camera in addition to a secondary 13-megapixel camera on the back of the device. It offers dual-LED flash on both ends, though during brief tests with the device we noticed that you had to manually toggle the front-facing flash on and off when you want to use it. Both cameras shoot high-quality photos, however, and it was certainly surprising seeing a selfie come out so good.
HTC said that the Desire EYE will be targeted at several market segments, including teens who are consistently streaming video from their front-facing cameras, to reporters who rely on high-quality photos out in the field, remote health access in situations where an ill person might video chat with a doctor and more.
The phone is equipped with a large 5.2-inch 1080p screen that was crisp and, despite its size, relatively easy to navigate with one hand. The device is also built out of high quality plastic with a seamless body that makes the phone feel more premium and super sturdy. You won't have to worry about getting it wet, either, as it has an IPX7 rating for water resistance.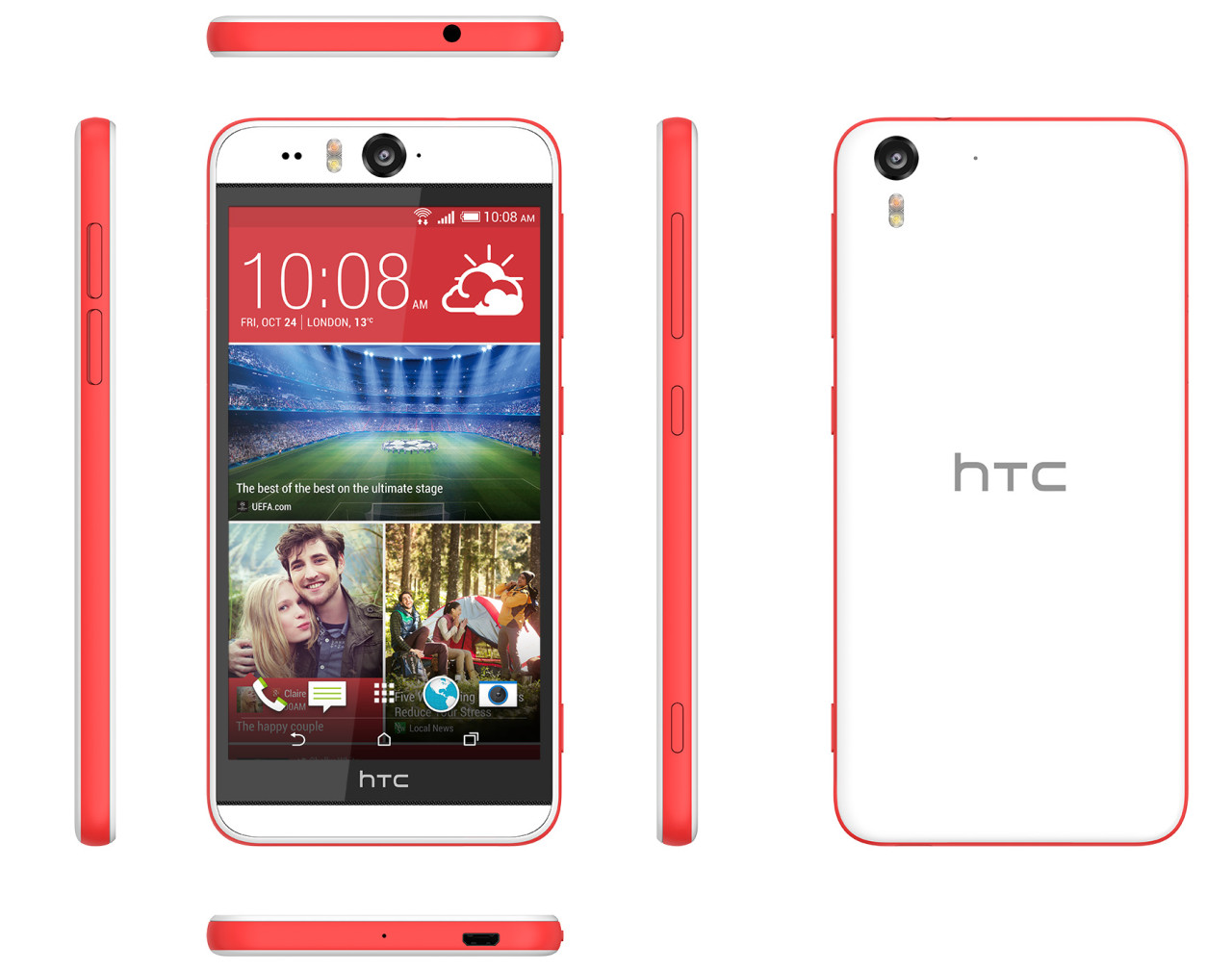 HTC managed to sneak front-facing BoomSound speakers on the front of the phone just above and below the screen. You can hardly see them but they work really well and get nice and loud. There are also three microphones around the phone for voice clarity at all times.
Under the hood, you'll find a Snapdragon 801 processor clocked at 2.3GHz, certainly no slouch, 2GB of RAM, 16GB of storage that can be expanded with a microSD card slot, NFC, Bluetooth 4.0 and a 2,400mAh battery. The phone will launch in the United States in coral red with a white face and submarine blue with a white face and a darker blue back panel.
The HTC Desire EYE is expected as early as November in the U.S., where it will be sold as an exclusive on AT&T at first, and HTC will also sell it in other markets around the world.