GTX 1080 Runs Doom In 200fps
Yes. you heard it right. GTX 1080 runs DOOM in 200fps on ultra settings in 1080P. Nvidia demoed Id's next generation DOOM on a single GTX 1080 card at its special event yesterday. GTX 1080 took the performance cap on another level by running the game at a staggering 200 frames-per-second. The spectators were left in awe when GTX 1080 not only surpassed the previous generation of GPUs significantly in terms of performance but also, how it made the use of the latest Vulkan API from Khronos Group.
DOOM : A Highly Awaited Reboot
Doom will be available for masses on 13th May. The game looks really good as Bethesda has made a use of a new engine,  idTech 6 engine. When it comes to graphics settings, the game will support numerous tweaks for the Pc version.
Bethesda showed us a full-fledged gameplay demo spanning around an hour a few days back. Featuring fast and exhilarating FPS action, the game will be revisiting the roots that made the original games so great.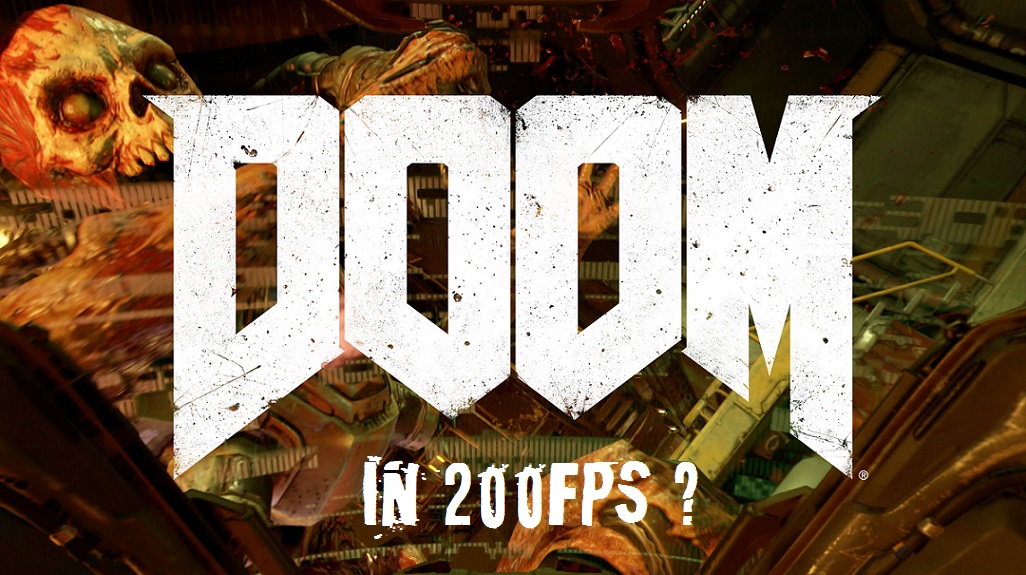 The DOOM gameplay demo shown by NVIDIA was running at 1080P. Why 1080P? Because that's the limitation of the video wall NVIDIA was using at their event as reported by TweakTown. Bethesda surprised by coming to the stage and gave a live demo of DOOM first running at around 60 FPS with OpenGL which is what even current cards can do pretty easily. The GeForce GTX 1080 should be able to run the game at 4K 60 FPS easily with the Ultra settings enabled. Vulkan API support will be added to the game very soon after its release and is currently being optimised as said by Executive Producer for Id Software, Marty Stratton.
NVIDIA GeForce Has The Best Support For Vulkan API
The Vulkan API is the successor to the OpenGL API and a rival to the Metal API from Apple and DirectX 12 API from Microsoft. The Vulkan API pushes for reduced API overhead and optimised multicore and multi-threaded performance on current and upcoming hardware. The API is going to be the direct competitor to Microsoft's DirectX 12 API which is also going to see wide-scale usage in 2016. While DirectX 12 is limited to Microsoft's Windows OS, Vulkan API has the edge of having cross-platform and cross-vendor support.
Press are seeing @DOOM running Vulkan on a @NVIDIAGeForce GTX 1080! pic.twitter.com/fGLFzdrzMy

— Sean Pelletier (@PellyNV) May 7, 2016
Vulkan will be able to run multiple GPUs from various vendors allowing a wider support than any previous API. Another leverage over the previous APIs is that Vulkan adopts the first open standard cross-API intermediate language for parallel compute and graphics known as SPIR-V, allowing developers to write programmes for Vulkan in their own choice of programming language.
"The Vulkan API enables developers to get the best from NVIDIA GPUs, and we are proud of our role in its development," says Tony Tamasi, senior vice president of content and technology, NVIDIA. "We are making Vulkan drivers available for Windows, Linux, and Android platforms, on the same day as the specification launch, and we'll continue our work within Khronos to ensure Vulkan evolves to meet industry needs."
Yesterday, we saw that Nvidia GTX 1080 runs Doom in 200fps and this surely points at how intense this year will be for GPU companies. More benchmarks are yet to be seen and by the look of this, I surely can say that AMD has a tough competition this year and they have to pull out something out their sleeves to dominate.
What are your thoughts on this? Let us know in the comments.