Recently we got to know about the pricing of Windows 10 IoT Enterprise licenses by the maker an embedded solutions firm.Which also led us to acknowledge Intel's upcoming GeminiLake SoCs.Arriving soon these six SoCs for desktops and laptops will be sold under the Celeron and Pentium Silver patents.To be precise, a Russian IoT firm Quarta Technologies has published shown below which indicates clearly that there will be two SoCs, J4005 and J4105 for Desktops and N4000 and N4100 for Mobile category under the Celeron trademark whereas Pentium Silver offers two more, J5005 for Desktops and N500 for Mobiles.
Upcoming Gemini Lake SKUs
Celeron
Pentium Silver
Desktop
J4005
J4105
J5005
Mobile
N4000
N4100
N5000
There will be detailed specifications soon when Intel finalizes the most but in the meantime, we can discuss the new parts it has to offer.Linux patches were tested and verified on these new toys by CNX-Software which revealed similarities between the prevailing ApolloLake SoCs.We also learned that it features improvements both in functionality and performance.
Here is a block diagram generated by CNX-Software: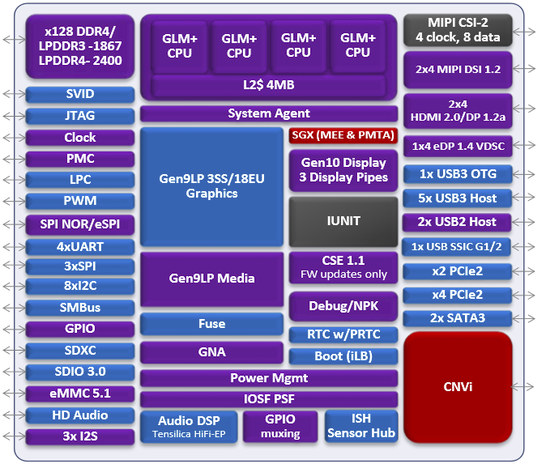 GeminiLake is all ready to use GoldMont's 'Plus' x86 cores, a four-wide issue design with 4MB of unified L2 last level cache.This predicts improvements, where it also makes it harder to acknowledge the frequencies of further SoCs and microarchitecture.These SoCs will support DDR4 and LPDDR3/4 memories, all thanks to the 128-bit memory controller.
Speaking of graphics, it is more natural to see them using Gen9LP core with even up to 18EUs identical to the ApplloLake, but with higher frequencies.Indicating more performances, at certain restrictions.The same will be equipped with an improved encoder/decoder for preferences and has to use Intel's Gen10 display for HDMI 2.0 support.Also, it will be supporting Intel's SGX which sometimes comes to play by rare multimedia applications.
SATA drives, PCIe 2.0 x2/x4 SSDs and eMMC 5.1 solutions are ready on the other hand when it comes to storage.
USB 3.0/2.0, USB Type-C, SPI SDXC  and few other modern buses are prepared for connectivity solutions.Also to add, CNVi block for WiFi is maintained as well as the GeminiLake SoCs will have to support dynamic neural network algorithms.
The power consumption data sheet is what needs to be prepared next, which will be available in short time but on paper, we expect 10W for Desktops and 6W for Mobiles.
For more details at a glance:
Bay Trail
Braswell
Cherry Trail
Apollo Lake
Gemini Lake
(unconfirmed)
Microarchitecture
Silvermont
Airmont
Airmont
Goldmont
Goldmont Plus
SoC Code-Name (Embedded)
Valleyview
Braswell
Cherryview
Apollo Lake
Gemini Lake
Core Count
Up to 4
Up to 4
Up to 4
Up to 4
Up to 4
OOOE Architecture
2-wide
2-wide
2-wide
3-wide
4-wide
Graphics Architecture
Gen 7
Gen8
Gen8
Gen9
Gen9
EU Count
unknown
16
12/16
12/18
12/18 (?)
Multimedia Codecs
MPEG-2
MPEG-4 AVC
VC-1
WMV9
HEVC (sw)
VP9 (sw)
MPEG-2
MPEG-4 AVC
VC-1
WMV9
HEVC (8-bit sw/hybd)
VP9 (sw/hybd)
MPEG-2
MPEG-4 AVC
VC-1
WMV9
HEVC (8-bit sw/hybd)
VP9 (sw/hybd)
MPEG-2
MPEG-4 AVC
VC-1
WMV9
HEVC
VP9
MPEG-2
MPEG-4 AVC
VC-1
WMV9
HEVC
VP9
VP9 10-bit
Process Technology
22 nm
14 nm
14 nm
14 nm
14 nm
Launch
Q1 2014
H1 2015
2015
H2 2016
H2 2017?