G.SKILL RIPJAWS4 DDR4-3000 Review : Fast, fast memory
As I stated in my earlier RAM review, fast memory is still a niche. There are applications that can take advantage of fast, low latency memory, but past 2400MHz the law of diminishing returns kicks in hard. Still there has been a trend off late for fast memory, and that trend is not limited to only overclockers or ultra-high-end boutique system buyers. Manufacturers are quick to grab this opportunity and hence we are seeing higher speed memory modules being introduced.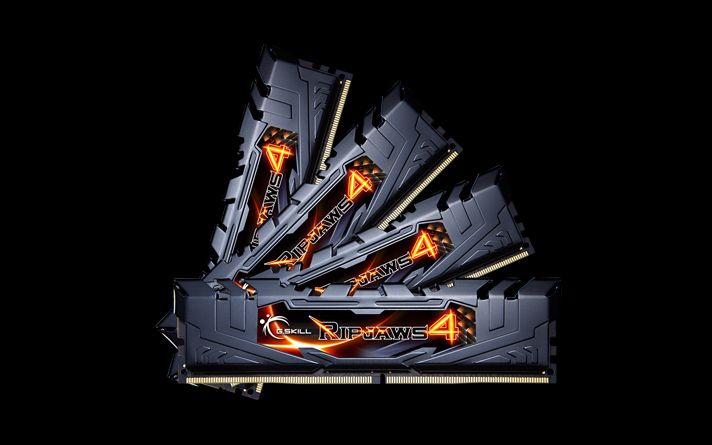 DDR4 is still emerging, and like every new technology the prices of most kits are off the roof. X99, or Haswell-E as it is dubbed, remains a true enthusiast (read pricey) platform, and a major part to play in that are the prices of the RAM kits. This is something that should probably change with SkyLake, but for now it is a sore spot for many of us. Despite that, DDR4 is an evolution from every front: lower operating voltage compared to DDR3 (1.2v vs. 1.5v), voltage reference ICs before each memory chip (for DDR3 it was a single voltage source that took care of the whole memory module) to ensure uniform voltage is applied to each of them, and increase of rated speed. All these translate into significant bandwidth increase which is a boon for many applications. Design wise, the increased number of pins (288-pin to 240-pin) with the same length of the modules translates to reduction of pin distance and per-pin contact, while the wedge-shaped design between pins 35-47 and 105-117 allows for more data to be passed through at a time. Then there is low-power auto self-refresh, or LPASR and boot-time module training.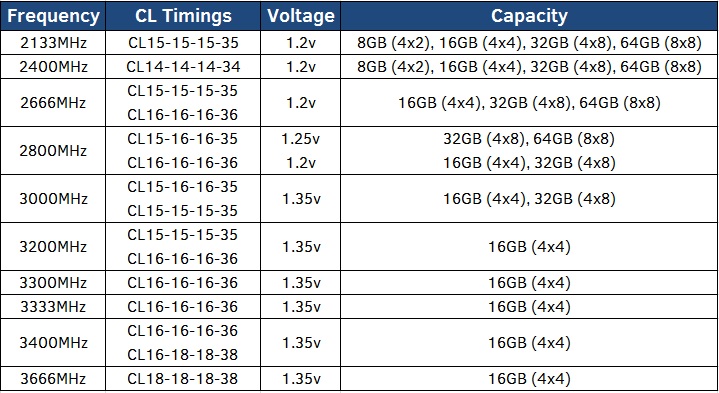 Keeping technicalities aside, today most of the DDR4 modules hover from 2400MHz – 2800MHz with a few kits going beyond 3000MHz. Going beyond 3000MHz is always tricky since it becomes heavily dependent on the processor and the IMC. Not many chips are capable enough to be stable beyond 3200MHz, and even fewer cross the hurdle of 3400MHz. G.SKILL's DDR4 kits start from 2133MHz CL15 and go up to an insane 3666MHz CL18 (with 3800MHz CL19 shown in this year's Computex), covering most base speeds in between. The kit we have for review today is the 3000MHz CL15 16GB (4×4).
Visual Analysis:
There are no surprises as far as product packaging goes. G.SKILL uses the same blister packaging for all of their RAM kits and the same gets used here as well. The pack has all the necessary information written in front as well as the back side of it, along with warranty information. The pack also contains a G.SKILL sticker.
The heatsink design for G.SKILL's RIPJAWS line has gone through an evolution with time. The RIPJAWS4, with '4' signifying DDR4 modules is available in the usual three colors, Black, Red and Blue. The heatsink design now has stamped nonparallel sections on the body of and the protruded sections are parallel, edgy designs. It needs to be mentioned here that the midsection of the heatsink is a little low in height compared to others and the change is gradual instead of sudden drop.
It is nice to see that G.SKILL is using a black PCB. I didn't open the modules to see which memory ICs they were using, but a quick reading online and my previous experience with G.SKILL memory led me to believe SKHynix chips were in play here.
Specifications:
Test System:
To test this motherboard we set up the following system:
Intel Core i7-5960X, Haswell-E, 8C/16T, 3.0GHz base/3.5GHz turbo
GIGABYTE X99-SOC Champion, BIOS F4i
SKILL Ripjaws4 DDR4-3000 memory, 16GB, CL15-15-15-35 2T
ASUS GeForce GTX 970 STRIX OC Edition
Kingston SSDNow V300 64GB SSD, AHCI mode
Corsair AX760i Power Supply, 80Plus Platinum
Corsair H100i Closed loop liquid cooler for the CPU
Big thanks to GIGABYTE, ASUS, Intel, Kingston, G.SKILL and Corsair for the respective components.
Performance: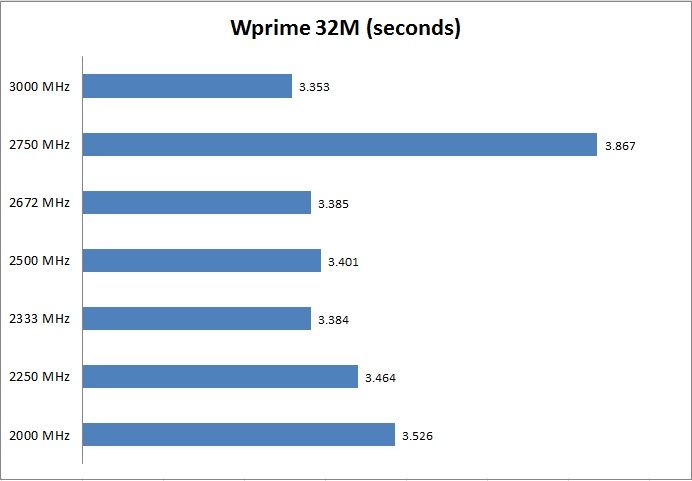 Overclocking:
Overclocking was a mixed bag with these modules. Even with the Uncore pushed to 4.5GHz, and the DRAM voltage to 1.5v, these kits refused to go beyond their rated speed. I dialed down everything and managed to reach 3100MHz, but anything more than that was not possible.
Conclusion:
DDR4 memory is in its nascent stage but with the evolution of the software and gaming industry the need for fast, high bandwidth memory is increasing. Adding to that the power benefits of DDR4 (minimal in consumer systems, but massive in server space) and it looks like a win-win situation. The situation is a little dicey at the moment though since most of the industry is playing catch up to the high speed memory and the improvements that we can see post 2400+ MHz speeds remains minimal.
The G.SKILL 3000MHz modules are a pleasure to use. The adherence to XMP2.0 means in most boards the rated speed is just the flick of a setting away, and throughout my benchmarking there was no system instability as such. However, I had a mixed experience while overclocking the modules and I will have to test this in other motherboards and with different processors if time permits. One point to note here is that running higher speed DRAM modules always require a good motherboard and a fairly good processor with a strong IMC. The end-user should remember these things before venturing out on buying one of these kits.
Lastly, the price: DDR4 and X99 as a whole remains an expensive proposition. Not many can afford a high end X99 system and for that very reason high speed DDR4 kits are a tough sell. The market is improving though, and prices have started to normalize a little, so I wouldn't be surprised if these kits are in the affordable market a year later. But for now, they sell for a kidney-and-a-half price. If you can spare one, go for these. You won't be disappointed.
(For an in-depth discussion about DDR4 and scaling, please read this fantastic article by Dr. Ian Cutress in AnandTech: http://www.anandtech.com/show/8959/ddr4-haswell-e-scaling-review-2133-to-3200-with-gskill-corsair-adata-and-crucial)