Bethesda Softworks has launched a website  with a countdown timer ( 21 Hours left as of writing this article ) , that suggests that the long awaited next entry to the critically acclaimed Fallout series might finally be officially announced tomorrow .
Long rumoured to appear at last year's E3, last December's The Game Awards and now Bethesda's own press conference (Bethesda has an E3 press conference on 14 June ). – Fallout 4 is the long-awaited latest game in Bethesda's post-apocalyptic RPG shooter series.
The website currently shows a countdown to 3pm BST on 3 June as well as some information about Bethesda and an Pegi 18 rating .The countdown timer also has a PLEASE STAND BY screen much like the loading screens we see in the Fallout titles .
The Fallout franchise was bought by Bethesda who developed and released Fallout 3 in October 2008 and published Fallout: New Vegas in October 2010.
The web page's source code reveals the domain Fallout4.com, confirming what many are assuming ahead of whatever awaits when the countdown reaches zero.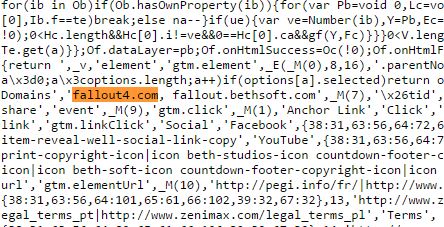 The chances of this being a hoax like the Survivor 2299 site is slim as Bethesda's own twitter account revealed the teaser site .
#PleaseStandBy http://t.co/ChhE4rZ9GM pic.twitter.com/3NefHBcYU7

— Bethesda Game Studios (@BethesdaStudios) June 2, 2015
In May an animator let slip that Bethesda had hired Mirada Studios(Guillermo del Toro's own studio) , to create a CGI trailer for Fallout 4 , earlier the voice behind Three Dog , Erik Todd Dellums had tweeted that he had something to do with a future Fallout title .
Numerous reports and leaks over the years suggest that the game is set in the US city of Boston . It seems we'll know for sure soon enough.