ASUS Chromebox CN60 Review: Ready to live on the web?
Chrome OS has gone through its ups and downs since its inception in 2009, and it's safe to say that even with all the updates that Google has made to make the user experience at par with a traditional Windows/OSX/Linux desktop environment, it remains a niche. Initially developed and released to be a true thin client OS, Chrome OS now has new albeit limited offline functionality, and the recent update to allow Android apps to run in it has opened quite a few new opportunities for it. Now for a power user these things may value little, but for a user who can do with web browsing/video playback/playing browser or flash based games and basic document editing, the Chrome OS is certainly an appealing option. I have been trying to test the OS out for quite some time, but as with every emerging technology, the reach has been quite low in the initial years for Chrome OS based devices. But with Google focusing on Chromebooks and Chrome OS based SFF PCs (called Chromeboxes); there are many new devices in the market already. One such device is ASUS' Chromebox CN-60, which I will be reviewing today.
The first generation Chrome OS based devices faced flak for their relatively low-end system specs. Apart from the mad creation that was the Chromebook Pixel, other Chromebooks felt rather underwhelming with their Celeron processors and measly system memory. The Chromeboxes on the other hand are a different story altogether. These are not meant for the budget conscious user. I see these as a viable HTPC option with their complete lack of bloatware and ability to work without much internal storage onboard. The ASUS CN60 has a couple of processor choices. The one I have for review has most of its specs maxed out. Intel's Core i7-4600U sits at the heart of things. This is a dual core, 15W part, with 2.1GHz base and 3.3GHz Turbo and HD4600 graphics. The other two choices offered are or Core i3-4010U (2Cores/4Threads, 15W, 1.7GHz base frequency, no turbo, HD4400 graphics) or the decidedly low-end Celeron 2955U (2Cores/2Threads, 15W, 1.4GHz base frequency, no turbo, Intel HD Graphics). The system memory is limited to maximum of dual channel 4GB DDR3-1600(SK Hynix) and the storage duties are covered by a 16GB M.2 (NGFF) SSD by SanDisk. The storage is same across all the models while the DRAM reduces to 2GB in the lowest end model. I believe the base model should have 4 Gigs of RAM with the i3/i7 models having 8/16GB options as well. Though Chrome OS is not as memory hog as some of the other operating systems can be, the extra RAM certainly helps in multitasking and intensive tasks like Ultra HD video playback or streaming. The Chromebox also supports WiFi standards 802.11 a/b/g/n and Bluetooth 4.0, has a SD/MMC card reader built in, and a Gigabit Ethernet port for the wired LAN connections. The rest of the connectivity includes four USB3.0 ports, HDMI/DisplayPort video ports, and a single Audio/Microphone combo port. There's also a Kensington lock on one side of the Chromebox.
CN60 Visual Analysis:
The Chromebox CN60 measures 12.4 x 12.4 x 4.19 cm, which is roughly the size of a small tiffin box.  The finish of the metal casing is smooth. The color options are limited to only one at the moment, a cool midnight blue which looks black if you see it from a distance. Since there's no active cooling involved, the entire case acts as a passive heatsink for the processor and other heat generating parts. There are a couple of vents at the bottom of the case to intake cool air, but the four rubber paddings that work as feet are not very thick. Hence the Chromebox sits almost snug to the floor or table wherever you want to put it. This should not be a concern for most users, but for the ones who want to use the included VESA mount to attach it on the back of a monitor or a TV, the warm air that gets exhausted out through the very same vents can be bothersome.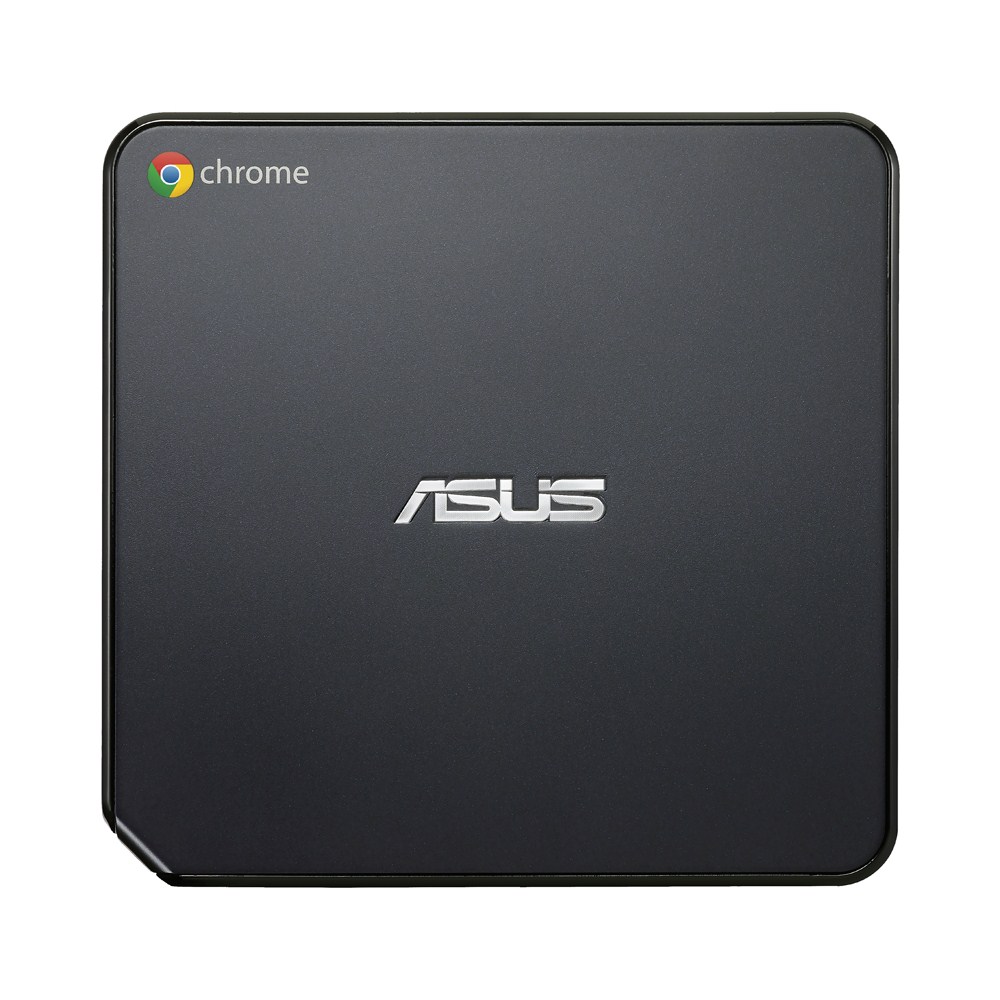 The top of the CN60 has the ASUS and Chrome logos. The metallic ASUS logo is at the center, while the Chrome logo is at the top left corner. Both are tastefully minimal and don't hog a considerable amount of space. The clean front panel has two USB3.0 ports and on the left hand side we have the power switch with a white LED on top. Going on the left hand side of the CN60 there is the SD/MMC card reader and a Kensington Lock. On top of the Kensington lock is a little hole which needs to be accessed with a pin to enter Development Mode.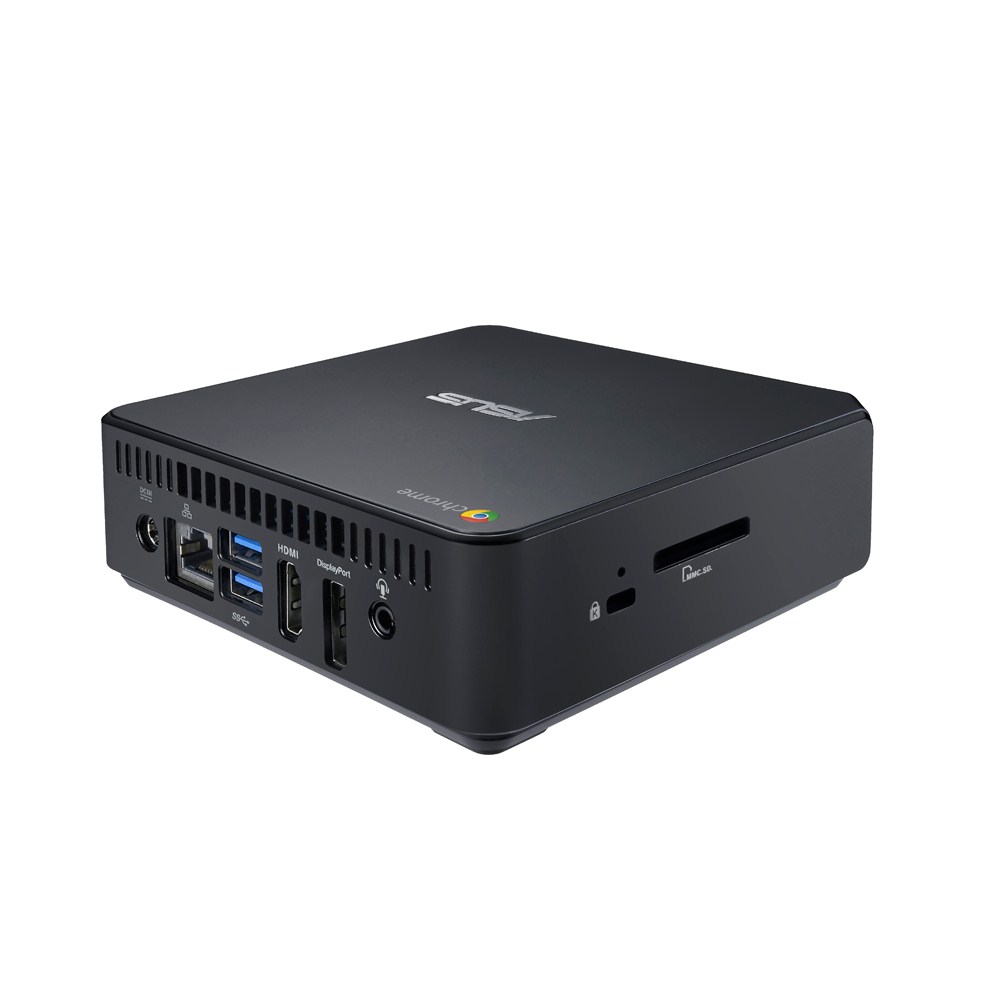 On the back we have the rest of the connectivity options. As stated before – from left to right, the CN60 has the DCIN power jack, GbE LAN port, two more USB3.0 ports, one each of HDMI and DisplayPort outputs and a microphone/headphone combo out port. There are some vents on top of the ports to allow hot air to come out. The right hand side of the Chromebox is clean and doesn't have any ports.
To open the Chromebox, one needs to pull out the four rubber case feet. They are held by glue and are easy to remove. Once they are removed, four screw holes are revealed, housing long screws. After taking the screws out, it needs a little prying to separate the top lid from the bottom section.
Once the CN60 is opened, the whole layout becomes clear. The processor sits on the other side of the PCB, flanked by its own section of metal heatsink. On this side of the PCB however, the major chunk of components are located as well as all I/O.
The things that are immediately noticeable are the DRAM, storage and Wireless modules. ASUS chose to use SK Hynix SO-DIMMs, 2GB of 1Rx16 DDR3L-1600 per module (CL12). While Chrome OS is not as resource heavy, I would have liked to see at least 8GB RAM here.
Installed in the M.2 SATA port is the SanDisk U110 16 GB NGFF SSD. The drive features a SATA interface and a 22mm x 42mm M.2 form factor.
Stacked on top of it is the wireless module installed in a mini-PCIe slot. In what appears to be a custom AzureWave AW-2110 based solution, the wireless module supports up to 802.11n and Bluetooth4.0 (again, Wireless ac is missing). I didn't see any USB or audio controllers in this side of the PCB so it was safe to assume that they were on the other side.
Chrome OS experience:
The Chrome OS is still heavily web based. All Chromebox owners receive 100GB of free Google Drive space for 2 years to alleviate the need for a local storage.
The basic experience of Chrome OS is extremely good if you consider it as a terminal for accessing internet and internet-based applications. The learning curve can be a bummer at times, because unlike regular OSes it does not feature fully fledged ecosystem of offline applications to take advantage of. Instead, one is forced to look for online counterparts. Chrome Web Store is getting better, and with the implementation of Android Apps the overall picture should improve, but as of now the entire experience may seem underwhelming for many since it is somewhat limited.
The Linux users, however, should feel right at home as soon as you flick on the developer mode. Just like the Chromebooks, ASUS' Chromebox features a recovery mode button above the Kensington secure slot. Depress the recovery mode button while powering on the machine and you'll be presented with the standard Chrome OS recovery screen. Hit CTRL + D at this screen and you'll wipe the machine and restart with Dev Mode enabled. My review sample refused to go into the Dev Mode, but I've seen countless videos and read tutorials of add-ons like Crouton that can make the Chromebox boot off an external device.
By default, users can press CTRL + ALT + T and access the Crosh terminal. In normal mode the options are fairly limited, but in Developer Mode one can access a fully-fledged shell and run most Linux commands. There are some memory and storage stability checker programs as well in Crosh.
Benchmarks:
For day-to-day use, the Chromebox felt surprisingly snappy. Opening and editing documents were a breeze, the 720p/1080p videos and movies played without hiccups (for the most part, when codecs were available), and games like Angry Birds didn't face any issues (Angry Birds on a Core-i7 processor – isn't that a treat?).
I ran a couple of browser based benchmarks on the CN60 to see how the performance fared. Here are the results:
Conclusion:
ASUS' Chromebox CN60 has three models. The cheapest of the lot features a Celeron 2955U, and the top end model houses an i7-4600U. Now between these two processors there's a fairly large performance gap and I am not convinced that Chrome OS in its current iteration requires this level of power. For all of its functionalities even the Celeron processor should run through the OS like a breeze.
Second and most importantly, Chrome OS has a limited appeal in a country where fast internet still continues to be a niche. The lack of local storage maybe a boon to some people; the charm of using a terminal to access your storage anywhere in the world is a geek's wet dream, but this doesn't necessarily hold true for day-to-day users. Add to that the unavailability of any windows-based executable and file archives, the limited video playback codecs, and in general flexibility. Again, it may be a relatively virus-free OS till now, but that point alone cannot make up for all its shortcomings.
I think Chrome OS has the potential to be a fantastic HTPC companion, but a major part of that remains to be the pricing and availability.
That brings me to the last thing about the CN60 – the pricing. The top end model sells at Rs.57,500. That is an eye-watering price for any Chrome OS based mini-PC. Sure, the Chromebox is a ready to go solution and only requires you to plug in the display and the keyboard/mouse to start using it, but for a limited OS experience that is a lot of asking price. Intel's i7-4600U is partly to blame here with its tray price of nearly $400, but for all instances and choices, the top end Chromebox is a pretty tough sell. If I had to recommend a Chromebox to a novice, I'll choose the Celeron model any day with a bumped up RAM to 8GB. The CN60 is a beautifully made, good performing mini-PC, but one that feels more justified at a lower price. As for Chrome OS, it continues to evolve. Like I said before, it's a niche. If niche's your thing, go for it. If not, wait for it to become fuller in terms of experience. You won't lose a thing.
The Celeron based model sells for Rs.20,000 and the Core-i3 based model is priced at Rs.30,500. Prices inclusive of taxes and wired keyboard and mouse.
The ASUS Chromebox CN60 gets a TechArx Bronze award. In its next iteration, we want to see more refinements.