AMD Zen To Deliver Twice The Performance Of An FX 8350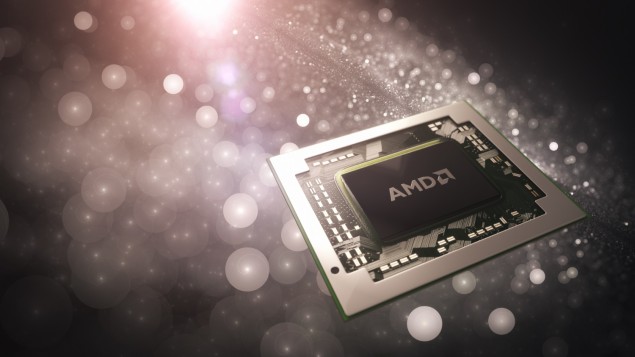 AMD Zen To Deliver Double The Performance Of FX 8350
Rumours surrounding AMD's much anticipated Zen architecture have been making rounds for a while. Recently, AMD has revealed that an upcoming Zen processor will have double the performance of the FX 8350. If this is true, the new processor will then compete head to head with Intel's 5960X Extreme Edtion.Also, Images of AMD's "Summit" die has been revealed. Summit will be the basis of the next generation high performance FX Zen CPUs. Leaks regarding the launch of AMD Zen surfaced many a times, but now we have a much clear idea about the time-frame of the launch.
AMD will launch its Enthusiast grade 8 core processors based on Summit Ridge around October. The processor will be based on a new socket i.e AM4. These next generation of processors will provide a huge bump in terms of performance when compared with the previous generation of processors, FX 8350 and FX 6300.
AMD Zen : A New King Of The Hill ?
Several rumours and news keep coming up on the internet regarding AMD Zen, but the recent one is a  biggie as we have a rough idea of what to expect from the new chips . Anyways, AMD has finally spoken up regarding the performance of the upcoming processors. 40% increment on the IPC side which  represents the architectural performance per clock improvement of Zen vs AMD's last CPU architecture, codenamed Excavator. And while comparing the architectural capabilities of zen to Excavator may have been informative, it doesn't offer a direct real-world product to product comparison. Thankfully, we do finally have direct real-world performance figures for Zen.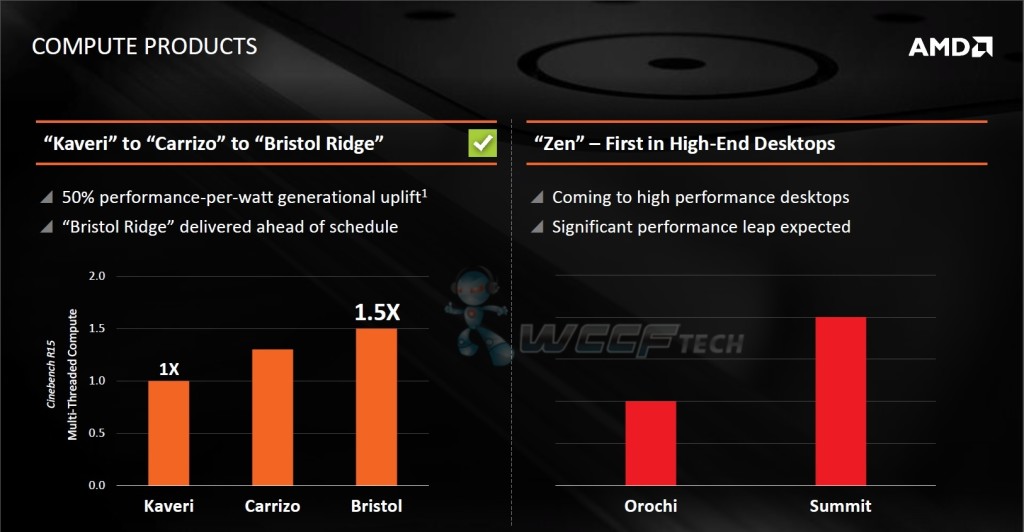 AMD President & CEO Lisa Su – Q4 2015 AMD Earnings Call Transcript
Our Zen-based CPU development is on track to achieve greater than 40% IPC uplift from our previous generation and we're on schedule to sample later this year.

In client computing, our opportunities to regain share in 2016 will be driven by our design win momentum, continued progress expanding into
the commercial market, and reentering the high-performance desktop market late in the year with our Zen-based Summit Ridge CPU.
When compared to AMD's "Orochi" quad module, the Summit Ridge core CPU deliver double the performance in Cinebench R15. Basically, A single Zen core is equivalent to two Piledriver cores in terms of performance. This is really interesting as the increment in performance is mainly based on the per clock improvements, thanks to the new architecture and in addition to this, Zen's simultaneous multithreading capacity boosts the performance bar.
AMD's Orochi dies sport Piledriver cores rather than the newer Excavators. The new cores which are going to be featured are 15% ahead. Bottomline, Zen leads the game by 60% when compared to Piledriver in terms of performance per clock. And then,  Doubling the performance of the FX 8350 puts Zen in direct competition with Intel's 8 core i7 5960X.
Summit Ridge : AMD's 8 Core Zen CPU
Summit Ridge is the high-end desktop (HEDT) product that AMD has previously promised to release in Q4 of this year. It is expected to be the first chip that integrates AMD upcoming Zen CPU architecture. AMD has also published a wafer shot of the company's upcoming 8 core "Summit" die. This die shot represents the very first at the foundation of AMD's upcoming Zen FX CPUs.
                                          Image Courtesy: Wccftech and SemiAccurate
The die is rectangular in shape and houses two computing clusters placed at the opposite ends of the chip. Each computing cluster is comprised of four Zen cores. This rounds up to a total of eight Zen cores in each die. Each core in a given cluster of four shares L3 cache with the other three adjacent cores in the same cluster. In terms of other logic we can also see what appears to a DDR4 PHY placed in the lower left corner of the die. In addition to the DDR4 memory controller the Summit SOC also includes an integrated northbridge as well as numerous I/O logic.Expectations are high and Summit Ridge may prove to be a make or break product for AMD.
AMD President & CEO Lisa Su – Q4 2015 Earnings Call

"We remain focused on completing our strategic work around three key growth pillars. First, in PCs, even in a declining overall market, we believe we can regain client compute and discrete graphics share for the year, driven by gaming, VR, commercial, and our most competitive product roadmap in more than a decade.
We have clear opportunities to regain GPU share in 2016 based on the performance per watt of our new GPUs and software leadership. Earlier this quarter at CES, we announced our new Polaris GPU architecture, which we expect to begin shipping in the middle of 2016."
What are your thoughts on this? Do you think AMD Zen can surpass i7 5960X ? Let us know in the comments.