AMD's upcoming Radeon 300 series graphics cards has started being delivered to retailers , and will be available for retail from June 21st onwards .
The stock being delivered includes the R9 390X 8GB, R9 390 8GB, R7 370 and R7 360. No word yet regarding the R9 Fury .
The graphics card pictured below is an AMD Radeon XFX R9 390X 8GB Double Dissipation. It features XFX's new Ghost 3+ cooling design with 7 copper heatpipes and a dual fan solution. XFX states on the box that the card will have unlocked voltage control, something which has been lacking on the Nvidia side since the Kepler based 600 series in 2012. The power delivery uses a digital six phase design.
The rear I/O of the card has two DVI-D ports, one HDMI port and one full sized DisplayPort connection. Included with the card is a DiRT Rally game code as part of the Radeon 300 series bundle and has lifetime warranty
.
The aggressive pricing of the 3xx series makes it a very attractive option over Nvidia's current 9xx lineup , the 390x in particular with its 8 GB of vram and low price is definitely a tough opponent to the 970 which is already lagging behind the 290x in high resolutions and games that demand more vram due to its ram gate issue .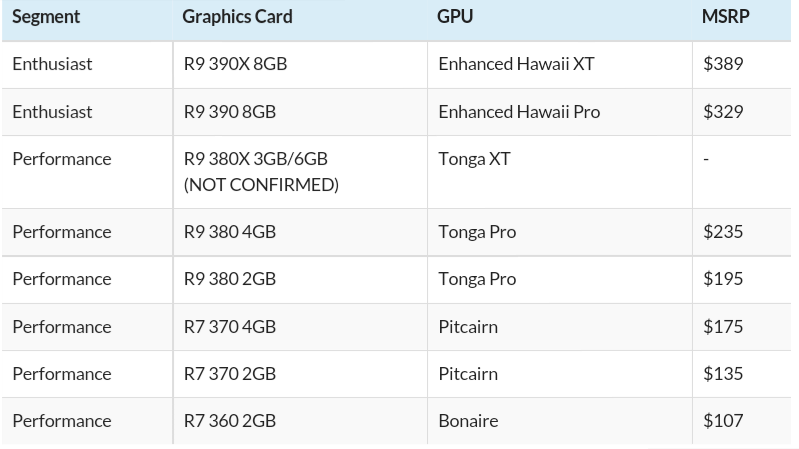 AMD will be officially launching the Radeon 300 series and the Fury series of graphics cards on June 16th at E3 and the event will be live streamed over the web. 

Image Credits : Reddit