Xiaomi Launches the Mi Max priced at $230-310 with 6.4 inch screen,4850MAH,7.5mm and Dual SIM
After posting several teasers on the official twitter feed, Xiaomi has now announced a large battery, large screen 'smartphone' that blurs the line between 7-inch tablets and 6-inch smartphone. The Mi Max is a step above the previous Mi Note devices, trying to combine the pervasive 'thin' design in modern smartphones while also adding plenty of battery life. The only way to effectively do this is to add area, so the final result is a 6.4-inch device.
The phablet will be offered in three models, similar to the Mi 5. The low-end model, coming it at an equivalent of $230, will feature a base Snapdragon 650 with 3GB of DRAM and 32GB of storage. Moving up the chain changes the SoC to the 652 and doubles the storage. The best version tops out at 4GB of DRAM and 128GB of storage, and all three allow installation of a 128GB microSD card in place of one of the SIM cards.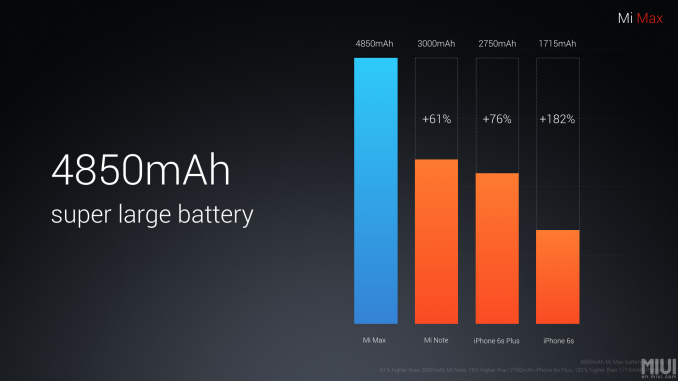 The two SoCs differ in the number of A72 cores – the 650 is a 'six-core' part, featuring dual ARM Cortex A72 cores at 1.8 GHz and quad ARM Cortex A53 cores at 1.44 GHz in a big.LITTLE configuration, whereas the 652 has quad-A72 cores at the same frequency.
These parts have an 3 or 4GB of DRAM (in an LPDDR3 memory interface we assume), along with Adreno 510 graphics. In the Mi Max, this powers the 6.44-inch display running at a Full HD (1920×1080) resolution, which comes to a 74.8% screen-to-body ratio.
The SoCs use Qualcomm's integrated X8 LTE modem, rated at category 7, and supports dual 20 MHz carrier aggregation. The Mi Max will support dual 4G SIM cards (one slot also supports microSD), a rear based fingerprint sensor, a 16MP PDAF rear camera and a 5MP front camera with an 85º wide-angle lens. The device weighs in at 203g, which as a whole is not too dissimilar from the 6-inch HTC One Max.
Other features include Quick Charge 3.0 (rated at 83% in 30 minutes), active noise cancellation and 802.11ac, but USB is only at 2.0 speeds. Black, White and Gold colors are to be released, although release dates outside of China are unknown at this point.