Xbox One Gets "Temporary" Price Cut to 320$ with 1TB storage, 5 games and Extra Controller
Microsoft has slashed $50 off the retail price of all Xbox One console bundles. This "limited time" price cut comes as we get closer to this year's Electronic Entertainment Expo, where both Microsoft and Sony are rumored to take the veil off the new, upgraded versions of their eighth generation video game consoles.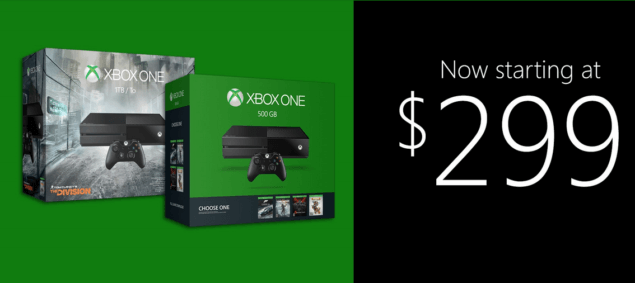 The price cut covers both 500GB and latest 1TB console versions, with the cheapest console bundle now coming in at $299 only along with a free game. One of the better deals being offered right now is the 1TB Xbox One Spring bundle along with a game of your choice and an extra controller, all this for under 319$ Only.
The Spring Bundle already comes with four games: Gears of War Ultimate Edition, Ori and the Blind Forest, Rare Reply and Halo 5: Guardians.
You can pick one of the following Ubisoft titles as the extra free game that Microsoft is offering:-
  Watch Dogs
  Assassin's Creed: Unity
  The Crew
  Just Dance 2016
  Just Dance: Disney Party 2
Other console deals that you can currently avail from the Microsoft Store includes the 500GB Xbox One Special Edition Quantum Break bundle for $299, as well as 1TB Xbox One Elite Bundle. The Xbox One Name Your Game bundle is also $299.
As mentioned before, the price cut is a limited time deal and will stay over until E3 2016 kicks off. You can head to the Microsoft Store right now to place an order.
Additionally, You can head over to Amazon if you think 1TB Xbox One Three-Game Bundle (Gears of War: Ultimate Edition, Rare Replay, Ori and the Blind Forest) along with a free copy of Forza Horizon 2 and an extra controller for $320 is the right deal for you.
So what do you guys think of this temporary price drop? Will it effect their sales by a huge margin or will it only give a slight boost compared to the one that they are expecting ? Drop your comments below in the comment section.