One of the most awaited games of this year , Witcher 3 is out , and CD Projekt Red has been taking some serious flak over the downgrade of graphics in The Witcher 3.
Thankfully for PC Gamers , SweetFX and some ini tweaks allow gamers to increase(and even decrease) the graphics more than the in game options available .
However if you find tweaking the ini file a little too complex for your taste.  Modder 'MelekTaus' has released a configuration tool that offers easy access to various graphics options for The Witcher 3: Wild Hunt named hunters config. The tool can provide a simple way to adjust certain settings without going through any complicated procedures.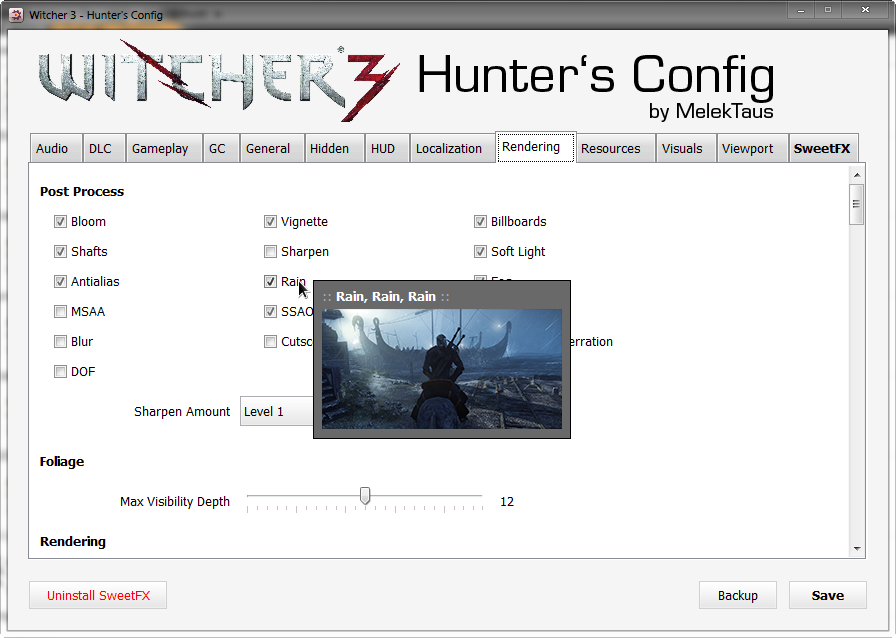 The tool can be downloaded from here.(NOTE : You need a nexus account in order to download the file since it crosses their unregistered users download limit , registration is free , and if you regularly use mods , you probably have an account over there already )
This config features support for SweetFX (so those not knowing how to enable it can easily do so via this tool).
In order to install it, simply extract the files into your Witcher 3 directory  and run the .jar file .
Here's an example of how SweetFX affects the game , notice the better colors ? Well that's not all , You can tweak the colors to your liking , use FXAA and a lot more !
If you need a pre made config , I recommend using Powerplay's config(LINK)
Enjoy!