Microsoft has confirmed Windows 10 is out on Wednesday, July 29th worldwide. Current users of both Windows 7 and Windows 8.1 will find the option to reserve free upgrades now in their system tray.
"The Windows 10 upgrade is designed to be compatible with your current Windows device and applications," writes Microsoft's Terry Myerson. "We are hard at work to make this upgrade process a great experience. You can reserve your free Windows 10 upgrade now through a simple reservation process."
Users have one year to take advantage of the free upgrade, and once upgraded to Windows 10 Microsoft will continue to update it throughout the lifetime of the device.
The update behind this notification is KB3035583, which also happens to be responsible for the actual Windows 10 upgrade process. While KB3035583 was originally released in March, it was first offered as an Optional update, but more recently switched to Recommended (meaning users would automatically receive it if they have Automatic Updates turned on).
HOW TO RESERVE YOUR COPY
Click on the small Windows icon located at the right end of the taskbar.
Click "Reserve your free upgrade" in the app window.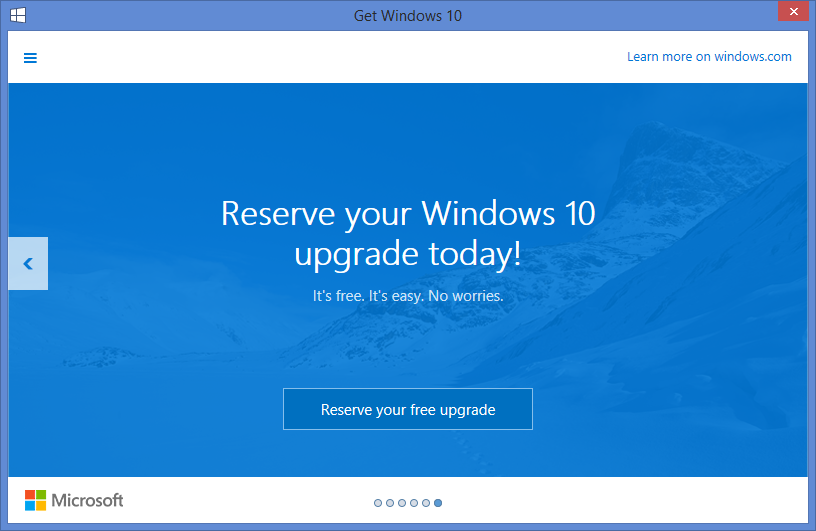 Enter your email if you want confirmation of this reservation.
Want reasons as to why you should upgrade to Windows 10 ? 
Well , Windows 10 has some amazing new features :-
The Start menu is back . Windows fixes one of Windows 8's greatest flaws by returning the beloved Start menu to its rightful spot in the lower left-hand corner of the desktop. But rather than focusing on desktop apps alone, the Windows 10 Start Menu mixes in a dash of the Metro Start screen's functionality . You can turn off that Live Tile functionality if you'd like, and even unpin all the Metro apps from the Start menu, returning it to purely desktop-focused mode. Or you can choose to have the Start menu expand to the full screen, and resize Metro apps to recreate a more Windows 8-like experience. The choice is yours.
Cortana, Microsoft's clever digital assistant on Windows Phone 8.1, makes the jump to PCs with Windows 10, where she assumes control of the operating system's search functions. Cortana can help you find all sorts of online information via natural language queries you ask using text or voice commands. Cortana can also apply those natural language smarts to use search your hard drive, OneDrive, and business network for files that meet certain filters, like "Find me the pictures from last month."
Continum is an on-the-fly mode for 2 in 1 devices that can automatically change mode if it detects there is suddenly no keyboard attached. So, for example, a back button appears to help you navigate the Desktop with touch if the keyboard is removed.
Project Spartan or Microsoft Edge. This new browser comes with an all-new engine, replacing the longstanding Internet Explorer for all but legacy pages that need to retain compatibility with old pages and plugins. One of the new Edge features Microsoft showed off is the New Tab page, which displays your top pages, apps associated with those pages, a handful of featured apps, and some other material based on information you've given to Cortana . Another major feature is Web Extensions, browser extensions written in HTML and JavaScript. Microsoft's Joe Belfiore said that extensions could be ported from browsers like Chrome and Firefox with "just a few modifications .
Xbox App and Streaming : You'll be able to play multiplayer games cross-platform between Xbox One and PC. Windows 10 will also support the ability to stream games from the Xbox Box.
Universal apps . A bundle of apps including Photos, Videos, Music, Maps, People & Messaging and Mail & Calendar (and presumably more in the future) will look and feel the same across different devices and screen sizes. The data will also be saved and sync automatically via OneDrive.
DirectX 12 : A low level API like AMD's Mantle , DX12 will usher in a new era of gaming , boasting support for enhanced visual effects , unified memory , cross vendor pairing and upto 70 % more efficiency than DX 11 .
On top of these features Microsoft has improved and optimized Windows 10 , making it an overall improved experience from Windows 8.1 .
http://www.youtube.com/watch?feature=player_embedded&v=3ngnzY5xtI8
IS IT REALLY FREE ?
In a post to Microsoft's Australian Partner Network—and first spotted by Neowin—Alex Snelson, a Windows product marketing manager at Microsoft Australia, clarified what will happen after the deadline:
"Microsoft will offer a free upgrade to Windows 10 for qualified Windows 7, Windows 8 and Windows Phone 8.1 devices in the first year. After the first year, upgrades will be paid via boxed product and VL Upgrades."
So if you don't make the leap to Windows 10 within a year of its summer 2015 launch, you'll have to pay if you choose to do so in the future.
http://www.youtube.com/watch?feature=player_embedded&v=Wwc5jKc-EgE
Windows 10 is out on July 29th and is available to reserve now. Will you be hopping in on day one? What feature are you excited about the most ?