[nextpage title="Introduction and Initial impressions"]
Wireless Storage is getting popular day by day thanks to new more improved wireless protocols. Keeping up with the trend Western Digital bought out a new wireless storage device late last year, called The My Passport Wireless.
The formula stays the same : get a capacious portable USB 3.0 hard drive, a battery for wire-free operation and a Wi-Fi radio, put it all together in a case and sell it. However the solution from WD differs in two ways in two ways :
SD card slot
MIMO-capable Wi-Fi chipset(for streaming to other devices in 2.4GHz
On the software side WD has enabled FTP capabalities. WD has provided the same WD My Cloud app used to access their EX2 and EX4 NAS units for this unit also.
Hardware and Platform Analysis
Coming to hardware and accessories the unit comes with a 10W adapter ([email protected]),a 2 ft. USB 3.0 cable (Male-A to Micro-B) cable for charge and data transfer and a quick charge guide.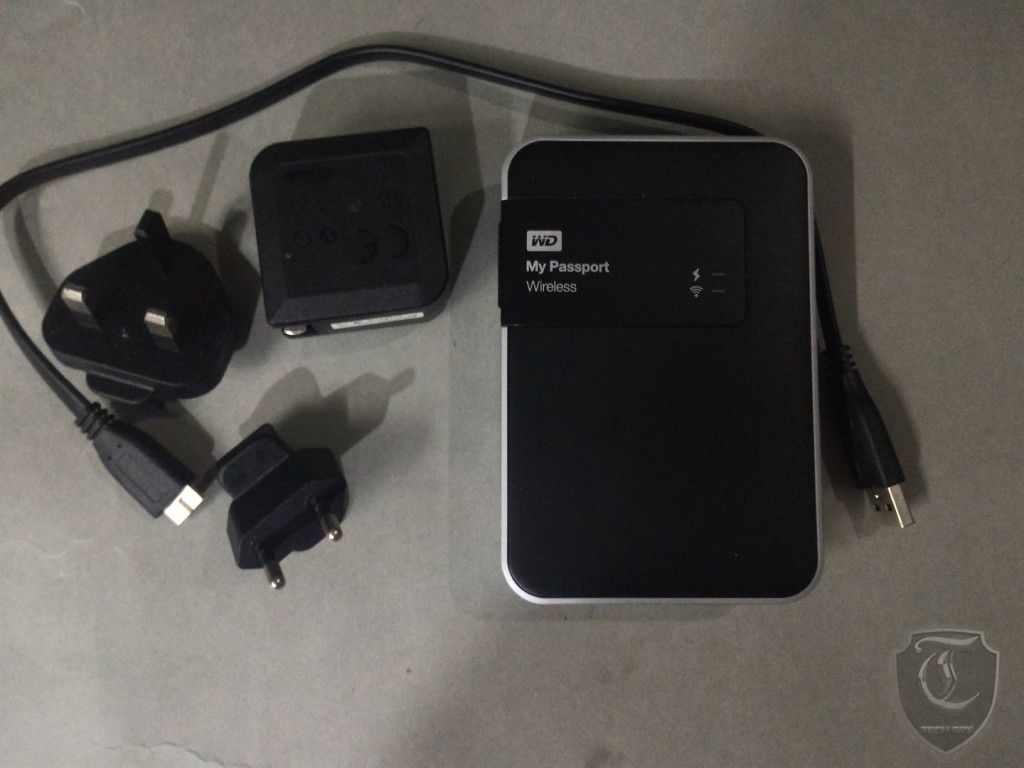 In order get a bit more info about the info we went digging online, after a brief search we got to know that the WD My passport essential is basically a marriage between a western digital 2TB HDD(belonging to the Green series), a 3,400mAh battery , a Cortex-A8 system-on-chip (similar to the one found in the iPhone 4), 512MB of RAM, 128MB of flash memory, an SD card reader and a dual-stream 2×2 MIMO Wi-Fi module.
More specifically the system consist of the following parts :
TI AM3352 Sitara Cortex-A8 SoC
TI WiLink WL1805MOD SDIO Wi-Fi (802.11bgn, 2×2 MIMO) Module
SK hynix H5TQ4G63AFR 512 MB DDR3 SDRAM
SK hynix H27U1G8F2B 128 MB SLC NAND Flash
WD Green 2 TB 2.5″ HDD(AVGP series)
3400 mAh 3.7V Li-Po Battery
The TI Sitara platform is quite popular and wide spread choice in mobile storage so that brings a no surprise. Cmoing to the hardrive itself we were a bit skeptic about our finding that its a WD green HDD so we ran crystaldiskmark info and confirmed it our self.
The WD20NPVX is indeed the 2 TB WD Green drive, which as per the datasheet(PDF) needs only 1.7W for read/write operations, drops down to 0.8W while, while standby/sleep modes require only 0.2W. That keeps the whole drive under the USB 3.0 spec limit of 4.5W.
[nextpage title="Benchmarks"]We decided to run only DAS benchmarks for this review since our internal network fell miserably short while streaming(time for another upgrade, sigh!).
regardless of that we decided against abandoning the whole review and went on with our normal storage suite.
HD Tune Pro  is a hard disk utility and benchmarking utility for Windows. This tiny application allows you to scan your hard drives for errors or take a deeper look at several performance figures coming from the storage unit. We used the included benchmark utility. We used the File benchmarks for our review to determine reading and writing speed and access times.
Overall the drive shows acceptable numbers for a USB drive touching 100MB/s.
Crystal Disk Benchmark is used to measure read and write performance through sampling of highly compressible data (oFill/1Fill), or random data. Crystal DiskMark scores usually drop a bit when comparing to ATTO and this is the result of the testing data now being primarily incompressible representing movies, music and photographs. We tested the drive with multiple data sizes ranging form 100MB to 1000MB.
[nextpage title="Conclusion"]
 The WD My passport Wireless is a product mainly targeted at photographers which is clearly visible by the inclusion of a SD card reader, that and the FTP support makes the product stand out form the rest. Also if you are not a fan of the My cloud APP WD has enabled CISF shares so that you cannot complain. I would like to recommend an upgrade on the battery though since 3400Mah doesnt last too long if you want to stream for long duration of time in cases like an extended road trip and such. Also an upgrade in the wireless chip would help, only 2.4GHz is common and slow.
Apart from this two aspects I cannot find any thing to complain about and treat as cons unless i go on extreme nitpicking. Its a very good devices for the guys on the go, be it an photographer or anyone who travels frequently.
As for availability we could find the drive online only at Amazon and as of now this is the only 2TB wireless drive we could find so a direct price comparison was not possible.
Priced at around 14.1K the device seems to pack a lot of things so we think its totally VFM.