Valnir Rok is falling upon hard times. A Kraken is loose threatening the peace. Will the people of Valnir Rok survive or fall victim to a gruesome death?
Valnir Rok is a multiplayer survival game in which you take your destiny into your own hands and will determine your own destiny between fearless Vikings, cunning traders and cruel beasts!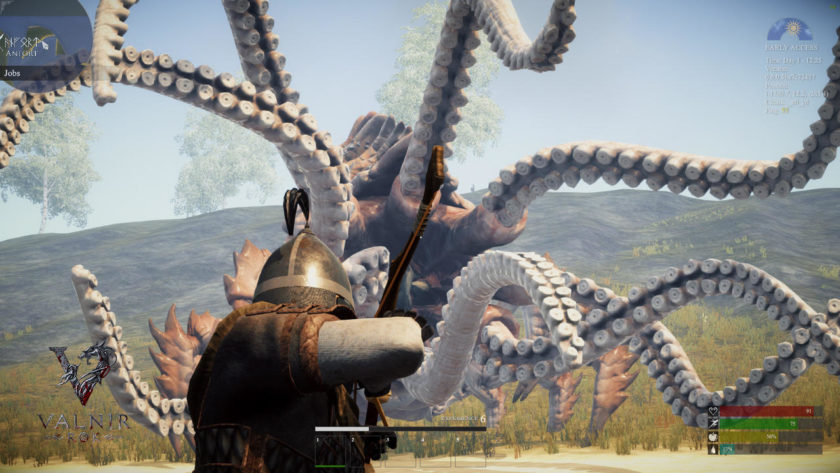 The update adds a ton of things, including:
NEW
NPC: A new legendary enemy, the Kraken has arrived
IMPROVED
Gameplay: Adjusted frost damage
Building: Totems for buildings last longer
Gameplay: Load capacity adjusted
Sound: drinking, jumping, horse riding, eating, potions.
Character Creator: Zoom In/Out.
Character Creator: Randomizer creates better characters.
Character Creator: Extremes slightly revised.
Character Creator: Button female/male upper left corner.
Character Creator: Keyboard letters [F] instead of text "press F to interact".
Character Creator: Redesign of Ability UI.
FIXES

Quests: Larger question marks for quest givers.
Mount: Fall damage especially for horseriding.
Building: Building disappearance after logout.
Gameplay: Clan members are no longer accidentally kicked out of the clan,
Combat: Aiming position fixed.
Combat: Weaponless fighting adjusted.
Combat: Bow no longer shoots when clicking in inventory.
Combat: Animationstuck of "Unnoc Arrow" fixed.
Combat: Arrow is not removed from the inventory anymore when the arrow is put back.
World: Stumps of chopped trees do not move anymore.
Buy Valnir Rok on Steam.
About Valnir Rok:
Valnir Rok is an online sandbox survival roleplaying game produced in Cologne in Germany, inspired by Norse mythology. Players will awaken to find themselves on Valnir Island and must do whatever it takes to survive in a land of wild animals, mythical beasts, and violent men.
As a hardened Viking warrior, butcher your enemies in bloody combat, build and improve village structures, and form a clan to expand your power and reputation.
Battle against opposing clans, place bounties on hated enemies and discover ruin artifacts to gain favor with the gods with great deeds and holy sacrifices. Might makes right in the Viking world of Valnir Rok.