This year has seen remakes of quite a few older titles. Resident Evil 3 Remake, Warcraft 3 Reforged, and Square's own Final Fantasy VII. Trials of Mana is probably the least known game that is being remade amongst the bunch. Known in Japan as Seiken Densetsu 3, the lack of a western release, technical limitations, and other factors prevented a lot of gamers from enjoying this ambitious game by Squaresoft.
AT A GLANCE
Release date: 24 April 2020
Developer: Xeen, Square Enix
Publisher: Square Enix
Platforms: PlayStation 4(Reviewed), Nintendo Switch, Microsoft Windows
Final Score: 8/10
With the remake now out for modern platforms, offering modernized gameplay mechanics, gorgeous visuals, and a timeless story, Square has finally given fans of both the series and genre a chance to experience this classic gem.
Gameplay And Story
Trials of Mana has a unique approach to its character selection. You are given complete control over your playable character from a roster of 6 characters, and you can select up to two more characters to accompany you on your adventures. This is a faithful recreation of the choices in the original game, and it's fascinating to see the pixelated characters of the classic game being reproduced in such a faithful way.
Your choice of character and companions will completely change your experience in terms of both the gameplay and story. Your style of play and the way you approach battles will be heavily impacted by your team composition. For example, going with Duran, Charlotte and Lis will result in you focusing on dealing melee damage while being supported by two ranged magic casters. You could also go a full rogue/melee assault team but not having a healer/support in your team will cause problems in the long run. There is also a profound implication in the script since each hero has their own story and reasons to start their journey. Even though the bulk of the story will remain the same for all the characters, there will be several minor events and arcs unique to each character. You will still run into the other characters that you haven't chosen but you will be clueless about their motivations and ambitions.
As expected, this gives it an enormous replayable value, and if you want to see everything you are going to need a minimum of three different playthroughs. This might seem like a cheap tactic to increase the amount of content, but it's absolutely not the case. There is also a completely new end game and New Game+ mode, so there's tons of content to go through before things become repetitive. Every playthrough feels fresh and like a new adventure due to how fun each of these characters control and feel. Now, don't expect a groundbreaking script as the plot still falls into all the usual cliches and conventions of the genre, but it absolutely succeeds in delivering a very classic and light-hearted adventure of good vs evil.
Much like the original game, you move around a large world full of cities and dungeons to explore while grinding XP and money by defeating monsters. The level design is really well done, and the open-world gives a very nice feeling of freedom while still making sure that you don't get too distracted.
Moving now through the game's different locations is an enjoyable experience and exploration is rewarded with secrets. You freedom when it comes to exploration is also helped by the inclusion of the possibility of jumping, which has allowed to give a little more verticality to the environments and even creates some very light platforming sections, which do a good job to mix things up.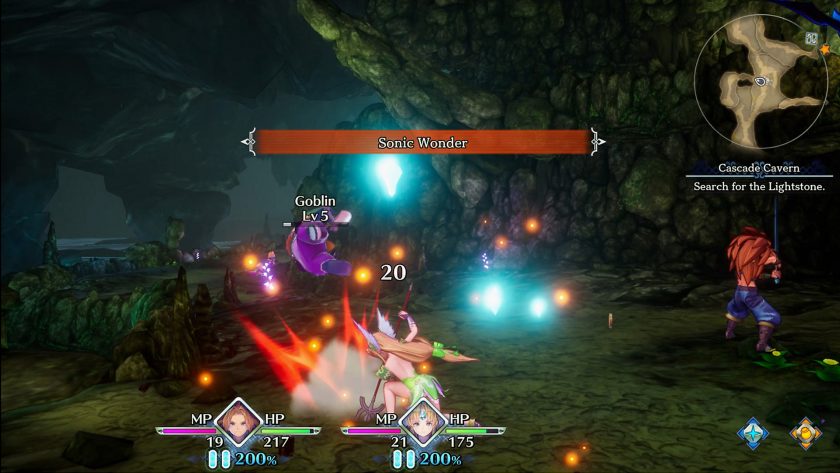 Combat plays out in real-time battles, with spammable basic blows that allow you to fill an energy meter with which to unleash our class techniques and a wheel-shaped menu system with which you can pause the action to choose the spell or items.
There are two basic attacks weak and strong, and you can also dodge, perform aerial combos, allowing you to mix and match tactics to effectively dispatch enemies. The difficulty can be a bit of an issue for veterans, as enemies don't really pose a challenge until the mid-game. Boss is still challenging and you can't get too careless but a more competent AI wouldn't have hurt the gameplay. Continuing with the mistakes, the AI-controlled allies leave a lot to be desired, although, in fairness, they behave better than in any other title in the series and do a fairly good job of holding their own in battles.
The day and night and days of the week cycle from the original game returns. Based on which week and time of day it is, many aspects of the gameplay will be influenced. Depending on the time, there will be open or closed establishments, sleeping enemies, exclusive events. In fact, one of the protagonists – Kevin can become a werewolf when the sun goes down and increase his attack power, and the days of the week correspond to the various elemental spirits so that the spells and abilities linked to them will be strengthened.
The character progression system is very simple yet deep. Using points earned from battles, you can distribute them among the main stats in order to learn all kinds of spells and passive abilities. The latter we have to equip them and, you can experiment with different configurations to find one that suits your style of playing. A bit later into the game's starting, the class system is also unlocked, allowing us to switch to various advanced professions by meeting the requirements for them. This allows you to completely redefine your gameplay style and adapt to the more challenging enemies waiting for you ahead.
Visuals, Audio And Presentation
The interface and the menu design is very clean and concise. It is well designed and has all the information and options you need to comfortably optimize our characters. This is very important to the gameplay experience since it can cumbersome to navigate through a complex web of menus to do simple things such as changing your class or equipping an item. Thankfully that is not at the case here, and everything is clearly defined and organized under proper sections.
On the visuals front, it suffers a bit from other more ambitious projects. The character models are gorgeous but nothing groundbreaking and the lip-sync is all over the place, some of the textures look very washed out in close up, while visual effects are very simple and limited. Of course, the game still does a great job and does justice to the original world and settings. The hyper-saturated and colorful art style makes the environment feel truly like a fantasy world. And while I did say the models are not groundbreaking, everyone from the townspeople NPC's to the monsters you run into feel at home with the games art style. The game runs excellently on the base PS4 and even better on the PS4 Pro, with a stable framerate and higher resolutions.
Finally, the same soundtrack of the Super Famicom version has been remade but allows us to choose between new remixes or the original without changes. This is greatly appreciated and the nostalgia trip it will offer older fans is going to be invaluable. The new remix is also excellent and sets the tone for your adventures. Finally, both dubs and subs are available and I highly recommend you go with subs. While the dubbing gets the job done, it suffers a lot from poor voice acting as well with hilarious overacting in places.