Thermaltake Announces New Divider series of cabinets Featuring split-TG design and more PC cases
Thermaltake unveiled a lot of new products today at their online event. Starting from new cabinets, RAMs, peripherals and their new premium gaming chair lineup.
Thermaltake introduced new mini-ITX cases and new TG cases called Divider series, M-ATX and compact case.
The Divider series include Divider 500 TG with 4 TG panels. The case comes with extra TG panels to go full TG for showing most of your PC, or more vents for better airflow. Also, you can set your GPU in a vertical mount and space for airflow for the GPU is given to avoid heating. The Divider 500 Black will cost $159 and Snow white for $169.
The lower end case of the Divider series Divider 300 ARGB comes in both a black and white color and it has the divider design on one side. The case has also, GPU vertical mount option and space for airflow. Unlike the Divider 500, the Divider 300 won't support larger top mounted AIO LC, as it has one 140mm fan mount up top. The price of Divider 300 for Black is $109 and for Snow white edition it's $114.99.
The next Divider series case is Divider 200 TG which only comes in Black variant. The m-ATX Divider case 4 tampered glass panels surrounding the case comes with a dual chamber design. The side tampered glass uses the divider design.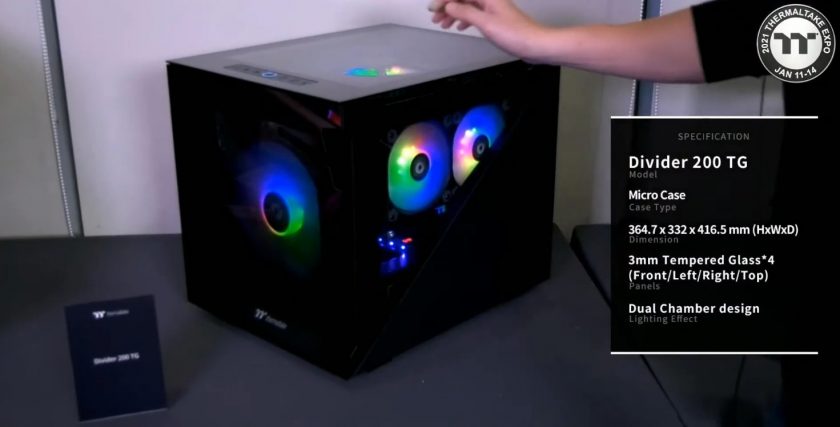 Thermaltake released Pink edition of their AH T200 case which was previously available in only black and white. The AH T200 is priced at $149.99.
Thermaltake relesed their airflow focused micro ATX V150 TG ARGB which has a mesh front panel and window TG side panel. The V150 TG is priced only $59.99.
Thermaltake's m-ITX cases Tower 100 comes in their tower style case design and uses passive air pressure design for airflow. The Tower 100 has good thermal performance having decent ventilation white also including 3 TG panels to showcase the elegance of your build. Impressively the case can house an RTX 3090 and larger air cooling solutions. The price for Black edition is $89.99 and Snow edition is $99.99.
Since TT cases support vertical GPU mount they also came out with PCIe 4.0 Risers at 300mm, 600mm also a 90° variant. for The 300mm its price at $89.99 and the 600mm is priced at $104.99, the 90° variant is $94.99.