[nextpage title="Introduction and First Look"]
SK Hynix Canvas SSD
Its not often we see a new entrant in the SSD market even though they are relatively easy to make. Today we have one such product in our hands : presenting the SK Hynix Canvas SSD from the house of the South Korean semiconductor giant SK Hynix.
That is one good looking SSD! Lets see if the performance matches up to it or not!
But first, more pictures!
The SK hynix solid state drive arrives in a stylish little box – with canvas style artwork all around it, more like a smart phone.
The 2.5″ drive comes withing a protective anti-static packing with a plastic riser supporting it.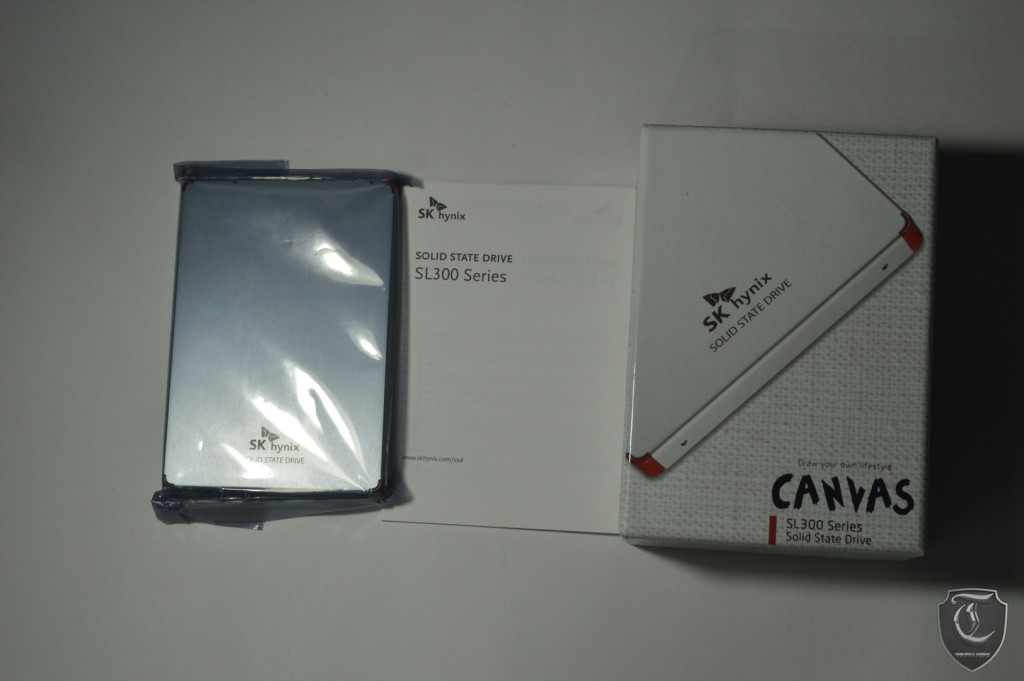 Accessories wise the drive is pretty bare-bone, nothing except a small guide.
Outside the packaging the SSD comes with a complete tool-less design with metal casing and a plastic strip running the inside of it.
We didn't dare to open up the SSD since we were unable to do so but thanks to our peers in Kitguru we have some very detailed PCB shots for you.
The PCB is half height, eight 16nm NAND chips is slapped on both sides with a secret controller from SK Hynix along with a DDR2 cache chip.

[nextpage title="Performance"]
Without further delay lets move on to the important part, the benchmarks.
Setup
The setup we used for this review consisted of :
Intel Core i5 6600K courtesy Asus India
Maximus VIII Hero motherboard courtesy Asus India
Kingston Hyper X Fury HX426C15FBK4/32 DDR4 32GB Kit courtesy Kingston
Kingston SSD Now V300 SSD courtesy Kingston
SK Hynix SL 301 SSD courtesy Abacus Peripherals.
CoolerMaster V1000 PSU.
A big shutout to the sponsors for helping us, without them it wouldn't have been this easy.
Benchmarks
ATTO
The great thing about ATTO is that we can test with predefined block sizes. So we can test with a 32MB sequence of 4KB files, yet also 32MB in 1MB files. This gives an opportunity to test with various file sizes. This benchmark is a preferred among manufacturers as ATTO uses RAW or compressible data and, for our benchmarks, we use a set length of 256mb and test both the read and write performance of various transfer sizes ranging from 0.5 to 8192kb with a ques depth of 4.
With speeds already touching the 500MB/s mark we start off with a good feeling, lets see if the trend continues with our next benchmark
 Crystal DiskMark
Crystal Disk Benchmark is used to measure read and write performance through sampling of highly compressible data (oFill/1Fill), or random data. Crystal DiskMark scores usually drop a bit when comparing to ATTO and this is the result of the testing data now being primarily incompressible representing movies, music and photographs. We tested the drive with multiple data sizes ranging form 100MB to 1000MB.
and the trend continues! for a pretty unknown drive with an unknown controller this is very amazing!
AS SSD benchmark Suite
This nice little German application gives an extensive result set. The test is popular, so I included it. AS SSD, for the most part, gives us the worst case scenario in SSD transfer speeds because of its use of incompressible data.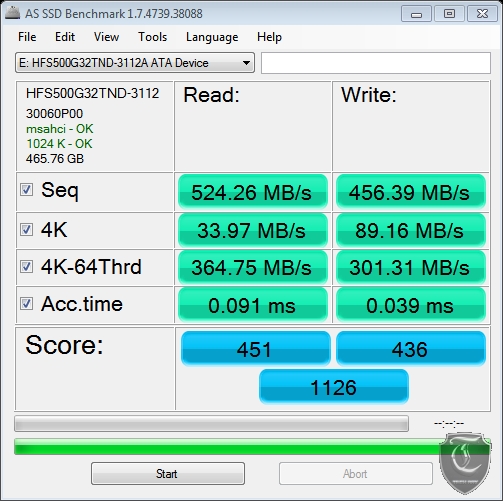 HD Tune
HD Tune Pro is a hard disk utility and benchmarking utility for Windows. This tiny application allows you to scan your hard drives for errors or take a deeper look at several performance figures coming from the storage unit.
We used the included Benchmark utility
Anvil Storage Benchmarks
Anvil Pro is an 'all inclusive' storage utility that allows testing transfer speeds as well as IOPS and lets the user tweak and adjust to find just the right mix in their testing medium, the IOPS tests being fully configurable with preset testing scenarios for read, write and mixed IO. The Benchmarks menu includes an SSD test, Endurance Testing and 3 pre-configured IOPS tests
[nextpage title="Conclusion"]
If the numbers aren't indicative enough let me put it into words, BLISTERINGLY FAST. Those two words are enough to summarize the SK Hynix Canvas, the kicker however is the price at which it retails at. The SK Hynix Canvas is slated to be priced at…wait for it…Rs.11,000. Considering it's main competitor, the Samsung EVO 850 is priced at 14,000 and offers comparable performance, this SSD is a home-run for SK Hynix. We here at TechArx rate this as the best budget SSD. The SK Hynix Canvas SSD scores a well deserved Silver and is a great pick up for anybody looking to revitalize their storage with some Solid State Speed.