Building The Super Budget PC
This is TechArx's build guide to building the best budget PC money can buy. By no means is it the cheapest PC you can build , but this PC is aimed for 720p and 900p gaming and as a media center and this is the least amount you can spend for getting a PC capable of achieving reasonable framerates and an overall smooth experience. The parts in this build were chosen for being affordable without sacrificing quality or reliability.
For each part used in this build I will be explaining the reason for choosing it , as well provide links from where you can buy them , and at the end of build guide I will provide handy chart for all the parts and their prices along with the total cost calculated .
THE BUDGET
For this build we have aimed for a budget of Rs 30,000 for the core system : The APU , RAM , PSU , Cabinet , and HDD . The Monitor , Optical Drive and other peripherals such as the and Keyboard and Mouse are not considered as core parts here in our guide. We had to be real careful while choosing the parts , they had to be of good quality and pack good performance but at the same time keep in line with our limited budget . For this reason , instead of going for CPU+Dedicated GPU build , we went for an APU , however should you need a little more fire power later on you CAN install a dedicated GPU . We also had to go with a non modular PSU , however rest assured , the PSU is of good quality and it wont blow up in your face .
So without further ado , lets start !
Processor : AMD A10-7850K
The A10-7850k is a true quad-core(4 Physical cores) processor and has a powerful GPU integrated straight onto the die. The CPU on this model is clocked at 3.7ghz for the base clock, and has turbo speed of 4.0ghz. The GPU clock is 720 MHz by default. The processor is a "Black Edition" or "unlocked" SKU, You can overclock the GPU, the CPU clocks easily .
The chip is a 3rd generation APU, the first "true" APU that it is capable of "HSA". HSA stands for Heterogeneous System Architecture, which allows to achieve supreme performance while maintaining high efficiency. The Kaveri chip supports things"hUMA", or Heterogeneous Uniform Memory Access, which allows the CPU and GPU (the on-die GPU) to access the same pool of system memory at the same time and easily and quickly communicate with each other eliminating the need for the CPU and GPU to waste precious cycles copying data to pointers and passing them back and forth, which causes high latency, causing lower efficiency.
The low max TDP of 95 Watts coupled with the on board graphics solution and ability to overclock makes this the perfect choice for our build .
Motherboard : Gigabyte GA-F2A55M-S1
In a budget build the key is to chose parts that provide the best price : performance ratio and the choice for the motherboard is heavily dependent on the amount of money you have left more than anything else. The Gigabyte GA-F2A55M-S1 is the perfect choice and is a good fit with our APU : the 7850k .
The GA-F2A55M-S1 has a FM2 socket which is required for our APU , it has a micro ATX Form Factor and has dual channel memory support with two slots that can support upto 64 GB of DDR3 memory
The backport has 3 Audio I/O Channels , 1 RJ 45 port for internet connectivity , and has VGA/HDMI/DVI ports for display , the HDMI Port Supporting a Maximum Resolution of 1920 x 1200 Pixels, DVI-D Port Supporting a Maximum Resolution of 2560 x 1600 Pixels .
The on board Realtek ALC887 provides 7.1 audio support .
Coupled with Electrostatic Protection, Humidity Protection, High Temperature Protection, Power Failure Protection, Surge Protection Level, ErP Lot 6 Support, and Short Circuit Protection , the F2A55M-S1 makes an excellent choice for our build .
RAM : HyperX Blu 4GB
The HyperX Blu is a  great quality module with a excellent heatsink along with the ability to overclock ( however don't keep your expectations too high on the OC part ) . The 4 GB module we are using in our build comes with a 1600 MHz clock speed and a programmable CAS Latency 9-8-7-6 with a 1.5V specified voltage .
Storage : Western Digital Blue WD10EZEX 1 TB Internal Hard Drive
In the age where everything is digital , from photos to movies and latest games like GTA V , Arkham Knight taking up more than 30 GB , storage is a vital part of any build .
The name Western Digital is no stranger when it comes to the storage business and the WD Blue HDD with a speed of 7200 RPM and SATA 6.0 Gbps interface , is an excellent choice for our build as it provides a 1 TB solution for a relatively low price , along with the 7200 RPM speed , it is enough for most users and allows for quick loading times .

Cabinet : Coolermaster Elite 344
Sporting a sleek and modern design, the Elite 344 is a mini tower that is compatible with all Micro-ATX and M-ITX motherboards. . The mini tower supports top-mounted PSU and features a removable HDD cage. You can install long graphics cards should you chose to . It can support up to 3 fans(120 mm front , back and side ) and comes with a pre-installed 120mm front fan. The Elite 344-USB 3.0 can accommodate five 3.5-inch hard drives and up to two 5.25-inch devices. The I/O panel features one USB 3.0 port, 2 USB 2.0 ports, one Mic port and one Audio port , all these features make it the absolutely perfect choice for our build .
Power Supply Unit : Corsair VS450
The Corsair VS450 is a 450W PSU that is more than sufficient for this budget PC build. Since there is no dedicated GPU requiring additional power from the PSU, you will only need to upgrade the Corsair if you're upgrading to a more power hungry graphics card or processor.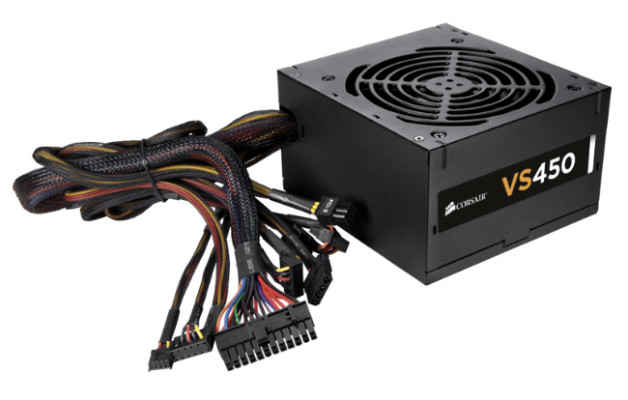 Monitor : BenQ GW2255 21.5
The BenQ GW2255 21.5 inch monitor has a resolution of 1920x1080p monitor. Since the BenQ has a VA panel, it has a low response time and may suffer from some input lag as compared to most IPS monitors , but the 1080p resolution at this price makes it a very attractive choice and a worthy tradeoff .
Optical Drive : Samsung SH-224DB/IDDS
Although these days everything is digital , it doesn't hurt to have a DVD drive , specially if you want to skip out on those huge steam downloads and opt for a retail copy . The Samsung SH-224DB gets the job done and is cheap with a good build quality .
Peripherals , Keyboard + Mouse Combo : Microsoft Wired Desktop 600 USB 2.0 Keyboard and Mouse Combo
In a budget build like this , the least amount is reserved for peripherals like keyboard and mouse and while it would be great to recommend a gaming focused mouse and keyboard, it becomes really difficult to fit in a decent set within this budget .
The Microsoft Wired Desktop 600 Keyboard and Mouse combo is perfect for use at work and has an ergonomic design .

And as promised , the chart :-
Component
Product
Price
Links
Processor
AMD A10-7850K 4 GHz APU
Rs. 11,900

FLIPKART
Motherboard
GIGABYTE GA-F2A55M-S1 Motherboard
Rs. 3,899
FLIPKART 
Memory
Kingston HyperX Blu DDR3 4 GB
Rs. 2,375
FLIPKART
Graphics
Integrated
Sound
Integrated
Storage
WD Blue 1TB
Rs. 4,290

FLIPKART
Case

Cooler Master Elite 344
Rs. 2,975
AMAZON
PSU
VS 450
Rs 2,524

FLIPKART
Monitor
BenQ GW2255 21.5 inch LED Backlit LCD Monitor
Rs. 7,650

FLIPKART
Optical Drive
Samsung SH-224DB/IDDS
Rs. 1,039

FLIPKART
Peripherals
Microsoft Wired Desktop 600 USB 2.0 Keyboard and Mouse Combo
Rs  879
FLIPKART
 Core System Total
Rs 27,963
 System Total
Rs 37,531
NOTE : All prices are as of 16th July 2015 .
We managed to keep inside of our core budget of Rs 30,000 , and the total budget comes out at Rs  37,531 , hurrah !!
In the next episode of our build guide , we will build an entry level PC , things are about to get interesting folks , so stay tuned .