The RX 460 and RX 470 :
A month ago, AMD launched the much hyped RX 480. Since then the solid mid-ranger has proven to be quite a heavy hitter, especially at the low price range. At $200 for the 4GB card and $229 8GB card, it sure has given stiff competition to the GTX 1060, priced higher, at $250. But now, it time to meet the siblings of the 480. Expected to arrive in the first week of August, let's get up close and personal with the details of the RX 460 and RX 470.
AMD officially announced the details.
For The eSports Gamer:
The RX 460 is targeted towards the eSports market. Counter-Strike: Global Offensive, DOTA 2, League of Legends to newer additions like Overwatch, the eSports games segment is bigger than ever. Almost all eSports games have one thing in common. In order to run them, none require your GPU to crank out massive performance. The 460 is cheap and according to AMD can handle any of the above-mentioned games and more with ease.
let's look at the numbers. This GPU runs at 1090/1200MHz on base/boost clock, respectively. With 2GB and 4GB of GDDR5 clocked at 7Gbps, on a 128-bit bus providing 112GB/sec of memory bandwidth. The peak compute performance of the GPU is 2.2 TFlops. No PCIe power connector will be required, as the GPU consumes under 75W and the PCIe port alone can handle the load. Also, it arrives on 2nd August.
---
1080p Perfected:
The 470 is aimed at smooth 1080p HD gaming. Releasing on 4th August, the RX 470 is a dumbed down version of a more powerful 480.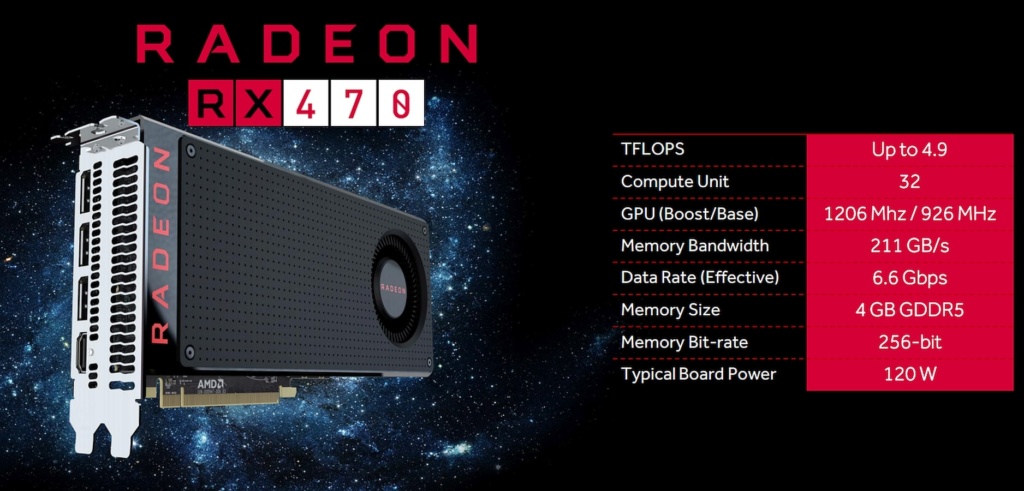 Here's how it stacks up numbers wise. The GPU runs at 926/1206MHz  on base/boost clock, respectively. There's 4GB of GDDR5 RAM clocked at 6.6GHz on a 256-bit bus capable of 211GB/sec. The TDP is an efficient 120W.