When it comes to NVMe SSD's the high-end PCIe 4.0 market is where the action is nowadays. Today we will be checking out the WD Black SN850.
WD started adding the Black moniker to its performance SSD lineup, after acquiring Sandisk. Their first attempt was the minimally named WD Black PCIe SSD. The effort was not too good when it came to numbers. The second generation WD Black aka SN 700 put them on the map but it was nowhere near the top, it was a competition to Samsung 960 Evo than the PRO. It was followed by a minor refresh called SN750, which was decent.
Specification
TechARX



Black SN 850 500GB

Black SN 850 1TB

Black SN 850 2TB




Capacity (User / Raw)

500GB / 512GB

1000GB / 1024GB

2000GB / 2048GB

Form Factor

M.2 2280

Interface / Protocol

PCIe 4.0 x4 / NVMe 1.4

Controller

WD_BLACK G2

DRAM

DDR4

Memory

BiCS4 96L TLC

Sequential Read

7,000 MBps

Sequential Write

4,100 MBps

5,300 MBps

5,100 MBps

Random Read

800,000 IOPS

1,000,000 IOPS

1,000,000 IOPS

Random Write

570,000 IOPS

720,000 IOPS

710,000 IOPS

Endurance (TBW)

300 TB

600 TB

1,200 TB

Part Number

WDS500G1X0E

WDS100T1X0E

WDS200T1X0E

Warranty

5-Years
Close Look
Right out of the bad, the WD Black SN850 looks pretty good even in its minimal form. We have a black PCB with the controllers and the Flash chips with nothing on the other side.
The WD Black SN850 comes with Western Digital's updated G2 controller. Apart from the updated controller, the SN850 also benefits from an upgrade to the NAND flash memory, from 64-layer to 96-layer TLC. On the controller side of things, WD has kept the specifics pretty much under the wraps but we expect an overall upgrade in all aspects.
Testing System courtesy Tuktak Tech Community
Since we couldn't arrange our PCI 4.0 based storage system in time, we asked our friends over at Tuktak Tech for help. They very graciously arranged a system for us and that has made this review possible. I would suggest to our readers to give them a visit and check out their work. They are a young bunch of guys working with technological content in the Bengali language which is rare, and they are very good at it.
Test System
Processor
Ryzen 9 3900X
Motherboard
AsRock B550 Steel Legend
Memory
4x16GB 3600 MHz (16-19-19-39) Trident Z Neo (Dual Rank SK Hynix)
Graphics Card
Colorful iGame Geforce RTX 3060 TI Ultra OC
Storage
Western Digital WD Black SN 850
Power Supply
Deepcool DQ850M-V2-L
Numbers
We ran the SN 850 through a small subset of our storage suite, only covering the basics. The numbers will speak for themselves.
Anvil's Storage utilities Benchmark
Anvil Pro or Anvil's Storage Utilities[Depending on what you'd want to call it] is an 'all-inclusive' storage utility that allows testing transfer speeds as well as IOPS and lets the user tweak and adjust to find just the right mix in their testing medium, the IOPS tests being fully configurable with preset testing scenarios for read, write and mixed IO. The Benchmarks menu includes an SSD test, Endurance Testing, and 3 pre-configured IOPS tests. We recently included three scores across various data compression scenarios ranging from database to incompressible data.
CRYSTAL DISK Benchmark
Crystal Disk Benchmark is used to measure Read and Write performances through sampling of highly compressible data (oFill/1Fill), or random data. Crystal Disk Mark scores usually drop a bit compared to ATTO, and this is the result of the test data now being primarily incompressible – Mostly movies, music, and photographs. We tested the drive with data sizes of 1GiB with both CDM 7 and CDM 8.
AS SSD benchmark Suite
This nice little German application gives an extensive result set. The test is popular, so I included it. AS SSD, for the most part, gives us the worst-case scenario in SSD transfer speeds because of its use of incompressible data. So its a good indicator of late-life performance.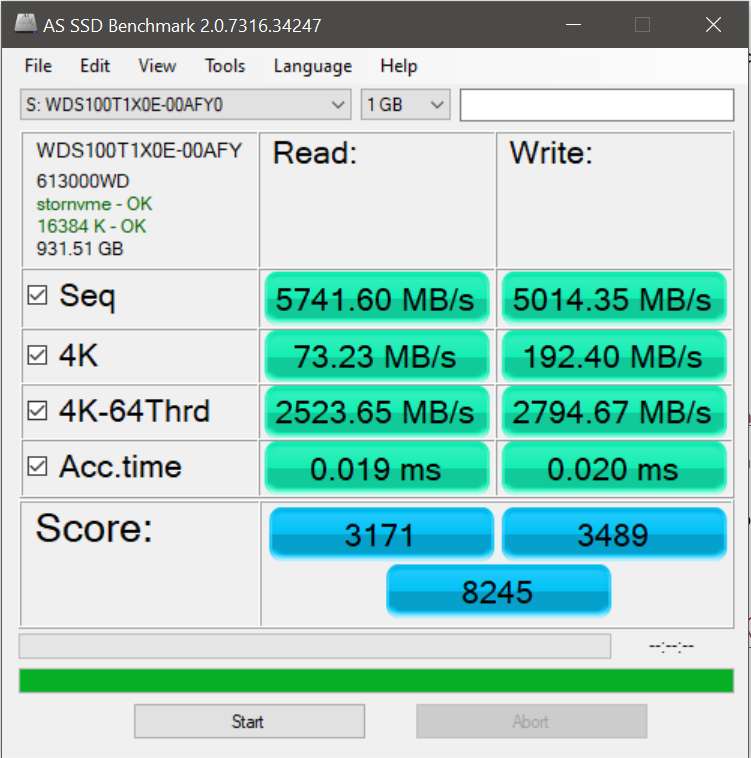 AJA System Test
AJA system test is used to benchmark the performance of a drive for video production workflow across various codecs with different settings.
Overall, the WD SN 850 gave some stellar performance across the board. The SSD was nicely keeping up with the Samsung 980 Pro that we had on our test bench and trumping it in numbers.
Final Words
The Western Digital WD Black SN850 is marketed solely as a high-end consumer SSD. In our testing, it traded spots with the Samsung 980 Pro in most of the benchmarks and thoroughly took the lead in most of them. This is the faster PCIe 4.0 SSD we have tested so far.
Judging from the performance and current market price we don't have any problem giving A gold award for the Western Digital WD Black SN850 from Team TechARX.