TechArx Build Guide : ₹ 1,00,000 1440p Gaming PC Build
6 min read
Quad HD resolution or 2560 x 1440 has been in the market for a decent amount of time, yet it's not a very popular resolution for PC gamers. This was mainly due to the fact that even 2 and a half years ago you would need a $500 GPU to power games at above 30 fps @ ultra settings at the resolution. But as I mentioned in the last article, with the release of the Polaris and Pascal line of Graphics cards price to performance has received a decent upgrade. Compared to our last build it's nowhere near that budget conscious but this resolution is no joke either. This Gaming PC as the Title suggests will aim to deliver more than 45 fps on all the latest and greatest titles at maxed or near maxed settings @ 2k/QHD resolution. Just to put into perspective we ran a similar article last year, that PC was strong enough for 1080p Ultra and light 1440p gaming for a similar price.
NOTE: Techarx is not sponsored by any of the companies mentioned below and the recommendations are based on the comprehensive knowledge and expereince of the Techarx team itself. Pricing used in this build is as of time of publication. Monitor and Keyboard not included.
Processor: AMD R5 1600
The R5 series of Ryzen CPU's challenges the sweet spot of the price to performance segment that Intel's i5's have held since the Sandy Bridge 2500k days. This hex core, 12 threaded CPU is a monster in productivity and gaming alike. Offering better or similar average fps in modern titles along with vastly superior minimums, this is the CPU of choice for any mid to lower high-end buyer until Intel has a better core i5 lineup.
CPU Cooler: Cooler Master Hyper212 Turbo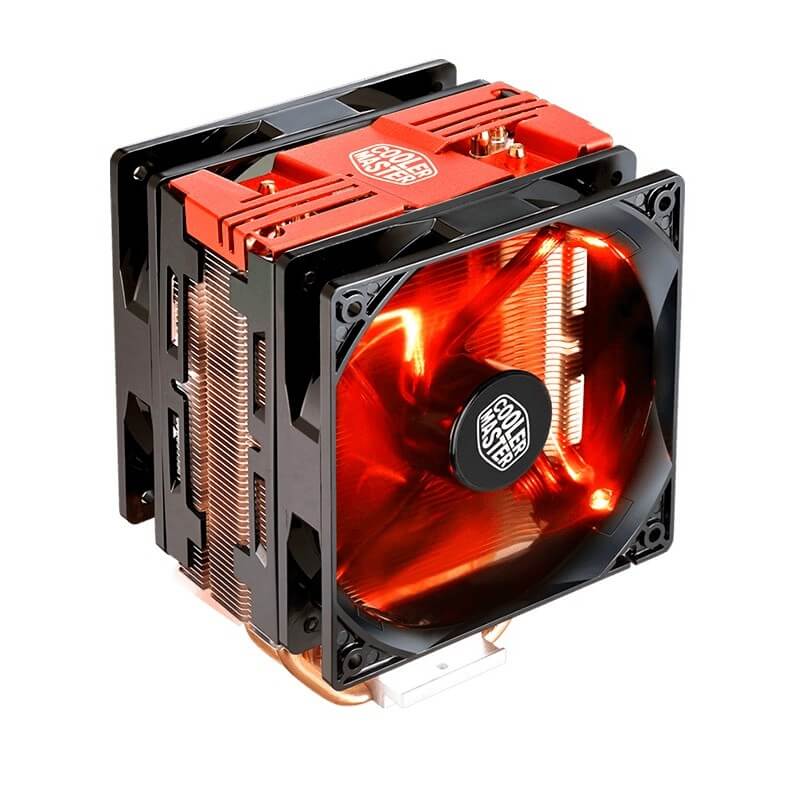 The Hyper 212 line of CPU coolers from Cooler Master is always a solid choice for people looking for solid thermals at throwaway prices. This turbo version comes with Red LED fans. It also has AM4 support out of the box. You could, however, go with Cooler Master Master Liquid Lite 120 or Master liquid 240, or comparable coolers from the competitors, if you want the AIO route.
Motherboard: Asus Prime X370 PRO
This Asus board is a tier below its Crosshair Hero board. This board is obviously not as flashy as the flagship x370 board. This board has all the essentials like reinforced PCIe slots, nvme SSD support, dual challenge DDR4 at up to 3200 MHz and RGB support. For the price, this board is pretty hard to beat. The only issue with this board is its colour scheme and hence one could look towards the MSI gaming series while purchasing
Memory: Corsair Vengence LPX DDR4 2400mhz
Vengeance LPX memory is designed for high-performance overclocking. The heat spreader is made of pure aluminum for faster heat dissipation, and the eight-layer PCB helps manage heat and provides superior overclocking headroom. Each IC is individually screened for performance potential. The DDR4 form factor is optimised for the latest Intel X99 Series motherboards and Ryzen AM4 motherboards and offers higher frequencies, greater bandwidth, and lower power consumption than DDR3 modules.
Storage:HyperX Fury 240gb
HyperX FURY SSD offers high performance at an affordable price, to get you in the game faster and improve boot times, application loading and file execution, thanks to its SandForce® SF-2281 controller with SATA Rev 3.0 (6Gb/s) performance and read/write speeds of 500/500MB/s1. The one we are using today is the 240 GB version, which is enough for boot + most used game installation drive.
Storage: WD Blue 1TB
For the HDD, we recommend the Western Digital Blue Series which boasts an RPM of 7200. Getting a 1TB variant is recommended, allowing you to partition if needed. This will be your main storage of your steam and origin game backups, movies, work related backups and a 2TB variant should be more than enough for starters. If you do need more, get another of these as they are fairly cheap.
GPU: ASUS GTX 1070 OC ROG STRIX EDITION
The GTX 1070 was launched in June of last year and it is one of Nvidia's best-selling GPUs in the Pascal lineup. This card packs the same amount of punch as the Titan X maxwell and comes equipped with 8gb GDDR5 memory. This card can power most upcoming and as well as released titles at 2k @ Ultra settings over 45 fps. AMD's only answer to this card is the aging Fury X which is slower in 7/10 games that have come out or coming out these days. If you want a whole AMD exclusive build, however, we recommend waiting for a few more weeks for VEGA, AMD's new high-end Architecture that will compete against 1070, 1080 and the 1080ti.
PSU: Seasonic S12II-620
The Seasonic S12II series needs no introduction, as this is a well-established, long-standing Seasonic series that has withstood the test of times. The S12II Bronze Series achieves the 80 PLUS® Bronze standard of providing at least 85 % power usage efficiency at 50 % operating load. This efficiency combined with active power factor correction enables this power supply to lessen energy waste. It is a reliable power supply backed with 5 years of warranty.
Case: Antec GX 200
Designed for entry level gaming builds, the GX200 mid-tower case by Antec sets the standard for fast, economical gaming builds. The rugged exterior styling is accentuated with a front intake grill that optimizes airflow and includes a removable dust filter. Inside, the GX200 boasts a spacious interior, ideal for high-performance graphics cards up to 15" (380 mm) in length. The extra-large CPU cutout, routing holes for cable management, and seven expansion slots allow for a versatile, builder-friendly experience. And they've included USB 3.0 connectivity on the front panel, for lightning fast data transfer and compatibility with next-gen peripherals. On the top of the case, the convenient storage compartment lets you easily store your accessories and mobile devices. The GX200 gives you the features you want, without losing sight of performance and value.
Price Chart