Virtual reality has been gaining a lot of hype, particularly this year. The whole idea of gaming with your eyes immersed into the virtual world is enough to coax any gamer out there and the best part – It isn't a fallacy. What was criticized as a fantastical aspect of gaming earlier has now been realized and it's climbing the ranks faster than PirateBay changing domains. The idea of Virtual Reality wasn't something nurtured or established into the minds of the consumers, it was something that they had treasured as a dream. As the year has progressed, more and more options for Virtual Reality have emerged but one particular offering from OSVR (Open Source Virtual Reality) has acquired my attention. Yes, there is no denying the fact that bigger players such as HTC and Oculus are already conquering many territories in the VR industry but what I am going to ponder on today is Open Source Virtual Reality (OSVR), that a majority of the readers might be unaware of.  I consider it my responsibility that all the readers should be acquainted with the best possible options of Virtual Reality and not just the ones constituting the pompous bandwagon.
Why proprietary tech is a threat
To make things easier to comprehend, I am going to bring them to a more a GPU centric perspective. A proprietary technology from nVidia i.e 'GameWorks' (A graphics enhancement middleware suite) is notorious for gimping performance on AMD GPUs and to be perfectly honest, while the performance decrements might be worse on AMD, nVidia GPUs are adversely affected as well if not as bad. This should give you a lucid idea of how menacing, proprietary tech can prove to be for any industry. The VR industry, presently, is going through a phase of evolution and all the honour and goodwill is up for grabbing; but brands that have already established a solid grasp in the tech industry are rooting for the more cynical approach to be entitled as 'VR Giants'. Closing sources is one of the most efficient ways to hamstring the adoption of VR, something that none of the enthusiasts or even the everyday consumer would want to happen. Some brands are on the lookout to pay devs for locking content to their own hardware and promoting exclusivity which is alarming to say the least.
Min Liang Tan, the CEO and founder of Razer inc. had the following to say in support of OSVR
When we announced Open Source VR – many laughed because the other players in VR claimed to be open – but no one's laughing now because it has become clear today that the claims of "openness" is but a sham.

They're paying devs for exclusivity and locking them into their own hardware. And even content that used to work on other hardware is being locked down. And they're actively trying to lock down more content to a closed ecosystem.

OSVR is taking a stand against it – and Razer is providing US$5M of funding to keep developers developing content that works on ALL VR platforms (including even closed ecosystems because we're cool that way).
If you believe in keeping VR open for all – join the OSVR today. Because you can make a difference by spreading the word.
Razer has taken a formidable step in promoting OSVR by funding $5M to the developers of OSVR for developing content that runs flawlessly on all VR platforms.
Open Source Virtual Reality : The Benefits
Unlike other VR offerings, OSVR doesn't care about the hardware that you run. The developers have only one purpose – and that is to deliver exceptional VR content that runs flawlessly on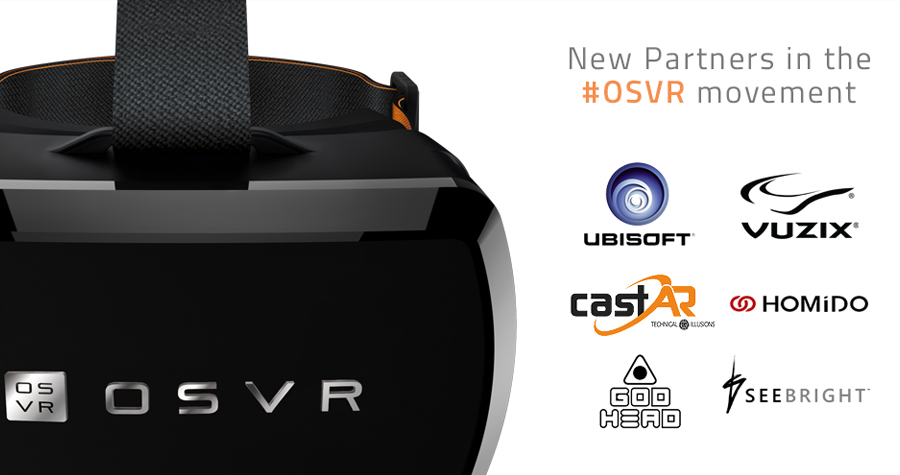 all the VR headsets out there. While the brand does have a few commendable VR headsets to boast of themselves, they do not compel the consumer to buy their product in order to run the content. To name a few, the HDK 1, 1.4 and HDK 2 (Acronym for 'Hacker Development Kit') are available at prices of $299, $349 and $399 respectively. It is worthy to note that OSVR provides SDKs along with their VR headsets.
OSVR is powered by an SDK that is designed to assist the developers in ensuring top-notch content, steering them through foes such as hardware fragmentation. The SDK is available here on their dedicated Github portal.
Not just this, the OSVR team has been preoccupied with delivering stellar content in the past few months and the results are clearly discernible with games such as The Hum : Abductions now available as Open Source VR content. They also demoed their headsets this week at E3 alongside their prime highlight that is OSVR content and the HDK 2. With such a meticulous and assiduous team of developers, the future does look very promising for the OSVR team and the consequences will only be fructifying for the consumers.
To know more, you can visit OSVR's official website here