NVIDIA has finally unleashed the flagship GTX 1080 Ti at a price of $699 US. The new graphics card replaces the GeForce GTX 1080 as the flagship product of the GeForce family and the fastest enthusiast grade graphics card available to the gaming community. Meanwhile, Nvidia has also made a price cut on their existing Pascal lineup with some modification in specs. GTX 1080 @ $499 US & GTX 1070 @ $349. The new GTX 1080 will be now shipping with 11 GB/s GDDR5X memory and the new GTX 1060 will be shipping with 9 GB/s GDDR5 memory. This is good news for the consumers as they'll be able to purchase high-performance cards from Nvidia at a more affordable price. Another news which will bring a smile in the consumers face is the GTX 1060 Ti launching at $699 which was the original launch price of GTX 1080, so enthusiasts will now be getting a card which is 35% faster than GTX 1080 at the same price level. In my opinion, this is a good move by Nvidia as they are not charging a premium for their consumer grade flagship.
https://youtu.be/2c2vN736V60
NVIDIA GeForce GTX 1080 Ti Specifications – Better and Beefier Than Titan X (Pascal) With 11 GB/s GDDR5X VRAM, 484 GB/s Raw and 1.2 TB/s Supercharged Bandwidth.
NVIDIA GPU Specification Comparison
GTX 1080 Ti
NVIDIA Titan X
GTX 1080
GTX 980 Ti
CUDA Cores
3584
3584
2560
2816
Texture Units
224
224
160
176
ROPs
88
96
64
96
Core Clock
1480 MHz
1417 MHz
1607 MHz
1000 MHz
Boost Clock
1583 MHz
1531 MHz
1733 MHz
1075 MHz
TFLOPs (FMA)
11.3 TFLOPs
11 TFLOPs
9 TFLOPs
6.1 TFLOPs
Memory Clock
11Gbps GDDR5X
10Gbps GDDR5X
10Gbps GDDR5X
7Gbps GDDR5
Memory Bus Width
352-bit
384-bit
256-bit
384-bit
VRAM
11GB
12GB
8GB
6GB
FP64
1/32
1/32
1/32
1/32
FP16 (Native)
1/64
1/64
1/64
N/A
INT8
4:1
4:1
N/A
N/A
TDP
250W
250W
180W
250W
GPU
GP102
GP102
GP104
GM200
Transistor Count
12B
12B
7.2B
8B
Die Size
471mm2
471mm2
314mm2
601mm2
Manufacturing Process
TSMC 16nm
TSMC 16nm
TSMC 16nm
TSMC 28nm
Launch Date
03/2017
08/02/2016
05/27/2016
06/01/2015
Launch Price
$699
$1200
MSRP: $599
Founders $699
$649
UPDATE : Clock speeds of GTX 1080 Ti has been updated
The GeForce GTX 1080 Ti features the same Pascal GP102 GPU featured on the Titan X (Pascal) but is better than that in all ways possible. The NVIDIA GP102 Pascal GPU packs 12 Billion transistors and has 6 Graphics processing clusters of which two are disabled. This adds up to a total of 28 SM units with 128 cores each. The GeForce GTX 1080 Ti features 3584 CUDA Cores, 224 Texture Mapping Units, and 88 ROPs. These are clocked at a boost clock of 1582 MHz which can go as high as 2 GHz with overclocking. The Pascal cards are built to overclock like crazy, and custom models will further boost the clock rates on availability day.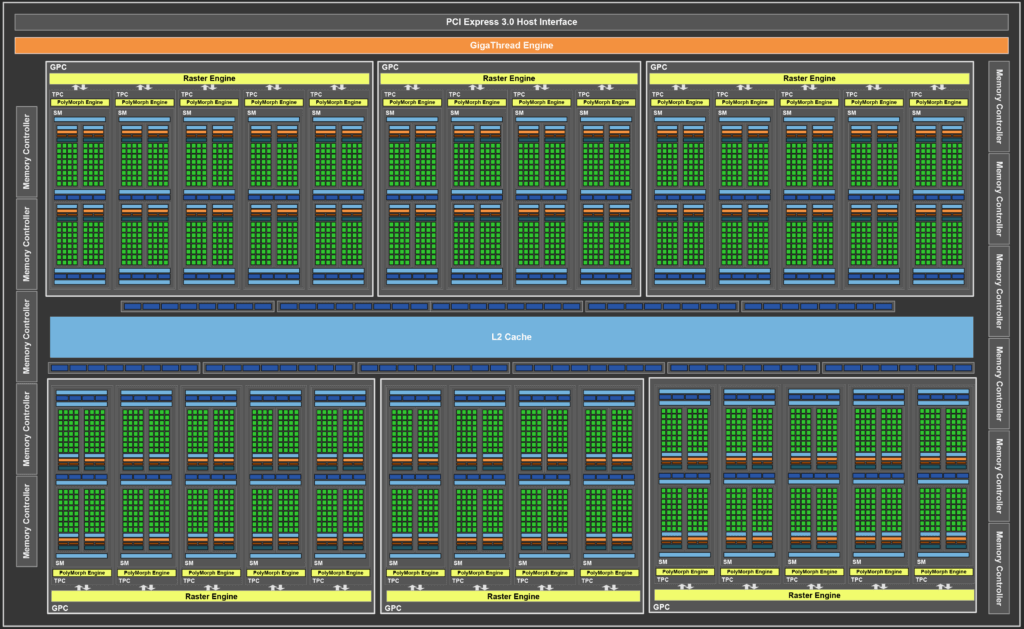 The card also features 11 GB GDDR5X VRAM that run across a 352-bit bus interface. NVIDIA has shipped their flagship with the fastest G5X solution to date. The Titan X (Pascal) used 10 GB/s models while the 1080 Ti makes use of the new 11 GB/s memory chips which results in a cumulative bandwidth of 484 GB/s that's going to be on par with SK Hynix's HBM2 memory launching in Q2 2017. A 352-bit card is something new to us as we haven't seen this trend before. With the new compression and tiled caching system, the bandwidth on GTX 1080 Ti can be boosted up to 1200 GB/s which is more than what's achievable with HBM2 as of right now.
NVIDIA GeForce GTX 1080 Ti Cooling and PCB – – 7 Phase Power Design, 250A Power, New Vapor Chamber Cooling
GeForce GTX 1080 Ti Founders Edition features a new high-airflow thermal solution that's cooler and quieter than previous designs, maximizing the potential of GPU Boost and enabling overclockers to achieve even faster speeds. The efficiency has improved kudos to
a new 7-phase power design with 14 high-efficiency dualFETs that deliver better power efficiency at the highest usage and power levels.
The NVIDIA GeForce GTX 1080 Ti comes with the latest NVTTM design that features a new Vapor chamber cooling system with twice the cooling area of Titan X (Pascal). This new thermal design will help deliver optimal cooling for the card to allow it to boost beyond its specifications with GPU Boost 3.0 technology.
NVIDIA GeForce GTX 1080 Ti Capable of reaching 2 GHz at ease
During the event, NVIDIA showed a demonstration of their GTX 1080 Ti's overclock potential and once again, they managed to hit clock speeds up to 2.03 GHz at a locked 60 FPS. The temps reported were 66C which shows that the new vapor chamber cooler does a fantastic job at keeping this card cool and quiet under heavy gaming loads. A thumbs up to Nvidia for improving the performance of a reference cooler to such extent.
NVIDIA GeForce GTX 1080 Ti Performance Details Unraveled – 35% Better Than GeForce GTX 1080 At The Same Price, 5K Ready Frame Buffer Size
As for performance, the GeForce GTX 1080 Ti is 35% faster on average and up to 40% faster than the GeForce GTX 1080 in gaming benchmarks. The GTX 1080 Ti's blazing fast even comes at the same price of the original GTX 1080, at just $699 US. This is a huge leap in terms of performance. Just a quick comparison, GTX 780 Ti offered +18% performance improvement over GTX 780, GTX 980 Ti offered +25% improvement in performance. NVIDIA's GeForce GTX 1080 Ti is also packing new technology features such as compression and tiled caching boost bandwidth, tiled rendering, DirectX 12 Flex and Flow, NVIDIA Aftermath (A New Tool To identify the cause of GPU crashes) and Shadowplay Highlights which will further boost gamer experiences running GeForce hardware. Nvidia is going to market this card as a 5K ready card so the 11 GB frame buffer won't be wasted.
NVIDIA GeForce GTX 1080 Ti Availability Next Week and Pre-Orders Now
GTX 1080 Ti graphics cards, including the NVIDIA Founders Edition, will be available worldwide on March 10, from NVIDIA GeForce partners, including ASUS, Colorful, EVGA, Gainward, Galaxy, Gigabyte, Innovision 3D, MSI, Palit, PNY, and Zotac. Pre-orders on nvidia.com will go live on March 2, at 8 am Pacific. The card will be available in custom models at a later date.
Conclusion: NVIDIA has created a product that is not only the fastest consumer grade option for gamers and enthusiasts, but it is one that would remain unmatched for several months. There is no competing product from the Red Team that can rival the GeForce GTX 1080 Ti, and with its beefy hardware specs, performance and competitive pricing, the GeForce GTX 1080 Ti may turn out to be a huge success for the Green Team.
GTX 1080 Ti Specs Quick Glance
128 Transistors
1.6 GHz Boost, 2 GHz OC Potential
28 SM, 128 cores each
3584 CUDA Cores
28 Geometry Units
224 Texture Mapping Units
6 GPCs
88 ROP Units
352 bit GDDR5X