Mobile World Congress, or MWC is the largest mobile trade show of the year. This is the place where some of the biggest handset companies unveiled their new model  or handset. So like few past years, this  year ,this event is taking place in Barcelona. Here are the some of the latest news from Top brand smartphones companies.
1)
Samsung at MWC 2016
There's been too much rumors we heard over past few weeks about the Samsung s7 and s7 edge, but Samsung has officially unveiled  this two smartphones at MWC.
The Samsung Galaxy S7 is a 5.1-inch smartphone, with an octa-core processor which may be of Snapdragon 820 considering the specifications. It also has a dual pixel 12-megapixel rear camera, that is capable of extremely clear shots, and can also take clear shots  even in very low light conditions. The phone is water and dust proof down to 1.5 metres for up to 30 minutes, and the front-facing camera is 5-megapixels.
The most important is part of the devices is "Always on screen display." its display the time, notification all the time and uses very little amount of battery.
On the otherhand the S7 edge has a 5.5-inch screen and its identical to the S7  except for the curved display and larger battery life.
The S7 edge is available in two versions with two different processors. The first is a 64-bit octa-core (2.3GHz Quad + 1.6GHz Quad) processor, the other will come with a 64-bit quad-core (2.15GHz Dual + 1.6GHz Dual) processor.
( P.C Gottabemobile)
The S7 edge also comes with new Air-Cooling tech to help keep the temperature of the phone down.
Both of the models comes in two variant of storage capacity namely 32GB and 64GB respectively.The phones each come with Adreno 530 graphics and 4GB of RAM. which is still to be confirmed officially.
The Samsung Galaxy S7 has a 3,000mAh battery, while the Galaxy S7 edge has a 3,600mAh battery.
Samsung official has comfirmed that
the latter is capable of playing HD video for 13 hours straight.
Both samsung S7 and S7 edge and edge plus devices will run on Android 6.0 i.e Marshmallow.
Pre-orders open for business on 21 February with a general release date of 11 March.
Direct prices from Samsung start at £569(Rs 40313) for the Samsung Galaxy S7, while the S7 edge will set you back from £639(Rs 48304)
Samsung also unveiled a 360-degree consumer camera for stills and video to be used in VR headsets. It has two 15-megapixel sensors, with front and rear lenses. The Gear 360 works with a dedicated smartphone app to stitch the images or footage together, which can then be viewed on a Samsung Gear VRheadset or posted onto websites such as YouTube and Facebook.
 2)
HTC at MWC 2016
HTC has launched 3 new mid range phones at Mobile World Congress 2016 in Barcelona,that adds to the "desire" range of HTC.The devices are HTC Desire 825, HTC Desire 630, & HTC Desire 530 respectively. All three models are uniquely finished with the new micro splatter effect.
HTC DESIRE 825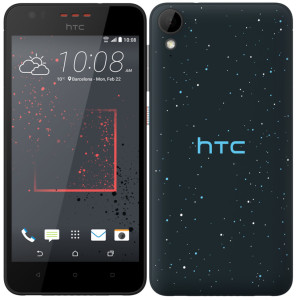 Looking into the details , the HTC Desire 825 leads among these 3 models.
HTC Desire 825 is a 5.5-inch device, but it only offers 1280 x 720 pixel resolution on the display.
The device is boosted with   Qualcomm Snapdragon 400 chipset and 2GB of RAM. The  device  has the 16 GB of internal storage which  can be further expanded via microSd card.
There's a 13-megapixel camera on the rear, that can record Full HD videos, and there's a 5-megapixel camera on the front.
The phone is backed by 2700mAh power of battery.Nevertheless HTC Desire 825 Comes with the inclusion of the Sensor Hub. It gives the user more gesture control.
And the last but not the least, this device is itself  creating its name, as there is something that sounds good, HTC 825  comes supporting HI-RES Audio.
HTC DESIRE 630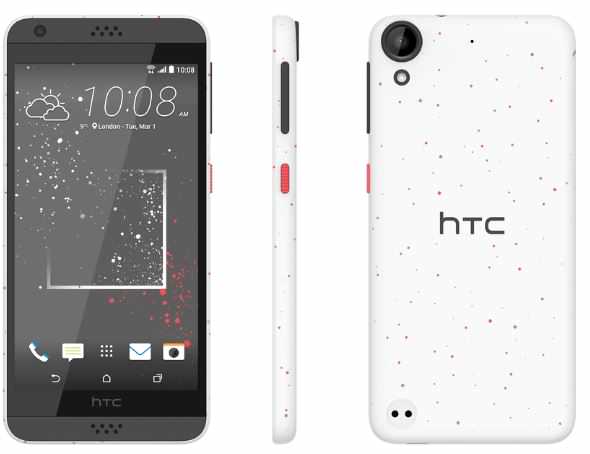 (P.C 91 Mobiles)
Its quite Similar to the spec of 825 except for its display , Which comes with a 5-inch of display  with a 720p resolution. And the battery of 2200mAh . It also doesn't comes with sensor hub.
Similar to the 825, it has  Snapdragon 400 chipset with 2GB of RAM and 16GB of storage, with microSD expansion.
There is a 13 mega Pixel  rear camera and a 5 mega pixel in front.
This device also Support  Hi-Res Audio
HTC DESIRE 530
Both the device  630 And 530  has exactly same look with A 5 -inch screen display.
However, this phone specification differs a lot from other two models.
It comes with a Qualcomm Snapdragon 210 chipset and 1.5GB of RAM. It has 16GB of storage, with microSD for expansion. It doesn't support Hi Res Audio .
The rear camera of this device ha stepped down to 8 mega pixel.
All 3 above  models has User removable battery.
All these new handsets launch on Android Marshmallow with HTC Sense.
No News on availability and price.
3)
Huawei at MWC 2016
Huawei is currently rising above and shining Well in the present smartphone's Industry with really producing some srong handset wiyh Nexus 6p.
Huawei has decided to turn focus from smartphones  to tablets at The Mobile World Congress.
it has launched a dual-boot notebook.The MateBooks   comes a 12-inch display with a 2160 x 1400 resolution  on board, alongside a full metal body that measures just 6.9mm slim and weighs only 640g which make the MateBook  delight to hold in its tablet format. Nonetheless it comes with fingerprint sensor for fast And secure unlocking.
its detachable keyboard cover and MatePen stylus, which latter can be used as laser pointer and project clicker.
The Huawei MateBook is powered by 6th Gen Intel Core M processors with a choice of m3, m5 or m7
The battery of 4430mAh keeps the tablet cum notebook holds upto 10 hours. It comes with Usb C -type charging port .
This device is currently taking deep breath on the shoulder of  Apple ipad pro and surface pro in the market.
The MateBook starts at $699 for the m3 chip, 4GB of RAM and 128GB of SSD storage. And the top model with the m7 processor, 8GB of RAM and 512GB of storage costs  $1599.. For your information  the keyboard and stylus comes separately which cost you another of  $129 and $59 respectively.
4)
LG at MWC 2016
The LG G5 has been officially unveiled at Mobile World Congress 2016 in Barcelona.
The device body is completely focused on metal, launching its first metal unibody handset.
The LG G5 features a 5.3-inch display with 2560 x 1440 pixel resolution, 554ppi.The G5 display  offers a partial on/off state which it uses for the Always-on function. It  consumps less power as it does not use Lg g5 application processor.
LG says :
the display will only use 0.8 per cent battery per hour in Always-on mode.
On The camera point of view it comes with a rear camera of 16 mega-pixel and 8 mega-pixel of front facing camera. which has a 135-degree lens, that can help in taking wide angle photos.It retains the normal laser autofocusing and offers new functions with paring of 16 megapixel sensor to 8 megapixel sensors.
Comming to the hardware specification, the LG G5 features the new Qualcomm Snapdragon 820 octo-core chipset with 4GB of RAM.
There's 32GB on internal storage, along with a microSD card slot for expansion.The LG G5 battery has a capacity of 2800mAh .
It features quick charge 3.0 and has USB Type C port.
It has a fingerprint scanner on the rear part of the handset,. the device  runs on latest android i.e Android 6.0
No exact released is confirmed and same for the prices by the company's end.
Not only the G5 announcement is made but also other accessories which includes a VR headset (LG 360 VR Headset), a 360 camera (LG 360 Cam), and bolt-on accessories like the LG Cam Plus and the LG Hi-Fi Plus.
5) Sony at MWC 2016

Sony at Mobile World congress Unveiled two new flagships namely Xperia X and Xperia XA respectively.
The Xperia X comes with a 5-inch Full HD display . It features the Qualcomm Snapdragon 650 processor along with 3 GB of RAM. The internal memory is of 32 GB , which can be further expanded via microSd card.
The rear camera is boosted with 23 Mega pixel and fron facing camera is of 13 mega pixel making it clear that its for selfie lovers.
It has 2600mAh of battery capacity , which company says can last upto for two days.
Coming now to Xperia XA , Its also features 5- inch of display  but at a resolution of 1280 x 720 .
The device is boosted with an octa-core MediaTek processor along with 2GB of RAM. The internal Memory is of 16GB with a microSd card support.
It sports a 13-megapixel rear camera along with a  8-megapixel front facing camera.
The device is backed by 2300mAh of battery life.
The phones will be available in the market in the summer of 2016, but the prices are are yet to reveal.
Besides  the unveiling of Xperia X and Xperia XA , The sony compaby also  unveiled  some products which includes Xperia Ear – a wireless ear-piece that will connect to an Android smartphone using Bluetooth.
RM-X7BT in-car Bluetooth commander.
6) Lenovo at MWC 2016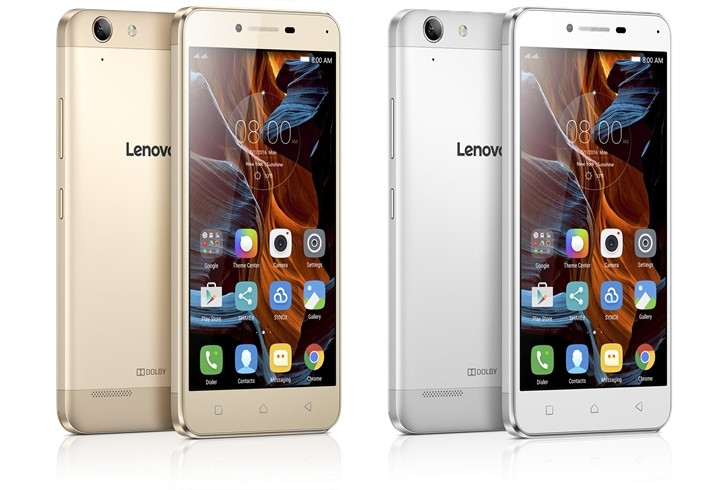 Lenovo unveils their upcoming  two budget handsets Lenovo  Vibe K5 and K5 Plus at MWC 2016 in Barcelona.
Both the devices are quite similar to each other except for the few specs, which we will going to cover in details.
Lenovo Vibe K5
Looking first lenovo's first budget handset that is Lenovo Vibe K5.
The phone Sports 5-Inch display with A resolution of 720p. The features  Snapdragon 415 processor on board along with 2GB LPDDR3 RAM. The phone has 16 GB inbuilt storage and microSD expansion slot for expandable memory.
looking into the camera Specification , this device has 13-MP  at the back, and an 8-MP  at the front.
The phone is 2750mAh battery pack to keep the device powered on.the device is boasted Dual-Sim connectivity and come with Android 5.1 Lollipop, and house Dolby Atmos-powered stereo speakers  under its hood.
Lenovo K5 plus
Not  much of differences with specs of K5 , this phone also features 5- inch of display with a resolution of  1080p. The is powered by Snapdragon 616 processor and also like K5 2GB LPDDR3 RAM.This device also has 16 GB of internal Storage and microSD expansion slot for exapandable memory
Like K5, the camera Specification Is same i.e 13- MP at the back of this handset and 8 -MP at front.
This device is also backed by 2750mAh of battery, and is also support Dual -sim  and come with Android 5.1 Lollipop,and house Dolby Atmos-powered stereo speakers  just as K5.
Both these devices suport LTE.
Prices revealed that  Lenovo K5 will be available at the market for $129 ( Approx Rs 8841), while theVibe K5 Plus will retail for $149( Approx Rs 10212).