Kingston XS2000 Portable SSD Review:Gen 2×2 goes mainstream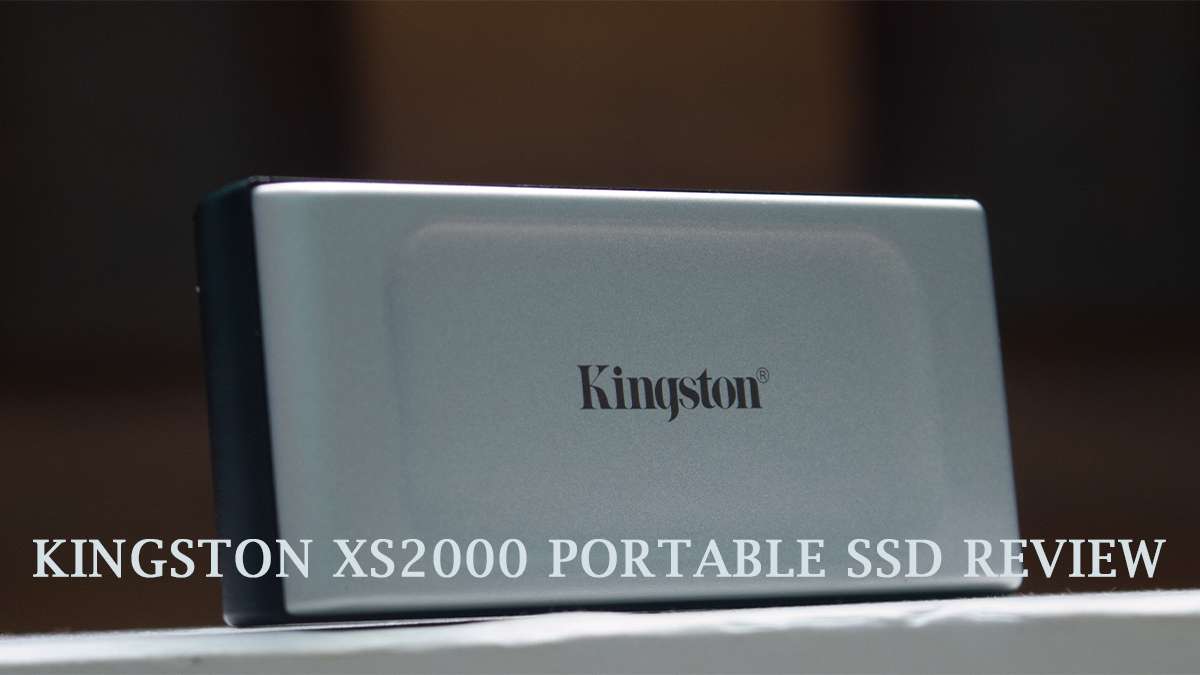 Flash-based drives are all the rage these days thanks to a shrinking form factor and pricing. The introduction of high-speed interfaces such as USB 3.2 Gen 2 (10 Gbps) and USB 3.2 Gen 2×2 (20 Gbps) along with Thunderbolt 3 (up to 40 Gbps) have added a welcoming fuel to the fire.
In the ever-increasing product stack, we have a few tiers based on performance.
2GBps+ drives with Thunderbolt 3, using NVMe SSDs
2GBps drives with USB 3.2 Gen 2×2, using NVMe SSDs or direct USB flash drive (UFD) controllers
1GBps drives with USB 3.2 Gen 2, using NVMe SSDs or direct UFD controllers
500MBps drives with USB 3.2 Gen 1 (or, Gen 2, in some cases), using SATA SSDs
Sub-400MBps drives with USB 3.2 Gen 1, using UFD controllers
The product we are checking out today belongs to the second category. Presenting the Kingston XS2000 USB Type-C 3.2 Gen 2×2 Portable Drive.
Product Showcase
The Package Includes the main unit, one rubber sleeve, and one Type-C to Type-C cable rated for 20Gbps.
The casing is a mix of metal and plastic with the supplied rubber sleeve adding IP55 protection from natural elements. The rating suggests there should be minimum protection but we would suggest not to push it since electronics and water especially don't go along.
Specifications
KINGSTON XS2000 Portable SSD
Model
2TB
1TB
500GB
Downstream Port
Native Flash
Upstream Port
USB 3.2 Gen 2×2 Type-C
Bridge Controller
Silicon Motion SM2320XT
Power
Bus Powered
Use Case
Low-power 2GBps-class,compact IP55-rated portable SSD
Physical Dimensions
69.54 mm x 32.58 mm x 13.5 mm (without casing)
Weight
28.9 grams (without cable and casing)
Cable
30 cm USB 3.2 Gen 2×2 Type-C to Type-C
S.M.A.R.T Passthrough
Yes
UASP Support
Yes
TRIM Passthrough
Yes
Hardware Encryption
N/A
Flash
Micron 96L 3D TLC
Price (at the time of review)
INR 31000
INR 17200
INR 9700
Product Link
Kingston XS2000
Kingston India sent us the 500GB variant for review.
Benchmarks
The XS2000 ran through our usual benchmark suite along with a few additions. All of the benchmarks will be explained as they come.
Test System
TechARX Test System
Processor
Ryzen R7 2700X
MotherBoard
Asus TUF Gaming X570 Plus
Memory
Antec Katana Memory 3200 MHz
Graphics Card
Geforce GTX 1060 GB
Boot Drive
Kingston A2000 NVMe
Power Supply
Deepcool DQ850M V2
Atto Disk Benchmark
The great thing about ATTO is that one can test with predefined block sizes. So, we can test with a 32MB sequence of 4KB files, yet also 32MB in 1MB files, providing an opportunity to test with various file sizes. This benchmark is preferred among manufacturers as ATTO uses RAW or compressible data and, for our benchmarks, we used a set length of 256mb and tested both the Read and Write performances for various transfer sizes ranging from 0.5 to 8192kb with a user-selected queue depths.
Anvil's Storage utilities Benchmark
Anvil Pro or Anvil's Storage Utilities[Depending on what you'd want to call it] is an 'all-inclusive' storage utility that allows testing transfer speeds as well as IOPS and lets the user tweak and adjust to find just the right mix in their testing medium, the IOPS tests being fully configurable with preset testing scenarios for read, write and mixed IO. The Benchmarks menu includes an SSD test, Endurance Testing, and 3 pre-configured IOPS tests.
AS SSD benchmark Suite
This nice little German application gives an extensive result set. The test is popular, so I included it. AS SSD, for the most part, gives us the worst-case scenario in SSD transfer speeds because of its use of incompressible data.
CRYSTAL DISK Benchmark
Crystal Disk Benchmark is used to measure read and Write performances through sampling of highly compressible data (oFill/1Fill), or random data. Crystal Disk Mark scores usually drop a bit compared to ATTO, and this is the result of the test data now being primarily incompressible – Mostly movies, music, and photographs. We tested the drive with CDM 8 under different test cases.
Overall, the SX2000 gave a stellar performance albeit our system gimped it a bit since USB 3 Gen 2×2 was not available and we were running USB 3 Gen 2×1 only. Keeping that aside the SX 2000 in itself is a pretty capable performer and gave us pretty convincing numbers. The determining factor as always is the price and the 500GB retails at around 9700; that puts the price per GB at around INR 20/GB.
Now, for the niche audience who needs the performance and has the system to support it, the XS2000 is a great contender; however, for the mere mortal audience, the DIY market with an enclosure and off the shelf SSD makes more sense in the value side of things. This is a must-have in your arsenal if you tick all the boxes of having the need and capable system and need a nifty handy drive on the go. Otherwise, you might give this a pass.
Make no mistake, this is NOT a bad product, but the target audience is limited at this moment. With USB-C becoming more mainstream, the need for capable drives will rise, and the XS2000 will be a forerunner; but it will have to wait for its time.
Performance-wise this deserves Gold but with all things considered the XS2000 will have silver for now.