Last year, we checked out the Kingston A1000 SSD based on Phison E8 Controller. This time, we will be checking out its upgraded version, the Kingston A2000 NVMe.
The A2000 is the direct predecessor to the A1000 which fills out the lower end NVME product stack from Kingston. So what we have is an M.2 drive with a performance limited controller backed with Micron's 96L TLC flash and hardware encryption. The hardware encryption in itself makes it a very juicy proposition.
We will be diving straight into the specifications and performance data today, so without further ado, let's do this.
Kingston A2000 Specifications
Capacity
250 GB
500 GB
1 TB
Model Number
SA2000M8/250G
SA2000M8/500G
SA2000M8/1000G
Controller

Silicon Motion SM2263EN PCIe NVMe controller



NAND Flash

Micron's 96L TLC NAND



Form-Factor, Interface
M.2-2280,

NVMe™ PCIe Gen 3.0 x 4 Lanes



Sequential Read
2000 MB/s
2200 MB/s
2200 MB/s
Sequential Write
1100 MB/s
2000 MB/s
2000 MB/s
Random Read IOPS
150K IOPS
180K IOPS
250K IOPS
Random Write IOPS
180K IOPS
200K IOPS
220K IOPS
Pseudo-SLC Caching
Yes
Encryption

TCG Opal, AES 256-bit, eDrive



DRAM Buffer
Yes
MTBF
2,000,000 hours
Write Endurance
150 TBW
350 TBW
600 TBW

Price
₹ 4713
₹ 7,999
Not available
Warranty
5 years
Performance Data
We put the A2000 NVMe through our usual storage benchmark suit. The drive performed as expected and as advertised.
Atto Disk Benchmark
The great thing about ATTO is that one can test with predefined block sizes. So, we can test with a 32MB sequence of 4KB files, yet also 32MB in 1MB files, providing an opportunity to test with various file sizes. This benchmark is preferred among manufacturers as ATTO uses RAW or compressible data and, for our benchmarks, we used a set length of 256mb and tested both the Read and Write performances for various transfer sizes ranging from 0.5 to 8192kb with a user-selected queue depths.
We ran ATTO in both with write cache enabled and bypassed, the results were minimal in this case. The A2000 has hit all the advertised numbers for this SKU.
Anvil's Storage utilities Benchmark
Anvil Pro or Anvil's Storage Utilities[Depending on what you'd want to call it] is an 'all-inclusive' storage utility that allows testing transfer speeds as well as IOPS and lets the user tweak and adjust to find just the right mix in their testing medium, the IOPS tests being fully configurable with preset testing scenarios for read, write and mixed IO. The Benchmarks menu includes an SSD test, Endurance Testing, and 3 pre-configured IOPS tests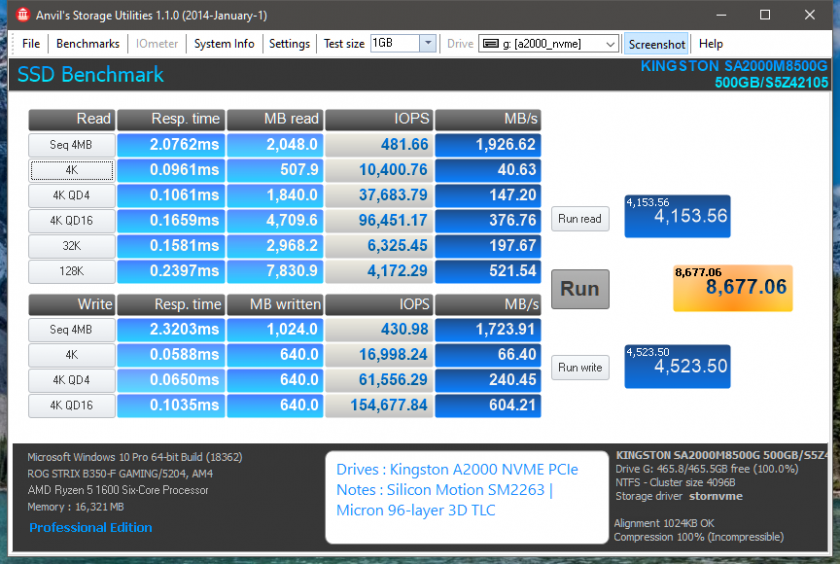 HD Tune
HD Tune Pro is a hard disk utility and benchmarking utility for Windows. This tiny application allows you to scan your hard drives for errors or take a deeper look at several performance figures coming from the storage unit. We use the included Benchmark utility tool to our hearts' content, because why not? We did run into a few anomalies where the write speed took a nosedive from 900MB/s to 500MB/s and we are not sure if its the disk or our test system which is at fault. We will continue investigating and update the review at a future date.
AS SSD benchmark Suite
This nice little German application gives an extensive result set. The test is popular, so I included it. AS SSD, for the most part, gives us the worst-case scenario in SSD transfer speeds because of its use of incompressible data.
Conclusion
Kingston was a bit late into the low-cost NVMe party, and it has costed them since the niche got saturated when they arrived. However, when they got into the party, they were in it to own the night and own the night they did! The A1000 was a decent performer. The A2000 is a phenomenal one! The performance numbers are more than decent, it seeps extremely low power and with a respectable thermal performance it is ideal for both desktop and laptops. With the SM 2263 EN Controller only limited by firmware, this drive is here to dominate the entry-level NVMe SSD niche for a long time. Apart from the offerings from Crucial, I don't see any other competitor for this SSD.
A Silver from the TechARX team.