Intel Kaby Lake Processor info leaked : Core i7-7700K, Core i7-7500U and Core M7-7Y75 gets detailed
Specifications of the Intel's upcoming Kaby Lake processors have hit the internet.
Kaby Lake processors will be the 7th generation of the Core processor family and as such we should expect some improvement over the existing Skylake Design. The kabylake, however will not be a significant improvement over the last generation since Intel made it pretty clear last month that they will be changing their development cycle.
According to the roadmap released last month Intel said they are leaving the two generation long "Tick-Tock" strategy and will be adopting a new three generation long "Process, Architecture and Optimization" strategy. With 14nm we have the Broadwell,Skylake and the upcoming Kabylake. This strategy will move over to upcoming Canon lake with 10nm and beyond due to complexity involved in developing new chips on such small nodes and yield issues.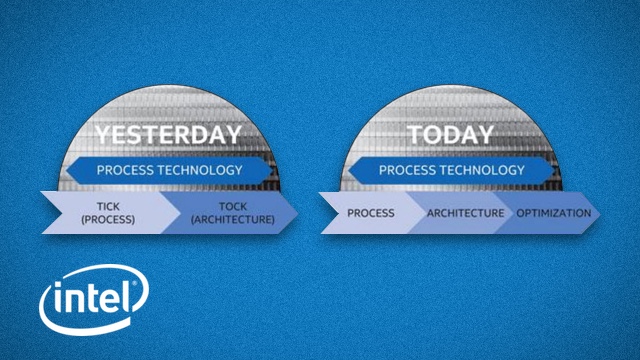 Intel's Kaby Lake Desktop and Mobile CPUs Detailed – 7th Generation, 14nm process.
In this leak three processors were detailed, Core i7 7700K, Core i7 7500U, Core M7-7Y75. Do note since this is a very early leak the specifications might change over time. The processors will be compatible with existing LGA 1151 socket.
Intel Core i7-7700K Kaby Lake-S
The flagship Kaby Lake would be the Core i7 7700K with Quad core hyper-threaded design. The chip is currently clocked at 3.60 GHz with boost clocks of 4.2 GHz as opposed to the currently flagship Core i7-6700K which features 4.00 GHz base and 4.20 GHz boost clocks.

Source : Sisoft sandra database
Other specifications include an 8 MB L3 cache, 256 KB of L2 cache and a 4.00 GHz internal memory controller along with a new iGPU with 24 Execution units. The iGPU is clocked to 1100MHz like the GT2 graphics core of the Core i7 6700K. The 7700K is also expected to to feature a slightly better efficiency and TDP.
| Processor Name | Intel Core i7-7700K | Intel Core i7-6700K | Intel Core i7-5775C |
| --- | --- | --- | --- |
| Family Name | Kaby Lake | Skylake | Broadwell |
| Process Node | 14nm (3rd Gen) | 14nm (2nd Gen) | 14nm (1st Gen) |
| CPU Cores | 4/8 | 4/8 | 4/8 |
| Graphics Core | TBA | Intel 530 | Iris Pro 6200 |
| Base Clock | 3.60 GHz (ES) | 4.00 GHz | 3.30 GHz |
| Boost Clock | 4.20 GHz (ES) | 4.20 GHz | 3.70 GHz |
| L3 Cache | 8 MB L3 | 8 MB L3 | 6 MB L3 |
| L4 Cache | N/A | N/A | 128 MB eDRAM |
| Unlocked Design | Yes | Yes | Yes |
| TDP | TBA | 91W | 65W |
Intel Core i7-7500U Kaby Lake-U Low TDP
The Core i7-7500U will be part of the Kaby Lake-U family build for ultra portable laptops. The sample leaked was a dual core, multi-threaded processor with 2.70 GHz base and 2.90 GHz boost. The chip also comes with 4 MB L3 cache and 512 KB of L2 cache. In this instance the chip was tested with DDR3L memory however DDR4L and LPDDR4 will also be available.

Source : SIsoft sandra database
With a probable GT2 series graphics core closed at around 1GHz the chip is expected to reatin the same TDP as the Core i7-6500U which is 15W. The chip is expected to available with several notebooks on 2H of 2016.
Intel Core M7-7Y75 Kaby Lake-Y Core M
The last chips is Core M7-7Y75 which is a part of the Kaby Lake Y series. This is an ultra low TDP Dual Core chip which doesn't exceed 4.5W. On the specifications side, the Core M7-7Y75 is a dual core design with multi-threading enabled.

Source : SiSoft Sandra Database
This Chip is clocked at 1.3GHz and boosts uptp 1.6GHz. Additional available details include only the fact that it has 4 MB of L3 cache. Nothing was revealed about the graphics core but it will be featured in ultra slim factors like Macbook Air so it wouldn't be a slouch.
The Kaby Lake is supposed to appear in 2H 2016 but we are expecting a few board samples to turn up in Computex this year.