IFA Berlin 20154 is just around the corner, and keeping up with the tradition companies have began to launch and showoff their new and upcoming products.
Asus being one of the forerunners announced a host of products in a pre-show, along with a reveal of some new color scheme including Plasma Copper, Armor Titanium, and Lava Red.
ROG Maximus VIII Extreme/Assembly and ROG Matrix GTX 980Ti Platinum
The main focus for the hardware enthusiasts would be the Maximus VIII Extreme/Assembly edition and Matrix GTX 980Ti Platinum.
Maximus VIII Extreme/Assembly edition sports the new Plasma Copper ROG color scheme and is based on the Intel Z170 Express chipset.
It includes the ROG 10Gb/s Ethernet card. With a low-latency design, this Ethernet card is backwards-compatible with all Ethernet standards and supports speeds of 100Mbit/s, 1Gbit/s, 2.5Gbit/s, 5Gbit/s, and 10Gbit/s as per Asus. Adding into the mix is a ROG SupremeFX Hi-Fi headphone amplifier. This uses an ESS® ES9018K2M digital-to-audio converter (DAC) with two Texas Instruments LM4562 operational amplifiers and TPA6120A2 headphone amplifier to drive high-fidelity headphones.
the Matrix GTX 980Ti edition on the other hand will be the standard Matrix treatment given out to the already impressive GTX 980Ti. Features include standard Matrix offerings like Direct CU cooling system,one click VBios restore, Memory Defroster etc.
ROG 7.1 surround gaming headset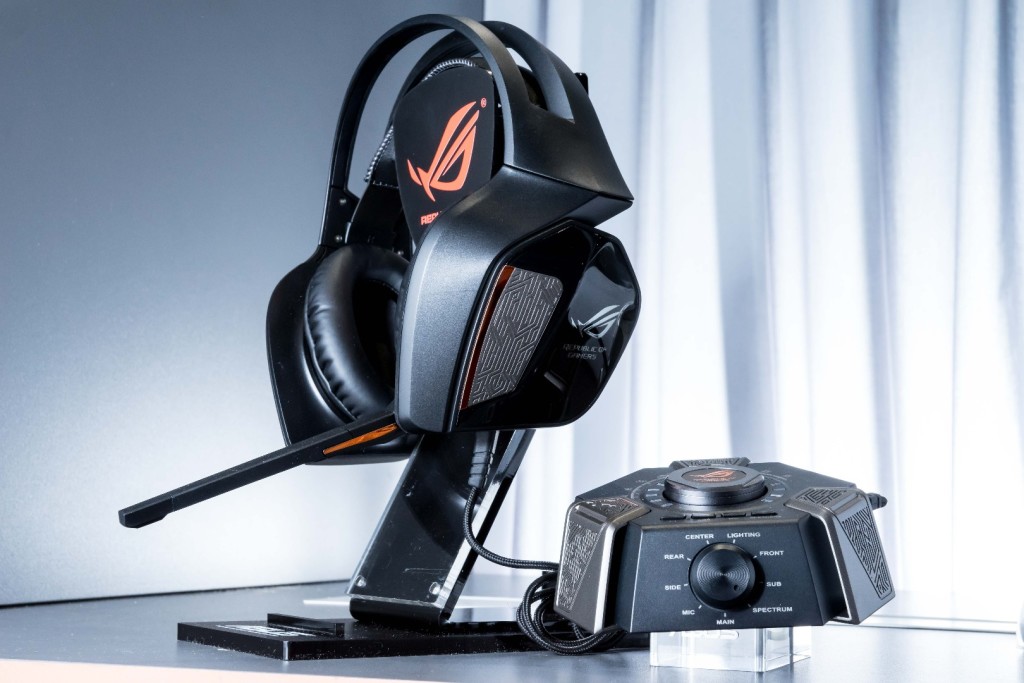 Next on the list is a 7.1 gaming headset(am sure Asus will come up with a name). Driven by 10 discrete neodymium-magnet drivers and a discrete USB sound card the headphone aims to catch the gaming crowd who also craves audiophile quality sound(whatever that means).It also features Sonic Studio, a tuning suite that gives users full control over audio settings, including Reverb, Bass Boost, Equalizer, Voice Clarity and Smart EQ settings.
ROG Swift PG348Q
ROG Swift PG348Q is a 34-inch gaming display with a curved 3440 x 1440 resolution IPS panel and 21:9 aspect display with built-in NVIDIA G-SYNC technology and a 100Hz refresh rate.
It also comes with features like ASUS GamePlus which gives four different crosshair options, an in-game timer and an FPS counter.
Along with thew PG348Q Asus showed off a ROG PG279Q with 165Hz refresh rate and GSync.
ROG G20 Special Edition
In the SFF lineup Asus showed off a ROG G20 Special Edition PC with a 6th-generation Intel Core i7 processor and NVIDIA GeForce GTX Titan X graphics for  gameplay in 4K/UHD resolution.
ROG GX700 Laptop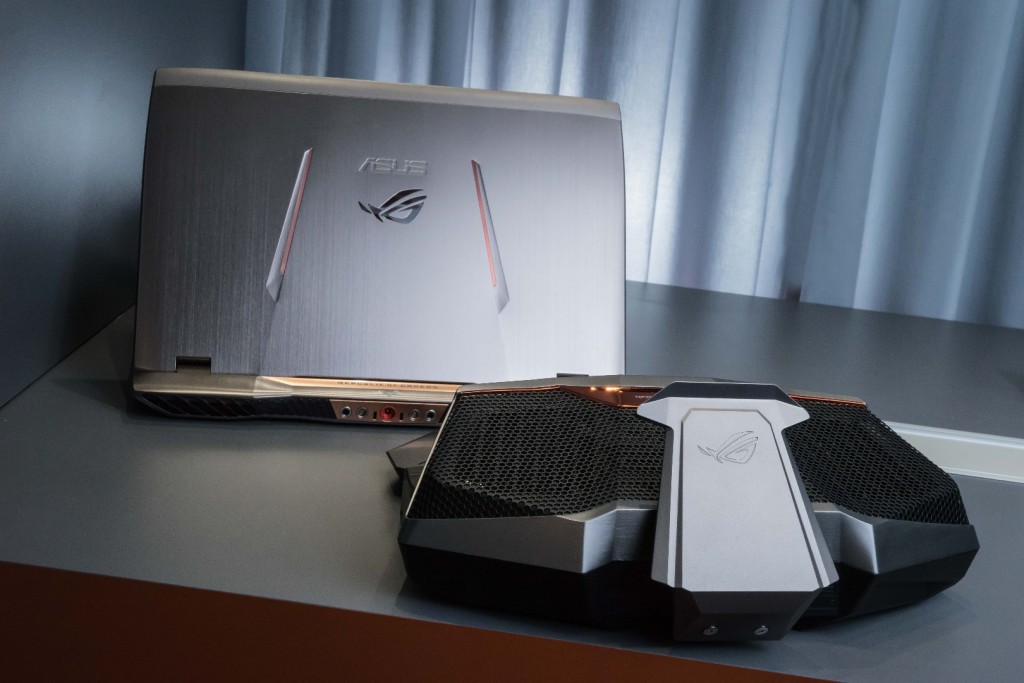 A gaming laptop with water cooling, yeah you heard it right! Asus just decided to go extremely overboard and decided to watercool a laptop with overclockable 6th-generation Intel® K-SKU processor and Nvidia GPU, whether its a good idea or bad idea is up in the air, but they have probably made THE most overpowered laptop ever. I would just hope the overclocking is as fun as with the ROG motherboards.
ROG G752
The G752 is the new generation in Asus line of Gaming Laptops. With 6th-generation Intel® CPU and the latest NVIDIA® GTX 900M Series graphics the G752 offers some nice options for the gamers.
The next few months will be very exciting for the hardware enthusiasts with a plethora of releases lined up form Asus and other manufacturers. We will bring more info about them as we find.
Till then, stay tuned!