GIGABYTE GA-Z97N-WIFI Review: Exploring the other end of the mini-ITX spectrum
The recent times have been really exciting for small form factor system builders. With the advent of more and more power efficient yet better performing than previous generation hardware, the scenario that a mini-ITX board should only be used for HTPC/NAS has changed dramatically.  Motherboard manufacturers have been lapping this opportunity as well, and we have seen even gaming oriented mini-ITX boards emerge since Intel's Haswell platform emerged. With the second generation Haswell (Devil's Canyon) released, most of the Z87 mini-ITX boards have been refreshed with Z97 chipset. While some specs have been added with the platform refresh, most of the basic features available with these boards have stayed the same over two generations.
No matter how we want to cut it, the options with a mini-ITX system is rather limited. You can build a great HTPC with a low-end/budget GPU and a similar CPU; you can build a home file server or NAS with a RAID card and an equivalent CPU, and lastly, you can build a pretty beastly gaming rig with a moderately powerful CPU and a single, powerful GPU. More heartening to see is that most manufacturers are now bringing their ATX board features over to the mini-ITX boards, which says a lot for how the market is evolving.
When we talk about mini-ITX, like most form factor segments, there are cheap boards and then there are premium boards. Our sample today, the GIGABYTE GA Z97N- WiFi falls under the former category in terms of pricing, but does not skimp on features. It can be used to build all three systems we discussed before and for the most part it handled our benchmarks and loads pretty well. This board is interesting since in India the mini-ITX scene is almost non-existent, and the availability of a board like the Z97N- WiFi means that the users who had been regularly complaining about SFF motherboards not being available or being overly expensive can finally breathe easy.
The Z97N- WiFi is Ultra Durable certified, which means it has a plethora of USB3.0 ports and an upgraded power delivery system for the most part, and other little features like gold plated CPU socket pins/DRAM/PCIe electrical connectors. Since this is on the low-end of the spectrum, there are no VRM heatsinks, upgraded audio or onboard buttons. It is nice to see that GIGABYTE equipping this board with dual Gigabit Ethernet, one via an Intel and the other a Qualcomm Atheros controller, a 802.11ac 2T2R WiFi/BT4.0 solution via an Intel chip, and two HDMI ports.
The Z97N- WiFi is as mainstream as it gets, and the packaging/in-box contents are perfect examples of that. GIGABYTE retains the theme for the package to their typical Z97 styling, with big name/branding in front and motherboard picture and features in back.
The accessories included:
Two SATA 6GBps cables
External WiFi antenna
Rear I/O panel shield
Manual and multilingual installation guide
Driver CDs
Motherboard Visual Analysis:
The motherboard uses a black PCB, but due to the very limited space it is littered with signs and drawings and labels. From the top left corner, we have the 4 pin ATX_12V power connector for the CPU. Next to it is the COM port header, and two 4 pin fan headers (SYS_FAN and CPU_FAN).
The CPU socket area sits almost in the middle of the board, flanked by the naked VRM chokes for power delivery on one side, DRAM slots on another and the PCH section on bottom. The VRM section is a 4-phase affair, an Intersil ISL95820 Hybrid Digital PWM Controller at helm. The DRAM power delivery is of two phases. One may raise questions here about the hybrid PWM controller being used since GIGABYTE advertises this board to be Ultra Durable compliant, but keeping the price in note some cut corners are acceptable. The use of a VRM heatsink may have caused some issues with the CPU cooler installation since the chokes are very close to the CPU socket, but GIGABYTE doesn't have one installed so that problem gets out of the way for the most part.
There are two single-side latched memory slots on the right hand side of the motherboard supporting up to 16GB of non-ECC DDR3 memory with speeds from 1333-3100MHz in dual channel configuration. It's nice to see companies finally adopting the single-side latched DRAM slots as standard, and for a space-cramped mini-ITX board this makes even more sense.
The right hand corner of the board has the 24-pin ATX power connector for the motherboard, two SATA3 6GBps connectors (from PCH), front panel power/reset/HDD headers and front panel USB2.0 and USB3.0 headers (one each).
The PCH section is covered by a small steel-gray heatsink. There are four SATA3 6GBps connectors beside it, taking the total SATA ports to six for the Z97N- WiFi. Next to that, on the bottom section of the motherboard we have the full length PCIe3.0 x16 slot for expansion cards.
Between the rear I/O and the CPU/PCH section lie several chips that provide functionality to the motherboard. The single iTE TT8620E Super I/O controller chip sits in its own section between the PCH and the CMOS battery, which is glued to the back of one of the GbE connectors. The front panel audio connector is immediately next to it, and between the connector and the PCIe slot sits the Realtek audio chip. GIGABYTE is using the ALC892 audio codec here which supports up to 7.1 channel audio output and S/PDIF out.
The LAN chips are situated between the CPU VRM section and the iTE chip. For Z97N- WiFi, GIGABYTE is using an Intel I217-V and an Atheros AR8161 chip (AR8161BL3A) to provide dual Gigabit LAN interfaces. There are two NXP PTN3360DBS HDMI/DVI level shifter chips to control video outputs as well, and next to it using a PCIe x1 slot we have the Intel 7260HMW chip which provides dual band wireless 802.11ac WiFi plus Bluetooth 4.0 connectivity.
In rear I/O, from left to right, the Z97N- WiFi has a PS2 mouse/keyboard combo port, and two USB2.0 ports above it. Next to it are the WiFi antenna connectors and a single DVI-I port, and two HDMI ports, completing the video connectors for the motherboard. Two GbE LAN ports are next, with four USB3.0 ports. Lastly we have the seven channel audio out connectors, with an S/PDIF Out header.
BIOS/UEFI Overview:
I have covered the GIGABYTE UEFI extensively in my earlier Z97 reviews, and for the most part it stays the same for the Z97N- WiFi too. For this review I will briefly go through the options available and speak in detail about anything extra.
There are three modes for GIGABYTE's UEFI. The first screen is a host of very basic options displayed in a 3×3 matrix at one time, and allows for changes to boot options, fast boot, system time/language and SATA options etc.
Pressing F2 lands you into the GIGABYTE's classic UEFI mode. The blue/black background has stayed unchanged. GIGABYTE should really change the fonts here to a more modern one (which they have done in their X99 UEFI).
M.I.T is the assortment of the tweaking features and monitoring/information. This is subdivided into sections accordingly to the intended functions. Current Status is an overall information statistic for the CPU and DRAM modules.
Advanced Frequency Settings has CPU centric tweaking settings, ranging from BCLK tweaking to clock ratio. It also contains XMP settings for memory and System memory multiplier settings.
The Advanced CPU Core Settings have even more options for tuning the CPU. One can enable/disable cores, turn the CPU states on/off, set core specific boost clock frequencies; play with the Uncore Ratio/Frequency. GIGABYTE also has a couple of preset OC profiles to choose from which can be activated according to user need.
Advanced Memory Settings has the tuning settings for DRAM. GIGABYTE provides options to select and tweak things for each memory channel down to sub timings. There's an option here to select the XMP profile as well.
Advanced Voltage Settings have voltage control settings for CPU/PCH/DRAM.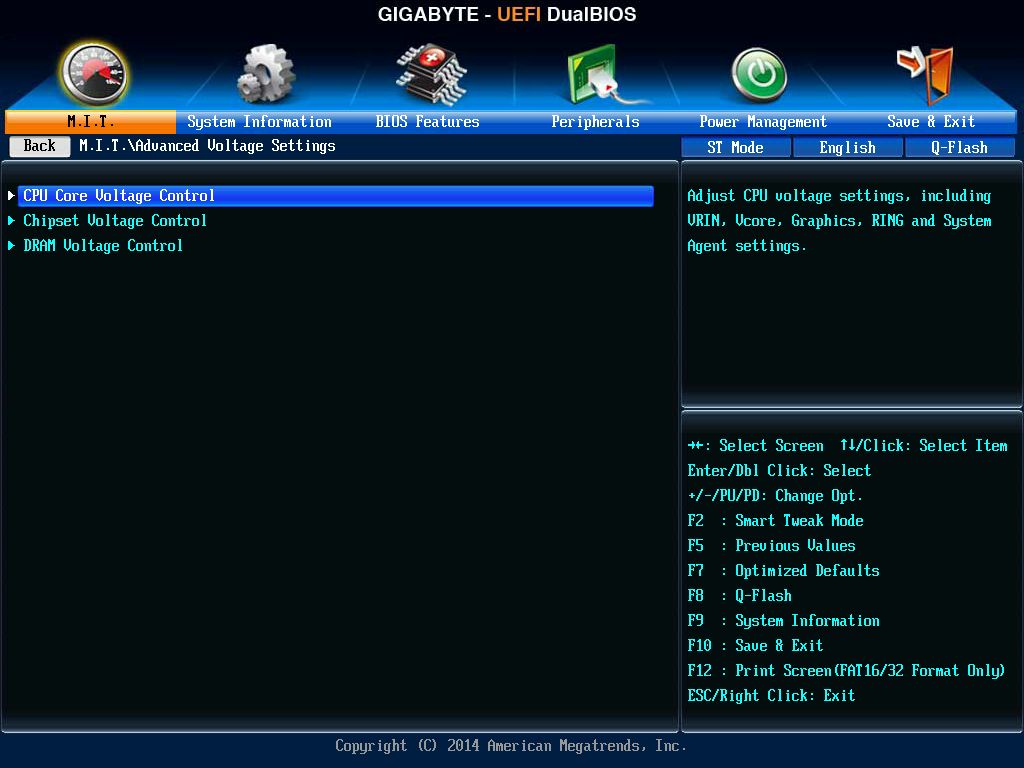 PC Health Status works in two parts. Part one is that it presents detailed information about system voltages and fan speeds. Part two deals with the fan speed control. Here preset profiles can be chosen from for CPU/System fans.
Miscellaneous Settings have a few more settings – PCIe Slot Configuration, DMI Gen2 Speed & 3DMark01 Boost.
Next menu is called System Information and presents mostly information about BIOS. There are options to change System Language/Date/Time. There are three information menus already, and I believe they could have been neatly summarized into one for greater usability.
BIOS Features have boot options. User can select the boot sequence, enable/disable Fast Boot, and select/enable/disable some Intel specific and Windows 8 specific features.
Peripherals present options to enable/disable LAN controllers, USB ports and have options for Intel RST/iGPU and SATA/Super IO as well.
Power Management has even more features regarding system power and standby.
Lastly, one has the option to save and exit BIOS, or Load Optimized Defaults from the Save & Exit screen. Boot override option is also present in this tab.
Press F2 again and the screen changes to a black and orange liveried panel with System Status/CPU Status/Voltage/Fan Speed/Temperature being shown in the periphery. This is GIGABYTE's OC BIOS and they have put in selective overclocking related options here to relieve users from searching them amongst the tons of options provided in the classic BIOS.
Frequency lists most of the CPU/DRAM frequency settings.
Advanced CPU Core Settings is basically the same as its namesake in classic BIOS.
Memory/Voltage settings are also identical to what we have already discussed in the classic mode.
Miscellaneous has PC Health Status as a submenu to tweak fan speeds.
The Home menu shows the values of current overclocked settings and lets users store these values in profiles so that they can be accessed easily at a later time.
Save and Exit here is same to what we saw in the classic mode but has a few more options. This menu has options to change system date/time, load profiles, as well as run GIGABYTE's Q-Flash utility. The Q-Flash utility is used to update BIOS from a compatible USB drive.
Bundled Software Overview:
GIGABYTE's bundled suite of applications is in what they call the App Center. This is presented as a vertical list of tiles with each application occupying one tile each.
For Z97N- WiFi the default color scheme is blue/black for the apps, but there are options to change it to green/black, orange/black or red/black, catering to different color schemes for GIGABYTE's motherboard ranges.
@BIOS is the BIOS utility which shows information about the present BIOS, allows updating BIOS from online or from a file, and save the current BIOS to a file.
USB Blocker is a utility to monitor and block devices connected via the USB port.
Cloud Station has a host of functionalities wrapped into one. HomeCloud is what it says it is – a personal cloud based storage which you can access via your Google/Facebook credentials.
GIGABYTE Remote lets the user use another device's keyboard/mouse in your system. This is specifically designed to work with Android devices.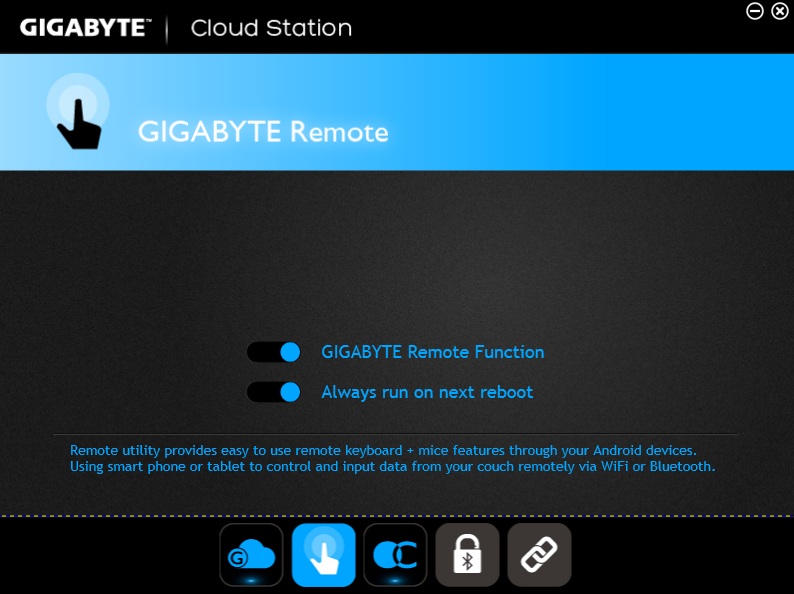 Remote OC can be used to remotely access and tweak system including overclocking, system monitoring and power management features.
AutoGreen works in tandem with a Bluetooth-paired phone. Users can select a system state to select to when the phone is away from normal Bluetooth range. The options are Disable/Standby/Suspend/Hibernate.
HotSpot can be used to setup a WiFi hotspot using the desktop's wired Internet connection.
EasyTune is GIGABYTE's overclocking utility. It also has a hardware monitor window which shows real-time information about the system. The app has three sections, the first with overclocking preset modes, and two separate sections for CPU and DRAM specific tweaking.
EZ Setup, like Cloud Station has a few apps in it, Disk Mode Switch, EZ Smart Response, EZ Rapid Start, EZ Smart Connect and XHD.
There are also some 'Smart' apps. Smart Recovery 2 is a disk backup and recovery utility.
Smart TimeLock can lock your system on specific set times. This is especially useful for parental control.
The dedicated Fast boot application can be used to enable/disable fast boot, and to enable a 'Ultra-Fast' boot mode.
Game Controller app can be used to tweak mouse and keyboard parameters like responsiveness and DPI, and create Macros. I don't think every mouse and keyboard is supported, but it's worth a shot.
Interestingly, the fan control utility is hidden inside GIGABYTE's System Information Viewer app.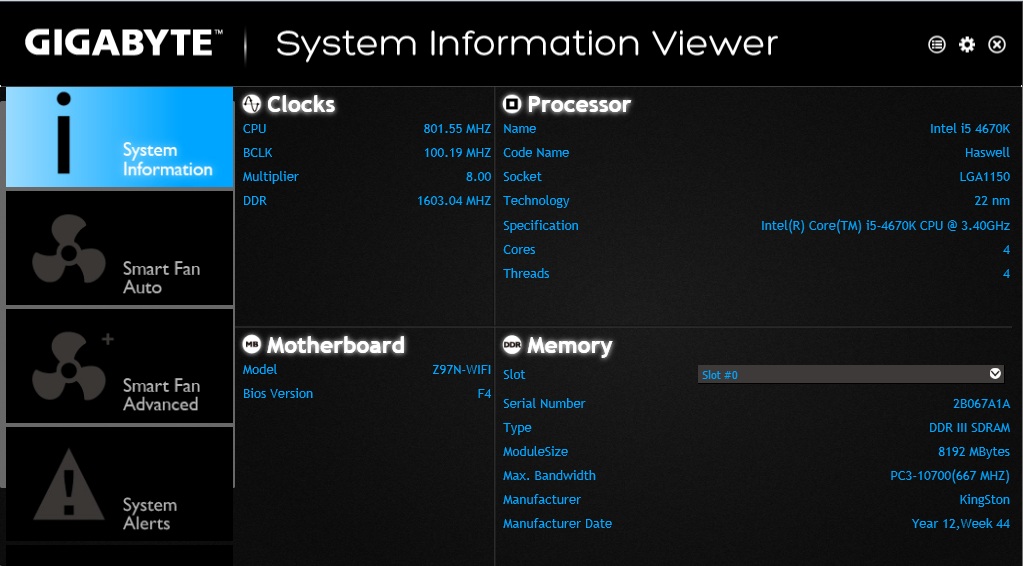 The utility allows users to set custom fan profiles, as well as select from preset modes and even record the system fan RPMs for a defined duration.
VTuner is GIGABYTE's take on GPU overclocking tool, and it provides some basic features to extract more performance out of the installed graphic card(s).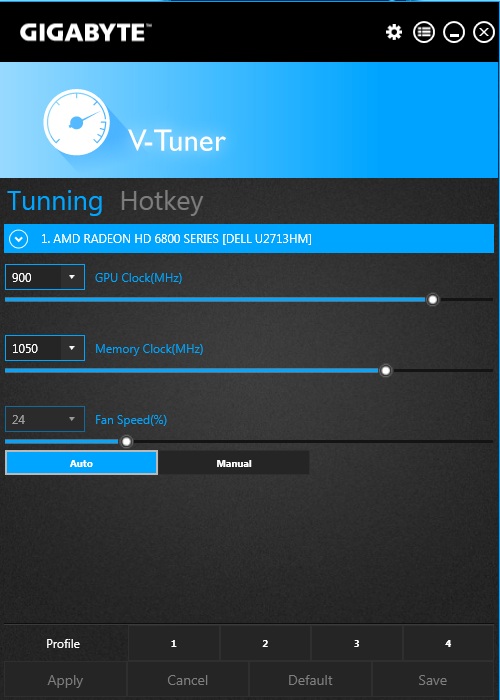 GIGABYTE's update utility fares better than some of its competitor's, and that is a good sign.
Test Setup:
I used the following test system for this review:
Intel Core i7-4670K, Haswell, 4C/8T, 3.4GHz stock, 3.8GHz Turbo
GIGABYTE Z97N- WIFI , BIOS version F4
16 GB Kingston HyperX Beast 1600MHz DDR3 memory, CL9-9-9-27
HIS AMD Radeon HD6870 GPU, 1GB GDDR5, Catalyst Omega drivers
Kingston SSDNow V300 64GB SSD for boot drive
Western Digital Caviar Green 3TB for data drive
Cooler Master Nepton 240M AIO liquid cooler for CPU cooling
Cooler Master Silent Pro M1000W Power Supply
Corsair Carbide Air 540 case
Performance:
Comparing the Z97N-WiFi to my previous motherboard reviews will give us a better picture of where this motherboard lands in performance. The AIDA64 is a complete bechmarking suite for CPU/Memory/FPU from FinalWire.
Next up is our full suite of benchmarks. The careful reader may notice that I have introduced two more benchmarks in this review. Very interestingly, the Z97N-WiFi gets really close to competition in some of these tests.
Lastly, just to see how the GPU performance varied with the motherboard, I ran CompuBench.
Lastly, I was able to overclock the i5-4670K to 4.75GHz at 1.35v VCore. Sadly, the CPU reached unreasonable temperatures while running any benchmark at that point and I decided not to run anything on overclocked settings. Generally the performance follows a linear curve when the processor is overclocked regardless of the motherboard so there wasn't much to show off in terms of motherboard capability.
Conclusion:
In my last motherboard review we looked at the most expensive mini-ITX motherboard. The GIGABYTE Z97N- WiFi exists on the opposite end of the spectrum. It is pretty evident from the bare minimum accessories to the motherboard feature set that this is not a motherboard vying for the top spot. But that is understandable since not every motherboard needs to be the crème–de-la-crème. What is most interesting is that in many of the benchmarks, especially in AIDA64 and programs that utilized single processor core, the Z97N- WiFi came really close to its pricier competition, and sometimes performed better. I still think the presence of six SATA ports and dual GbE ports makes this a more suitable candidate for a File Server/NAS or HTPC rather than a mini-overclocking/high-CPU performance rig.
There is a couple of glaring cut corners about Z97N- WiFi which takes away from the overall good experience I had with the board. The lack of fan headers is a serious omission. The Hybrid VRM PWM controller also appears to be a non-International Rectifier affair, and personally I wouldn't trust it to hold high overclocks with ease. Also, while the BIOS/UEFI has improved manifolds, GIGABYTE needs to tie up the loose ends. Three modes are unnecessary, the monitoring options can be clubbed together, and the classic mode needs a visual makeover.
GIGABYTE's Z97N-WiFi is a board which wins by its value. Mini-ITX boards are like exotic birds in India. Getting one this cheap is already a boon, and this performs as good as its competition or better at times. This should keep most day-to-day users happy. Enthusiasts won't be happy with the Z97N-WiFi, but then this board wasn't meant for them anyway.