GetInsta helps users to get more followers at a rapid rate with real followers and real-time followers all for FREE, It's 100% secured and safe
In this day and age of ruthless marketing on social media having a good Instagram presence has become a requirement almost to do well and reach your target audience and also it boosts your brand recognization. Getting free Instagram followers requires great marketing skills and creative ideas as well as good consistency of interacting with your audience, all these require a lot of effort but you could feel growing very slowly and inefficiently.
Today we are going to talk about a beneficial service called GetInsta which helps users to get more followers at a rapid rate with real followers and real-time followers all for FREE, and they do also have a paid service starting at $0.99 which also gives you 100% automatic process, no need to follow back other profiles and 24/7 support.
The $0.99 plan gets you 50 followers per day, at $1.99 you get 150 followers a day, and at $2.29 you will get 200 followers a day, that is if you are subscribed for 30days only. If the user opted for a 90 days subscription each day will cost $0.69 for 50 followers, $1.21 for 150 followers, and $1.49 for 200 followers.
In the free method, you will get followers for limited numbers. To get free followers and likes just register and download their mobile or desktop app. They give 50 free Instagram likes for your posts. The GetInstaapp is available for Android, iOS, and Windows. Or you can download EasyGetInsta APK from different websites.
Daily login points
Registration points (up to 30 followers daily)
Follow and get points
Purchase followers and likes from points
Refer and earn points
GetInsta is 100% secured and safe. You can use their apps and platforms to get free followers and likes. This platform is all about mutual interaction. You get coins by liking and following others and you can use those coins to make others follow and like for you. That's how they have succeeded to make it free.
You can use this service by opening easygetinsta.com on your browser or download the apps from either the Play Store or the App Store.
After you signup for an account, follow some simple steps to start earning coins and start gaining followers.
Here are the steps involved:
Create an account or login on the app or website to start receiving digital coins immediately, which can be used to buy likes and followers.
Add your Instagram account, even if you have more than one.
Select one account to which you need the followers.
Check the progress of your task.
You will need more coins to gain more followers.
To receive more coins, check the tasks set by others and tap on the Get coins icon.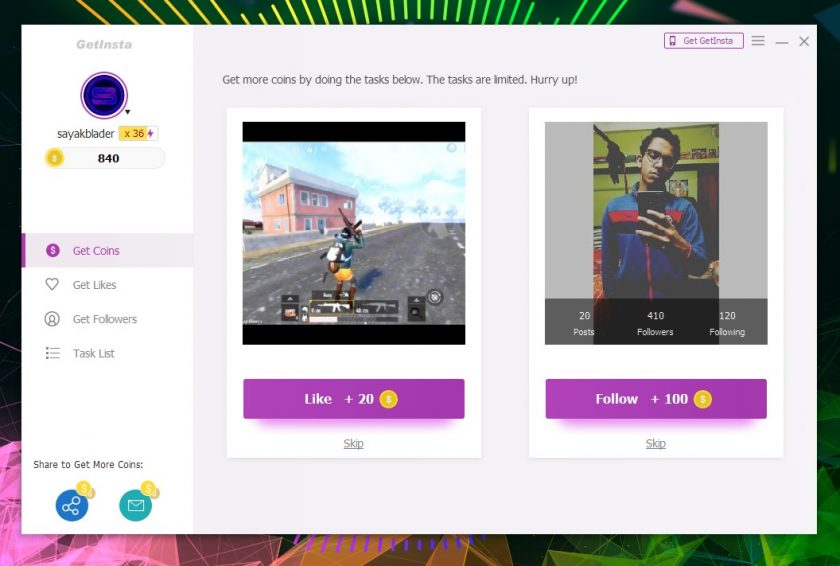 Don't want to engage with steps and all? You can buy followers for cheap, starting at just $3.95.
| | |
| --- | --- |
| Pros | Cons |
| This app is 100% secure and you will get instant results | Energy limit to earn coins |
| Your profile will be safe and private | |
| There are no bogus accounts as this app works with real Instagram users | |
| Followers and likes are genuine and organic | |
| This app is free and supports 16 languages | |
| It is completely safe | |
| The app is free to use | |