Corsair is no stranger to memory. Since they have introduced themselves in this division, their products have enjoyed immense popularity. In India, Corsair and its Vengeance brand exudes almost similar brand confidence as Nokia did back in the days. For DDR4 Corsair has introduced a new SKU under the Vengeance name – the Vengeance LPX, the LPX possibly standing for Low Profile Xtreme. Corsair says that the LPX is designed for high-performance overclocking and features an all-aluminium headspreader and an eight-layer PCB. If we look at their DDR4 product line, as ridiculous as it sounds, but the LPX series represents the value addition with regards to the more premium Dominator Platinum series. For the LPX, Corsair has memory kits of 16-128GB ranging from 2400MHz to a rather crazy 3400MHz, with timings varying from CL14 to CL16. The kits are also available in a variety of colours, namely red, blue and black. Up for review today is the Vengeance LPX 16GB (4x4GB) DDR4-2800 C16 Memory Kit – Black (CMK16GX4M4A2800C16).
Package & Visual Analysis:
The package has retained its distinct Vengeance feeling. It is compact and very minimal and contains all the necessary information and branding in front. When opened the memory modules are secured in blister packs of two DIMMs each.
The headspreader design has been updated from the previous Vengeance models and now features vertical, parallel stamped sections that end up at a small distance from the actual top-end section of the headspreader itself. The branding in the modules is in a combination of bright yellow and white (for all colour DIMMs).
The black, 8 layer PCB houses eight memory chips from Hynix (part number: H5AN4G8NMFR, 512MB each) in a single-sided configuration, totalling to 4GB per module. This kit supports two XMP profiles, both Intel XMP2.0 complaint, one [email protected] 16-18-18-36 2T and the other [email protected] 16-18-18-18-39 2T.
Test System:
Intel Core i7-5960X, Haswell-E, 8C/16T, 3.0GHz base/3.5GHz turbo
GIGABYTE X99-SOC Champion, BIOS F4i
Corsair Vengeance LPX DDR4-2800 memory, 16GB
ASUS GeForce GTX 970 STRIX OC Edition
Kingston SSDNow V300 64GB SSD, AHCI mode
Corsair AX760i Power Supply, 80Plus Platinum
Corsair H100i Closed loop liquid cooler for the CPU
Big thanks to Corsair, Intel, GIGABYTE, ASUS and Kingston for their respective product samples.
Performance:
I first tested the kit in most of the available frequencies past 2000+MHz varying the memory multipliers from both XMP profiles. Switching the XMP profile1 pushed the BCLK of the processor to 127.03MHz while that of Profile2 tuned it down to a moderate 125MHz. I took the data for both the profiles to see how it performed.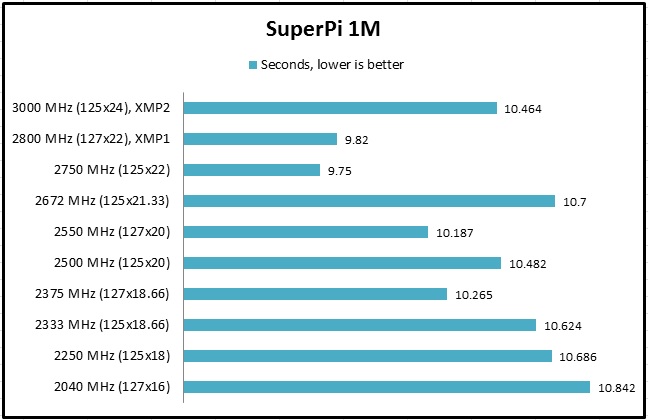 Next, I compared it to the G.SKILL module I recently tested to see how it held up.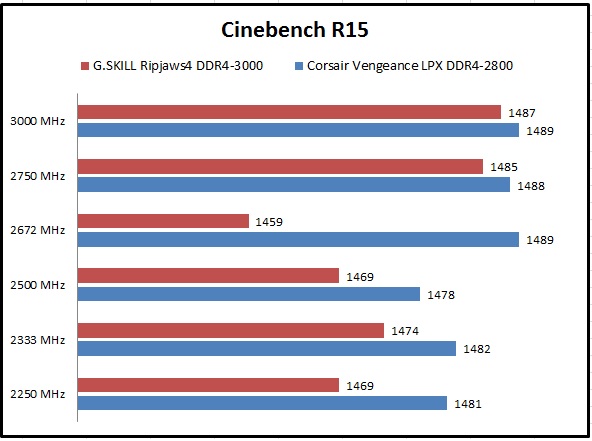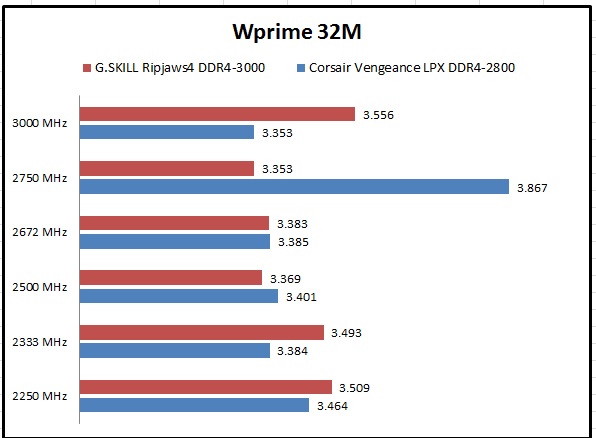 Overclocking:
Overclocking just didn't sit well with these modules. Pushing anything above 3000MHz would result in system instability, even with added voltages and overclocking the uncore, so I left it at that. While this doesn't necessarily reflect the overall overclockability of these modules, in the end I did feel a little underwhelmed by the fact that it didn't go above the rated XMP speed.
Conclusion:
The LPX kits are a new addition to Corsair's DDR4 arsenal, and Corsair says that these kits are aimed at Gamers, Content Creators and performance enthusiasts. The performance of these kits is good enough to justify the claim; we also saw these kits outperform the G.SKILL kits that are more expensive. The aesthetics upgrade is a personal thing and may or may not appeal to everyone, but in my opinion they represent a nice evolution from their earlier Vengeance kits. The colour options continue to provide users options for their similarly coloured motherboards and GPUs for a themed system.
If I were to nit-pick, the overclocking performance of these kits was underwhelming to say the least. For something that Corsair claims to be aimed at overclocking, these kits didn't go beyond their rated XMP Profile2 speed, i.e. 3000MHz. But that can be attributed to anything from the processor's IMC to the motherboard and the kits themselves.
While looking at the LPX kits and their price, the word cheap may not be a plausible term. But when you count the prices of the X99 platform as a whole, and DRAM kits of 16GB and their prices, the Vengeance LPX kits are good value. Just remember the additional cost when you get one of these. You only have two kidneys.